It's a slightly odd phrase 'Cut Flower Seeds' as obviously you can't grow cut flowers per se…but saying 'seeds to grow flowers for cutting' is a bit of a mouthful. (You see the sort of difficult life I have? Problems problems.)
I was asked by a prospective customer why I refer to my seeds as cut flower seeds and not just flower seeds…'can't all flower seeds be used to grow flowers for cutting?'
Oh my dear lady, I thought to myself…so wrinkly and yet still so much to learn…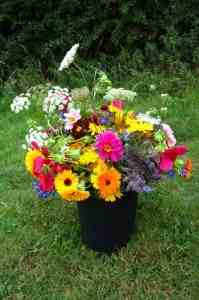 I have limited stock of cut flower seeds in the Higgledy Shop. This is because I feel I owe it to my customers to grow each and every variety that I sell in the Higgledy Garden in order to assist my wonderful customers in their joyous path to enlightenment. The selection in the Higgledy Shop will change from year to year…some will stay…some will go…
The reason they have been chosen as 'Cut Flower Seeds' is thus…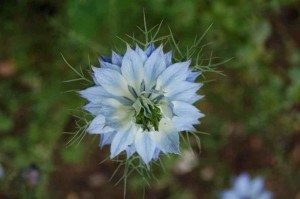 *Firstly they must be drop dead gorgeous. If they are in any way veering toward being a manky old trout then they are out of the garden and out of the shop. No prisoners. OUT!
*Secondly. The vast majority of my cut flower seeds will produce flowers that are at least 18 inches high. Now this is contentious as some wonderful flowers are shorter but on the whole, height is a good thing…not only that but I have carefully chosen varieties that have sturdy stems…they won't flop about in the vase like drunken floosies at a Swindon hen night.
*Thirdly. I endeavour to offer you flowers that have a good scent.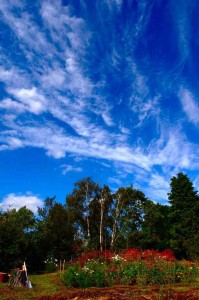 *Fourthly. My cut flower seeds offer a great deal of variety in form, texture and colour.  Choose wisely or chose my 'Complete Cut flower seed collection' and you will have flowers to suit your every floral need. (And you don't get that need suited every day.)
Lastly. A good deal of my cut flower seeds have been chosen because they are CUT & COME AGAIN, this means that if you cut a bloom you will get TWO more grow in it's place….flowers all summer long…oh yeah baby…let's party.
Extra lastly. My cut flower seeds are early, mid and late flowering…a little careful planning my darlings and you will have flowers from May until the evil frosts get the better of them…some will go through until the New Year.
So there you have it….why my flower seeds are 'Cut Flower Seeds'.
Please buy some…they have a habit of making your life better.
The Top Ten Most Popular Cut Flower Seeds of 2012 so far.
Have Fun!
Benjamin Higgledy