It has long been the premise of Higgledy Garden that I grow the very same seeds that I sell. By far the biggest seller has been my 'Complete Cut Flower Seed Collection'. So it makes sense that I dedicate a plot entirely to this.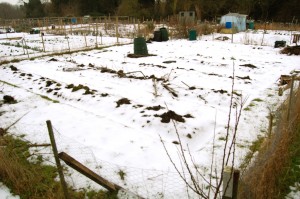 The varieties that are offered in the collection are sometimes changed depending on the quality of the seed available, so there may be very slight differences in the collection that I shall grow from some I have sold.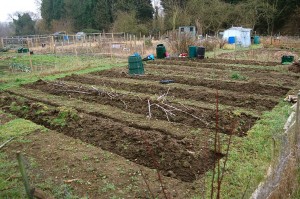 The plot I have chosen is my 1/4 size allotment. It is roughly 10 x 10 metres, a very sizable plot for a domestic cutting garden but it will demonstrate how far your £19.50 can go. As the season progresses we can monitor just how much output we can get… you may well be very surprised.
I have started to dig the beds, roughly 1.2 metres wide and 8 metres long.
Don't worry if you haven't got the same amount of space, you can have a very productive patch within just a few square metres.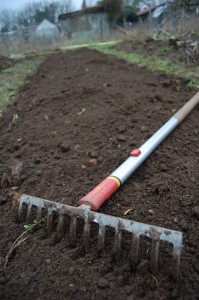 By far and away I like to sow seeds in modular pots or in seed trays and then transfer to beds that are covered with a weed suppressing fabric. This saves LOTS of time weeding later on, though is more time consuming at the beginning. Some folk loath the textile… the choice is yours. I shall show you how I use it and where I source it, very soon.
I have already started some sowing undercover…but you REALLY don't need to start sowing the vast majority of your seeds until the beginning of April.
See my post entitled, 'Don't sow too early', for the reasons for this.
Although not completely necessary it is preferable to have greenhouse, cold frame, windowsills or a mini greenhouse… these mini greenhouses now retail from £15 and you only need them up for six weeks… from April to mid May, then they can be stored away. Having one of these will make your life easier and your chances of success far greater.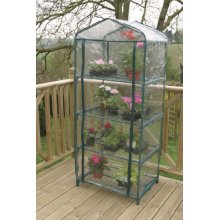 I shall keep you posted as to all developments and all posts can be found in the 'Grow Along With Mr Higgledy' category found in the right hand side bar.
If you haven't bought your rather super amazing seed collection, you had better hurry up… chop chop now. Click on the image below. :)