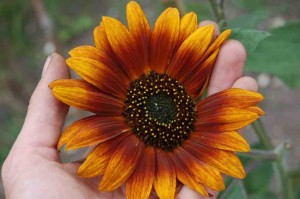 Hi, Ben asked me to write a short piece about my cutting garden and then refused to be any more specific.  As most writers know, an open brief and a blank sheet of paper make just about the scariest combination that you can face but let's give it a go.
To be honest, I pretty much fell into growing cut flowers by accident.  When I started down this path, I didn't even know that cutting gardens existed and neither my wife nor I had any real interest in cut flowers beyond me buying her the occasional bunch at Valentine's or on her birthday.  No, looking back, I now realise that it all started by chance when, fortunately just ahead of the nationwide increase in interest, we decided to get an allotment.  For the more technically minded amongst you, what I actually got was half an allotment which means that it's 30 feet by 45 feet (roughly 9 by 14 metres).
Like many people, we had decided to get an allotment as we had a warm, misty-eyed, Bob Flowerdew-esk vision that we would garden together as a family and we would produce and consume trugfuls of wonderful organic vegetables.  Of course, the reality turned out to be totally different; I did all of the work on the allotment on my own and when I brought my produce home my wife wouldn't use it.  While this sounds harsh, the simple truth was that home grown veg didn't suit our lifestyle.  We have kids and my wife works full time and, like any busy mother, she had mentally pre-planned the week's menus and had the ingredients delivered by Ocado.  Me turning up with spurious quantities of random vegetables expecting her to change the meal plans didn't exactly make her life easier.   The fact that my kids have an aversion to vegetables was just the final nail in the coffin of my "trugfuls of loveliness" dream.  Anyway, it all came to a head after about five years when I had produced a fantastic, he says modestly, crop of sweet corn.  Suffice to say that I really don't believe that I could have produced anything better – it was like I had poured the Spring's rain and sunshine into cups of gold – and not one single scrap of it got eaten by anyone in my family except for, a now bitter and huffing, me.  It was then that I decided that we would have to come up with a use for the allotment or I would just give it up.
Now, with the benefit of hindsight, I realise that through those five years, as well as getting more and more frustrated with vegetable growing, I had been slowly increasing my knowledge of, and success with, growing cut flowers.  It started right at the beginning when, after clearing the 3 feet depth of cooch grass and thistles that I had inherited, a single, rather beautiful, gladiolus that the previous occupants had planted, appeared right in the middle of my patch.  I brought my wife up to see it, we cooed at the first thing we had grown and then, much to her consternation I must admit, I cut it, took it home and plonked it in a vase where, after I was eventually re-admitted to my wife's good books, we both cooed some more.  The next year, I happened to be wandering into the B&Q in Cheltenham when I saw that they had some gladioli corms on sale on the racks by the door.  I remembered the previous year and, with that minimum of thought that only blokes can manage, I thought "Oh yeah, they'll do" and threw a couple of bags in the trolley.    Again, I was lucky as, more by accident than design, they turned out to be quite a classy and attractive purple and, once cut and delivered into the home, they went down fairly well.
Year 3, on the other hand, was a bit of a disaster – buoyed by my successes and convinced that I "had the eye", I went to the local garden centre, stood in front of the garish seed racks and, with scarcely a thought, chose a half dozen or so packets.    I lovingly grew these on and, when I brought my wife up to see the results she just looked over them and said "Hmmm, you do know that they're disgusting, don't you!"  And the worst thing was that they were; it was like when the child announces that the emperor is naked.  I had to admit it, my babies were ugly.  I had invested hours of my time and, even worse, an entire growing year in them and they were vile.  My wife managed to eke a few vasefuls out of them but I learned a few valuable lessons: most seeds in your local garden centre or shop produce flowers that are ugly and garish; if I was not going to waste my time, I needed to put much more thought into the selection of the flowers; I needed to learn to think in terms of arrangements – what would flower with, and go with, what; and I learned that it takes the same effort to grow an ugly plant as it does to grow a beautiful one.  In short, I learned that "Life's too short to grow an ugly plant".
The next year, I discovered a specialist cut flower seed seller – much like Ben here – and bought a few packets, more the next and these went down very well with my wife and I discovered another reason for giving your wife cut flowers.  As the house started to fill with the flowers, her friends would notice the arrangements and she would get "bragging rights" as she explained how we grew them ourselves.  So, it was all working out well, I enjoyed growing the flowers, my wife enjoyed receiving them and she enjoyed her friends noticing them – all good.
So, that's where I was with the flower growing when my vegetable growing hit the buffers; I still at this point absolutely considered myself to be a vegetable grower who just happened to produce a few flowers.   When I was considering giving up I realised that it would be the flowers that I would miss and the same for my wife.  So I decided to go another way, rather than just play at growing flowers, I would actually go for it fully and properly.  My aims would be to have fresh flowers in the house from Mothers Day until Halloween and to supply enough that we, as well as having vases in all the public rooms and our bedroom, could have fresh flowers in our daughters' bedrooms for most of the summer as well.
In our first dedicated year, I bought a specialist cut flower seed collection and augmented it with tulips for the spring and dahlias and chrysanthemums for the autumn.  It worked really well, I managed to achieve both my aims – apart from a three week gap in the May – in spite of not growing enough plants.  Since then, I've learned an awful lot more about growing cut flowers; I've learned how to decompose an arrangement, to look at a picture and find the seeds or plants that the florist used in the catalogues so that we can easily and cheaply reproduce similarly successful arrangements.  I've learned to grow many more plants much more densely.  I now grow shrubs and perennials as well as annuals as these improve the end results while reducing the workload.  I'm still learning obviously but the good news is that I still really enjoy the challenge of choosing and growing the flowers – oh, that and that my wife still enjoys getting them obviously.
Many thanks for taking the time to pen that for Higgledy Garden, John.
You can visit John's brilliant blog by clicking here. I can't wait to see how John's cutting garden progresses this season, I'm sure he has got a lot of knowledge that I can gain from….and spring is on the doorstep…so let the games begin. :)