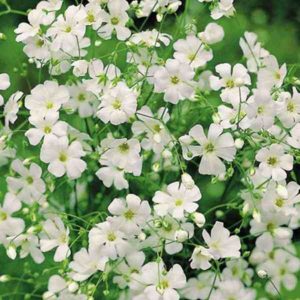 Gypsophila, or as it is more commonly called, Babies Breath, has been popular with the florist trade for yonks and yonks. Strangely most of it that gets to the UK started life off in Peru… don't get me started on air miles… grrrrrrr.
It loves chalk soils… the clue is in the name if you are a Latin geeky kind of chap or chapess… gypso phila=chalk loving.
Fantastically it seems that this wonderful little plant may help to cure lukemia… on going tests look promising… go, gyspo, go!
Gypsophila is a bushy plant with a branching habit, she has dainty white flowers on her slender stems. Perhaps a bit old fashioned or uncool for some tastes… but not for mine… I put it with loads of arrangements. It softens things up and adds 'space'.
Granny Flip Flop says it reminds her of her first love Harry Shoe Lace who won her over with some knicker elastic and a smooth fox trot.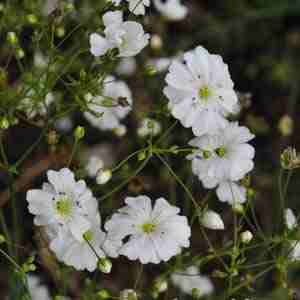 How to grow Gypsophila
*I tend to sow mine where they are to flower as they don't like root disturbance.
*Find a bed in full sun… they will love you for it.
*Sow thinly in pre-watered drills.
*Cover very lightly with soil.
*I sow my first row in mid March and then sow a row every few weeks until the end of May. I sow a final batch in Autumn. The ones I sowed last Autumn… started flowering in November… disaster… had to dig them up… they were sown in late August and the mild winter brought them on too early. This year I will sow in September.
*They may need staking if your patch isn't sheltered.
*Keep them moist but not waterlogged.
*Thin to about a foot apart.
*They should germinate in about a fortnight.
Any questions or helpful hints? Please post in the comments box below and I'll get back to you.
You can buy Gypsophila seeds in the Higgledy Shop.
Happy Gypsophilaing!
Benjamin