I shall be writing about how we sow seeds in the Higgledy garden at the weekend. Meanwhile for those of you darling students of the University of Higgledy Love… then please get your bonces around what 'damping off' is… and how to avoid it. It's imperative you are aware of the pitfalls before you embark on your sowing adventures.

What is Damping off?
First and foremost damping off is a right royal pain in the Kyber and one must do all one can to avoid it ruining your life and the life of those around you.
Damping off is a fungal disease which attacks seedlings. This cruel and heartless disease causes the innocent  young things to topple over before they have even had a chance to experience a summers day… or hear the smack of leather on willow. Cut off in their prime these defenseless seedlings are often submerged in a white fungal growth, of the like only seen in 1960's 'B' movies… heartbreaking.
How to spot Damping off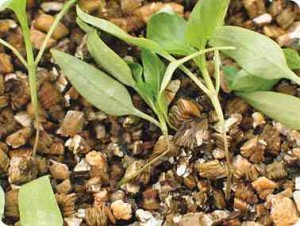 *Your seedlings all fall over.
*You experience great sadness followed by great anger.
"Oh Mr Higgledy how can we avoid this Damping off?"
*Treat all plastic pots and trays as you would a baby's bottle. Either use new pots (not going to save the world) or thoroughly clean old pots. We use home made paper pots too… which being new haven't got the nasty fungal fiend lurking inside.
I use The Guardian newspaper for my paper pots but you could equally use any broadsheet… The Daily Mail tends to turn the young seedlings into gibbering wrecks… afraid of the world that they are about to enter… so avoid using this 'newspaper'.
*If using home made compost then I would sterilize it first in the oven. 200 degrees for half an hour. Or you can do it in the microwave… but add a little water first.
*Don't sow too thickly… give your new friends some room to breath. Poor air circulation is known to be a contributing factor to damping off.
*Don't water log your growing medium. High humidity also encourages the evil little damping off to run amok in your future cut flower garden.
*Some folk suggest watering with Camomile tea… I have no idea if this works… or indeed if I heard it in a pub or made it up myself.
*It sounds wrong but don't water your seedlings using rainwater from water butts… they might be working for the enemy and harbouring some damping off terrorist spores (this is not a problem for grown up plants as they can just biff them out of the ring).
*Use water at room temperature.
Don't forget you are allowed to spend the housekeeping on Higgledy garden seeds… in the Higgledy Shop. ;)
Kindest regards
Benjamin