I have a helper now in the Higgledy Garden, the lovely Karen Wells. Karen tucked into some seed sowing on Saturday.
Where possible we like to sow into modular pots, this means we can put the plants exactly where we want them in six weeks time. Some seeds like to be direct sown – Ammi, Nigella, Gypsophila, Larkspur – but others are happy with a little root disturbance.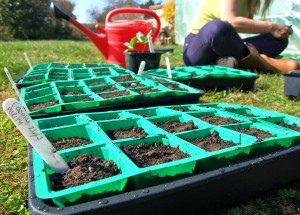 The seed trays cost 89p from my local garden centre and the modular trays are 25p.
We are also trialing some fibre pots… (not peat pots). And of course we are also using paper pots… but we'll use Karen's rather than mine… which were rubbish.
We sowed Dahlia, Didiscus, Tithonia, Ipomoea and Canary Creeper, amongst other things which my small brain can't remember this early in the morning.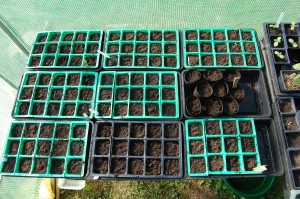 Below are some Calendula that I sowed early… you can see how they have become a little 'leggy'… this is because the light levels just weren't quite up to the job I think.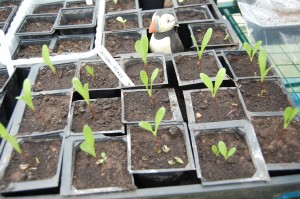 These are our Cornflowers that were direct sown into the soil in Autumn. They are very hardy and have developed into super strong plants that look ready to pop at any minute. :)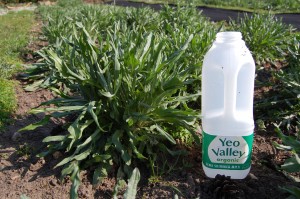 Our main sowing offensive won't start until next weekend and run through April and May.
Kindest regards
Benjamin