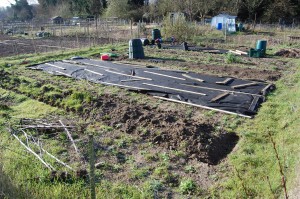 Ok…the plan here is to demonstrate ways to sow and grow the 'Higgledy Garden Cut Flower Seed Collection'. I will be using my 10 m by 10 m allotment plot. This is probably a much larger space than most folk will have available for a cut flower patch in their gardens but obviously it's just a case of scaling things to fit.
I'm confident that I can fill this space with lashings of wonderful flowers and we will monitor just how many bunches we can get out.
I will try out a few different methods from direct sowing to sowing undercover and planting out through weed suppressing fabric to scatter sowing in blocks.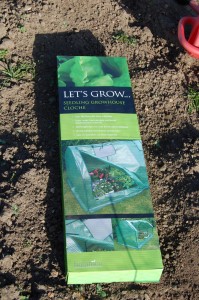 To make the best out of the collection you will need some undercover space, either a greenhouse, coldframe, windowsill (not ideal) or cheap and cheerful plastic mini greenhouse.
It's important to remember you only need this space for six weeks. From the beginning of April until mid May when the frosts will have wobbled off up north.
There are always lots of deals on these plastic jobs…the one I chose cost only £19.95.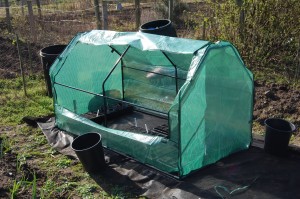 Personally I use a mixture of hand crafted (!) paper pots and plastic modular trays. I use modules that number 15 to a seed tray. Bear in mind that a good rule of thumb for most cut flowers is that you will get nine plants to a square metre.
The above modules are trays that sit in gravel trays NOT seed trays…seed trays have holes…gravel trays don't…I have opted for gravel trays because there may be times when I wake up with  strange and beautiful women in far away places and decided it fit and proper to hang around for a few days and therefore not be able to water the seedlings. The gravel trays can keep a little water in to water the seeds from underneath whilst I am wooing.
It's worth pointing out at this stage that I didn't standardise the collection this year…perhaps this was a mistake…so some of the things I grow may differ from yours…but the main principles apply to just about all of the seeds.
I have got the ball rolling by sowing some sunflowers (in paper pots), Dahlias, Didiscus, Cornflowers, Calendula, Zinnia and some others that I made a mental note of and of course have forgotten. *Mental note to myself: Real notes are better.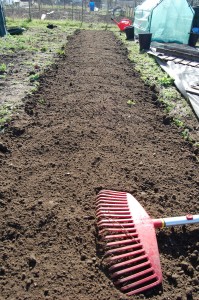 Some seeds I much prefer to direct sow. This bed is roughly a metre wide by eight metres long. Sowing about a foot apart (I love mixing imperial and metric) I will get three rows…easy to get to from both sides. In the Higgledy garden I made much bigger beds and regret this somewhat now as I have to tread on the beds when I'm harvesting…which is a bad practice. *Naughty Benjamin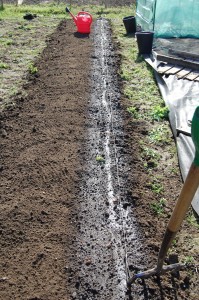 Top tips for direct sowing…
Make sure the bed is COMPLETLY weed free.
Use some string to give you a straight line.
Make a shallow drill using a stick or the non business end of a rake.
Water this drill BEFORE you sow not after. This stops the seeds from being washed out of position.
Don't bury your seeds too deep. Most just need a very light covering
Label your rows with the flower name and the date.
Come the end of August we will do some Autumn sowings…these Cornflowers have self sown from last year…I am loath to dig them up…so will leave them be. They will demonstrate how early we can have flowers if we employ an Autumn sowing campaign.
In the bed below I have scattered my Nigella seeds. The block goes as far as that piece of wood that crosses the bed. It is actually only about a third of the bed…the wide angle makes it look bigger.
Again you MUST make sure the bed is weed free. You also need to know what Nigella seedlings look like so you don't weed them out later on.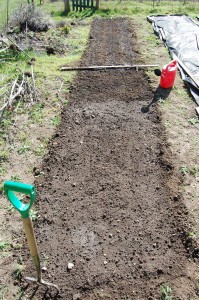 If you have any questions you wish to ask the Higgledy Garden Panel then fire away in the comments box below and we'll get back to you as soon as we can.
Remember you still have plenty of time to sow seeds, we will be sowing until the End of May…though most will be in by Mid May.
So if you haven't got any seeds yet you should trot along to the Higgledy garden Shop and get yerself a slice of paradise baby!
Have fun!
Benjamin