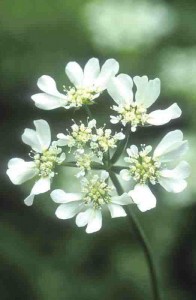 Orlaya Grandiflora is a cousin of the wonderfully useful Ammi Majus, a mysterious, sophisticated and saucy cousin…the kind of girl a chap would like to meet out on the balcony during a ball at a Russian palace.
She is a most distinctive annual with pure white umbels which seem to hover over a delicate and much divided fern like foliage. A very soothing addition to the garden or cut flower patch.
How do you grow Orlaya Grandilfora?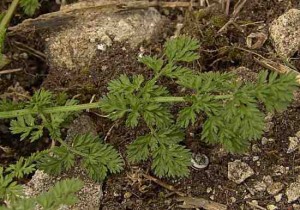 Being a hardy annual you can make an Autumn sowing which will give you stronger plants earlier the following year or you can sow in the spring and thou shalt have it flowering until the frosts. I do both…I'm greedy and I don't care who knows it.
Orlaya Grandiflora may well be lovely but she is also a bit of a handful…if she really was a woman she would be a bunny boiler. Her temperamentality starts at birth. Germinating the seeds can be tricky and you don't get many in a packet.
I suggest you sow it in pots and keep them in a cold frame or green house over winter. They need to grow a good root ball to survive. As your green house shouldn't be too full during the winter you can afford to use largeish pots. I use six inch pots. You can sow outside but you are playing a dangerous game my friends…do yer wanna dance with the flower devil? Do yer…do yer!
In the early spring, harden them off and plant them outside to a spacing of about a foot and a half. My Aunt Betsy said you should think nice thoughts when you plant them as they grow prettier flowers but then Aunt Betsy spent the last twelve months of her life thinking she was a unicorn and telling me the moon was making her hooves itch.
Is Orlaya Grandiflora a good cut flower?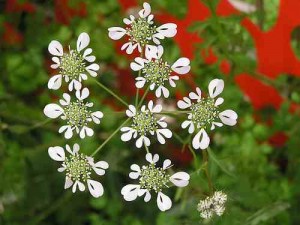 Does a bear go poo poo kaka in the woods? Orlaya Grandiflora is made for a vase. It offers a grace and elegance that few other annuals can match. I often use it with dark Black Ball cornflowers…yumtastic…looks like blackberries and cream (if you squint and shake your head from side to side). It also offers height, what is known as 'upper story interest' or in the Higgledy Garden as 'Hot upstairs action'.
It also looks just fantastic on its own in a thin tall bottle…it's very chic to use vintage bottles and the Joneses will only dream that one day they will be able to keep up.
Can Orlaya Grandiflora help you in your mission to save the world, Higgledy Benjamin?
Oh yes…our friends the bees love a little cuddle and a squeese with Orlaya and who can blame them. With the bee numbers declining we have a serious responsibility to try and provide habitat and good nectar sources for the stingy little nippers. Other insects seem to like it too…hoverflies seem to hang around them and they eat up pests so you won't need to use rubbish chemicals.
Insects will be food for birds and the birds will be food for the pandas and the beautiful wheel keeps turning…yes indeed Daddio…one world on the way to salvation…saving the world has never been so beautiful.
Please let me know how you get on or have got on with growing Orlaya. We love your comments…it makes us think that there might actually be someone reading…which would be nice. ;)
Please visit the Higgledy garden Shop to see our range of seeds.
Kind regards
Higgledy Ben