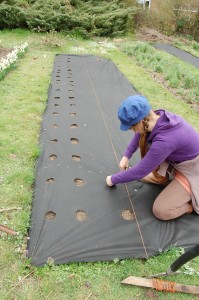 Karen has been busy making The Large Lupin Cheese Grater…(TLLCG) this is a piece of weed suppressing matting with lots of holes in…not to be confused with The Large Hadron Collider…which isn't.
We have sown 90 rather gorgeous Lupin 'Sunrise' seeds in the holes and those that don't germinate will be filled with wafes and strays…certainly lots of Borage…borage attracts HUGE amounts of pollinators…I am hoping that these will help keep the nasty American Lupin Aphid away. Though I have absolutely no evidence to back this theory up…we shall see.
The spaces between the holes is one foot…well…I say that but in fact Karen took a very 'freestyle' approach to measuring the gaps in order that TLLCG remained higgledy.
This bed will look nothing short of spectacular when the flowers arrive…we will keep you posted.
You can of course buy Lupin 'Sunrise' from our groovy shop. :)
Let's not mention yesterday's frost…
Benjamin