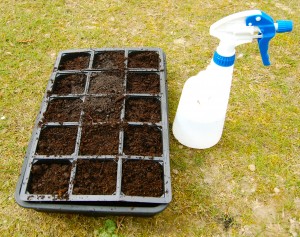 It seems a few of you wonderful cherubs are having difficulty in germinating your Nicotiana. This is understandable…she is a fickle Mistress.
This is how do it…it works for me…other peeps have different methods.
I prefer to use a modular tray which sits in a gravel tray. I put a little water in the gravel tray so that the seed compost (gently firmed down) will soak it up.
Then I simply sprinkle tiny pinches of the seeds into each module. Nicotiana seeds are super fine…some flower growers mix a little pinch of sand in with the seeds to make it easier to handle.
Leave the seeds on top…do NOT cover with compost as they need light to germinate.
I place over the top of the tray a piece of damp newspaper…preferably with the image of a rock and roll star on…Nicotiana, like Amy will live fast and die young.
Dampen down the paper and leave by a windowsill…you're looking for temps of 21 degrees and above.
Don't water with cold water…let it get to room temperature.
Allow 7-14 days for germination and don't allow the compost to get dry in this time…but not waterlogged either (I never said this was going to be easy…).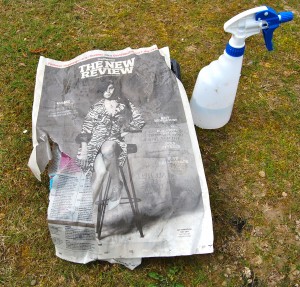 After the 15th May you can sow them directly outside but water the ground first to stop them blowing away.
Once they become established they should self seed every year. :)
I started these ones yesterday and will keep you posted on their development.
Oh yeah…NEVER put your seedlings out until after the frosts have gone…oh no no Mrs.
I will show you how we plant out the seedlings when the time comes…stay tuned.
Mr Higgledy
You can buy Nicotiana in the world famous Higgledy Shop. :)
UPDATE : How to germinate nicotiana. 26th April 2012
ok…so that was 10 days ago…now the tiny tiny seedlings are showing through…so in each module…I will simple take out the ones I don't want and leave one in each of the 15 modules. 15 plants will do me this year.