Great Aunty Gethsemane used to keep a bunch of twenty seven dried Blue Boy Cornflowers hanging in every room of the house. She said it stopped the poltergeists interfering with her drawers.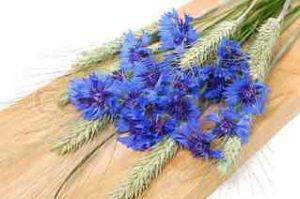 Why Dry Cornflowers Mr Higgledy?
Dried cornflowers keep their colour really rather well…and there is something…'farmhousey' and comforting about a bunch of hanging cornflowers. Also if you grow your own you may find you have a glut that you can't use…especially if you are a miserable old sod with no friends. So drying will give you flowers for the winter when most British blooms are a fading memory.
I sowed a great deal of cornflowers in the Autumn…so they are just about to pop into flower now despite the monsoon, in fact some are already out. I shall be drying a number of these to sell on the Higgledy site in a few weeks. Cornflowers left after they have 'gone over' will send a chemical to the plant to say 'forget making any more flowers…let's set seed and move on to Cornflower Nirivana'. So keep picking the blooms even if you don't use them…'Heaven Can Wait'. (I think that's a song.)
How To Dry Cornflowers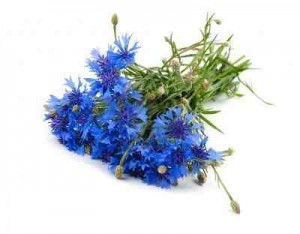 Be warned  my darling young friends…it's not a case of just hangin' em upside down…not quite anyway….
*The trick is to catch the flowers at the correct stage of blooming…this is when the center petals are still pointing into the middle…rather than the later stage when they will be pointing away from the center…probably to the naughty poltergeists.
*Don't harvest them in the morning…wait until the dew has dried.
*You can still dry these later blooming chaps but they are better as confetti or even sprinkled over upper middle class salads….dry these in a box as petals will naturally come away from the plant.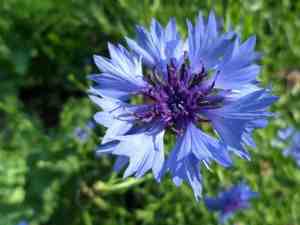 *So…take about 20 stems of roughly the same length and tie them with an elastic band or string and hang them somewhere DRY and DARK…spooky spooky woo.
*In the summer I use my mate Pete's garden shed and they take about two weeks or so to dry.
*For a more contemporary vibe, try drying with Zinnias and lavender…we will be doing this later in the season…that's how rock and roll we are.
*You can also dry the 'Black Cornflowers'
Look out for the first of the cornflowers both dried and…er…undried, in the flower shop in a couple of weeks. :)
Needless to say you can find cornflower seeds in the Higgledy Garden Shop…still plenty of time to sow for this season.
Kindest regards
Your digital chum
Benjamin Higgledy