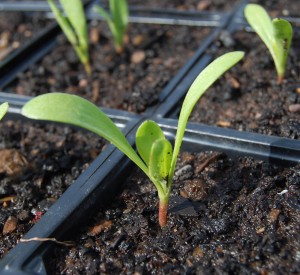 Calendula is another seed that can successfully be sown in Autumn in order to have a bigger and earlier flowering plant in spring. The above is a typical calendula seedling and they should emerge in around two weeks from sowing.
Calendula seeds are very reliable, in Autumn I sow direct into the ground and in spring I sow some in modular trays and direct into the soil.
For more growing tips click: 'Growing Calendula'
To buy seeds click: 'Buy Calendula seeds'
Calendual seeds also make a rather pleasing cameo appearance in my 'Seeds to sow in Autumn' collection…12 packets for £12 including postage! Yeah baby!!!