'Top 5 Edible Flowers for the Veggie Patch'  A guest post from Melissa Barnett. many thanks for taking the time to pen this for Higgledy Garden, Melissa. Much appreciated. Visit Melissa's fabalicious site www.afarmofyourhome.com it's nothing short of a treat.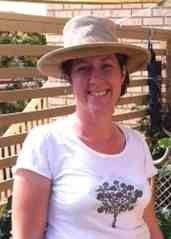 "Have nothing in your house that you do not know to be useful, or believe to be beautiful" ~ William Morris
I'm a pragmatic lady who likes her vegetables.  So in my garden, just being pretty isn't a good enough reason for me to give you a spot in the dirt.
So, until recently, I have simply overlooked flowers in my veggie patch.
But this season, I have done a bit of research.  Luckily for me, there are plenty of gorgeous talented blooms out there. With spring fast approaching in my part of the world, it's time to plant.
I have narrowed down my top 5 flowers for the veggie patch.
The flowers that made the cut, had to be more than mere beauties to decorate my home.    I wanted flowers that would lure bees into my garden to help pollenate my produce.  I need resilient, self seeding types that will be happy to come back year after year.  Blooms that can handle a little heat.  The flowers I chose are socially generous, helping out the other plants they share a bed with.  Lastly, my chosen ones had to be flavoursome.
Sunflower (Helianthus annus)
I have been growing sunflowers since my kindly neighbour gifted me some seeds.   They flourished in my pumpkin patch and shaded the growing vines.
Last year, when they were planted outside my bedroom window, I was woken at dawn by what sounded like a crazed cocktail party.  A flock of Galahs had dropped in to feast on the seeds, making a god-awful mess, but clearly relishing their breakfast.  Even the bees crowd sunflower blooms, collecting pollen.  It's hard to resist a flower that is so naturally popular!
This year, I am trying a few new varieties, including Ring of Fire and Russian Giant.  There's a spectacular array of colours available.
Once the flower heads are spent, you can trim the dried blooms, harvest the tasty sunflower seeds, and use the remaining stem as a trellis for climbing beans.
Love Lies Bleeding (Amaranthus caudatus)
I can't wait to introduce this ancient beauty to the patch.
Amaranth leaf can be steamed and eaten like spinach, but the real prize of Amaranth has to be the extraordinary, rope-like flower.  Love Lies Bleeding is a dramatic blast of magenta flower contrasted with striking green leaf.  I have been scouring flea markets for the perfect vintage silver champagne bucket or trophy, a tall vessel that I think will most beautifully display the arching tassels and make a spectacular  (Down Under summer) Christmas centrepiece.
The tiny seeds harvested from these drooping blooms can be used whole in baking or ground to make flour.  If you have little kids you want to impress, heat Amaranth grain in a dry pan for about 30 seconds to make "Fairy Popcorn", tiny little puffs that can make morning muesli a little more interesting!
Best of all, Amaranth is so resilient in our heat and sandy soils that most people in my part of the world regard them as a bit of a weed.
Calendula (Calendula officinalis)
Not to be confused with the bitter marigold, these helpful little flowers are almost essential in the veggie patch.  Planted as a stunning boarder, Calendulas can trap aphids before they march on your vegetables.  Their brilliant orange petals are beautiful scattered through a summer salad and can even be used as substitute for saffron colour when cooking.
You can even make your own soothing Calendula oil by infusing a jarful of the dried petals in grapeseed oil for a fortnight in a dark pantry.  The strained result is supposedly anti-inflammatory and can be applied directly to heal minor scratches and aches all us gardeners sustain from time to time.
Nigella (Nigella satvia)
Also known as Black Cumin or Black Sesame, these wispy, elegant blue flowers look stunning in an arrangement to contrast with the robust, vibrant Calendula.  If you can resist picking the delicate blooms, the seed pods that develop from the spent flowers are equally glorious and full of seed.
If you ever enjoyed Turkish Bread and wondered what the tasty little black seed was on top, it's Nigella.  It's hard to believe such a delicate little flower packs such a flavour punch, indispensable in Indian and Asian cuisine.  The seeds are also said to boost your immune system.
Poppy (Poppy Peony Papaver Paeoniflorum)
This year, I'm planting poppies with my artichokes.   I think their delicate swaying style will be the perfect foil for the stout spikiness of the artichokes. I have chosen pink and white "peony" varieties, the kind that look like pom-poms.
In our last home, one six-pack punnet of red Flanders poppies multiplied into many years of poppy-bounty.  So in this first year, I will resist cutting all the blooms to bring inside and instead let the pods develop.  Each ripe, dried poppy pod contains over 100 seeds.  They are easy to harvest, just snip the top off the pod, and shake out the fine seed.
Poppy seeds are delicious in baking and pair well with both sweet and savoury flavours.
I can't wait to see my top 5 veggie patch flowers flourish in the coming months.  If you have any edible floral favourites, I would love to hear your recommendation.
With such beautiful, useful flowers on offer, I no longer have any excuse to harbour such blooming prejudices.  My veggie patch will soon be so much the better!
Melissa Barnett.