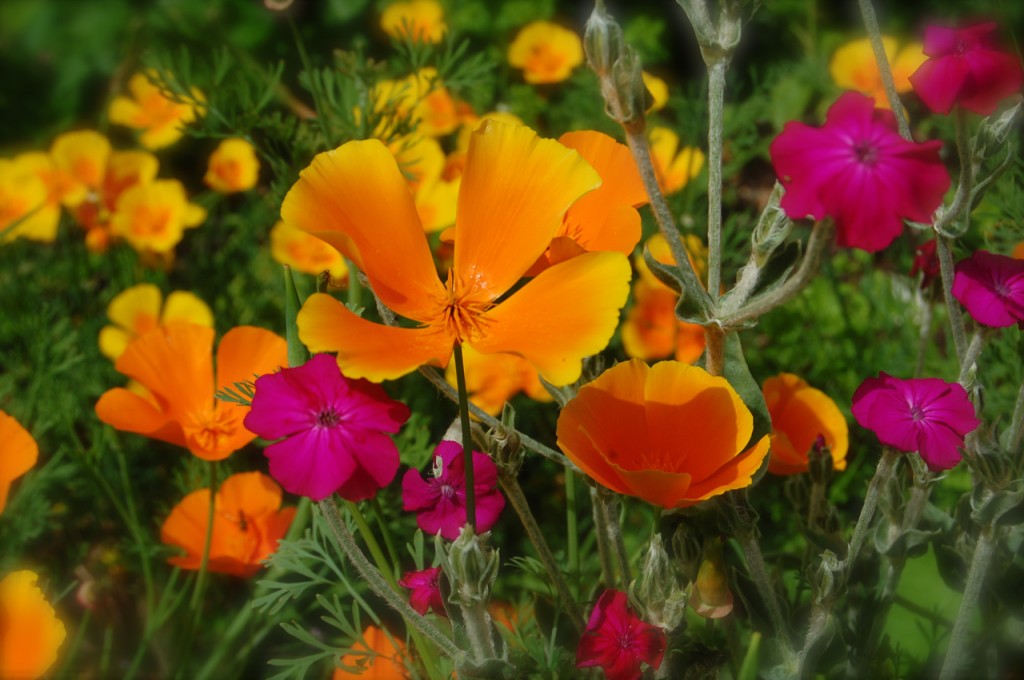 Granny Fishcake and Aunty Flippy agreed on few things…especially after the incident with the postman and the hot tub…but they both agreed that Eschscholzia californica (the California poppy)…was a glorious and happy plant to have in their gardens and they both grew great swathes of them.
Now obviously there is not a man, woman or child alive that can pronounce Eschscholzia, so we refer to them as Calis. (-Callys-) Although we don't sell them as cut flowers, because they don't last all that long…perhaps five days in the vase, we use them ourselves in our homes. There really is nothing quite like a vibrant bunch of them in the kitchen to put a zing in your zang. (Sear the ends of the stems in boiling water and they will last longer)
It will come as no surprise to you that these bundles of joy are native to…yes…California. They were discovered by Dr Johann Friedrich Eschscholz, a Russian physician in 1815 who must have been pottering about on the Pacific coast hoping to name something after himself. Later in 1890 Eshscholzia Californica became the state flower of California…and remains so to this very day…yes indeed.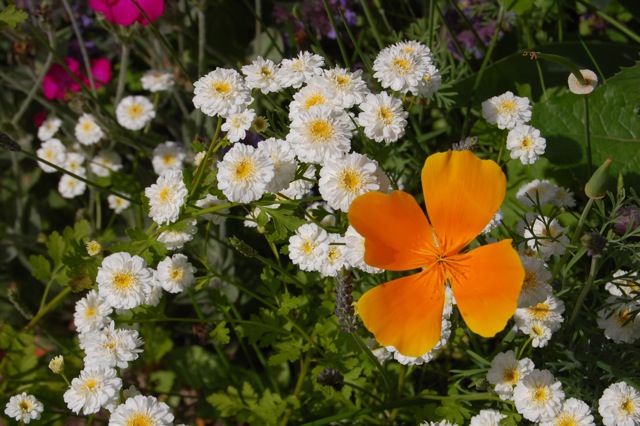 How to grow Eschscholzia californica (the Californian poppy)
Technically speaking our friend Eschscholzia is a perennial, but is more commonly referred to as an annual because it can go from flower to seed and back again in just a few weeks and can set seed and flower again in the same season…how cool is that?
*If you have a site in full sun with poor soil, then this is just the jolly job….don't fertilize them…oh no no.
*Prepare your seed bed by raking to a fine tilth. Don't worry if your bed is stony as Eschscholzia loves stony ground, in fact sometimes I add pea shingle or grit to the surface of the bed and she will romp away on this…er…as it were.
*I sow in straight drills, this makes it easier to weed, I leave a foot between rows to allow easy hoeing. Sow in 'pinches' of seed…this makes it easier to thin out later on.
*Successional sowings are best, we sow from April.
Autumn sowings (Actually from mid August) can also be successful but protect them with fleece if it gets super frosty. (Though I didn't last year…and the ones you see on these pics are fine)
*When they are about 4 inches high, thin them to about 6 inches apart.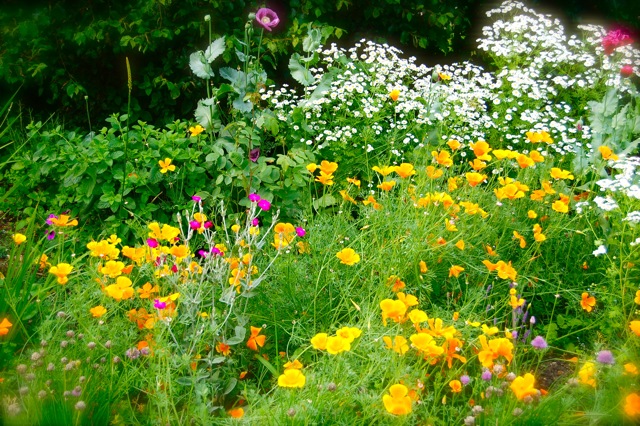 *Don't water them too much…treat em mean…they like it and are drought tolerant.
* Personally I wouldn't bother trying to grow them in pots…they don't like being moved and as they are so easy to direct sow in the ground…why give yourself the extra work?
If you are familiar with the Higgledy Garden vibe you will know we love our contrasting colours…we display Eschscholzia with piercing 'Blue Boy' cornflowers and even with Borage…a rocking combo. I shall be harvesting some for the vase next week and will take some pics.
CLICK HERE TO BUY OUR SUPER WONDERFUL ESCHSCHOLZIA SEEDS! :)
You will also find the lovely Eschscholzia in our 'Seeds to sow in Autumn collection'…12 packets of seeds from just £12 including postage and Packaging.
Have fun!
Kind regards
Benjamin