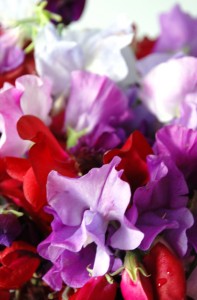 An autumn sowing of Sweet Peas will bring you earlier, more robust and larger plants come the following year than spring sown ones. I sow sow in Autumn and another sowing in the spring to extend the season…and the fact I like pottering around sowing seeds.
* We start sowing from October right through until the end of  November.
*We don't use the rather fashionable (and expensive) rootrainers but rather sow our Sweet Pea seeds into  pots (3 inch) and make sure the seed is no more than one centimeter deep.
*Water these gently…preferably with a fine rose watering can.
*Put your pots into a coldframe, greenhouse or indeed windowsill…and make sure the pesky mice can't get their menacing little teeth into them…or those chompy slugs get their slimy cake holes near them…grrrrr
*If you haven't sown these until late autumn…say November…they will need a little heat to get them started…ie the windowsill inside…but in October they should be fine.
*Once they have germinated they should be preferably moved outside…otherwise they may get 'leggy'…and not in a Rachel Welsh sort of a way. They need more light than they will get inside on a windowsill from now on.
*Don't be too kind to them…let the cold get at them…but avoid them being subjected to a hard frost.
*Some folk pinch out their autumn sown Sweet Peas but I don't…I'm just keen to get good root growth.
*I plant mine outside after the last frosts and put them in beds into which I have dug some garden compost.
*They like the sunshine but can take a very light shade.
'Which varieties of Sweet Pea should we sow, Mr Higgledy man?'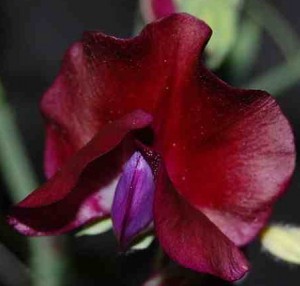 …stick with me my chums and all will be well…this year I shall be sowing:
'Perfumed Delight': This is a truly old school variety and has the scent to match. A mix of pale pinks. Your Auntie Doris will love these and will probably bang on about the war or how difficult things were before the invention of water or knicker elastic.
'Painted Lady': Another old fashioned Sweet Pea…grow these if you want an abundance of blooms. Bi coloured pink and white. Great for cutting.
'Beaujolais': Of all the dark coloured Sweet Peas…this is the best. Very modern. Very chic. Very handsome. Flowers are a deep burgundy and fairly large. Strong stems make it an excellent cut.
"Winston Churchill' A deep crimson with ruffled petals and a subtle scent…Granny Higgers loved these.
All my Sweet Pea seeds are £1.95 for 20 seeds or you can buy all four packets for just £7 in my 'Higgledy Garden Sweet Pea Collection 2013' (Remember you just need to spend £10 or more to get free shipping….so I would suggest treating yourself to a couple more packets of seeds…the shop is bursting with goodies)
Have fun!
Kind regards
Benjamin Higgledy