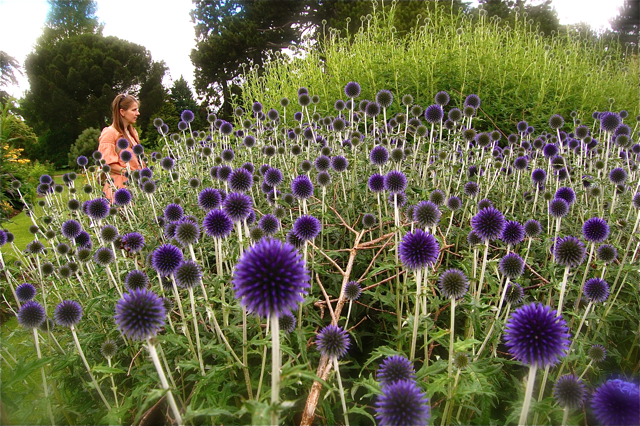 Granddad Thunderbug always used to keep an Echinops flower in his buttonhole for church on Sundays…he said it made the ladies go wild with desire and that no red blooded man should ever be without it. He had his eye on Miss Tickleton the vicar…I never told him…but I think Granny Thunderbug had got there first.
Echinops is a globe like thistle with jagged edged silver green leaves…it grows to 120 cm tall…the flower heads look like the 'Maces' that knights of old would use to bash other knights of old….in the days of knights of old.
How To Grow Echinops From Seed.
*First off, Gramps grew 'Ritro', it has a strong stem and great colour.
*If you would like to start it off indoors, then sow your seeds on good quality seed compost in a seed tray….and press them firmly down.
*Cover them VERY lightly with compost. They need some light to germinate.
*Water with a fine sprayer and place the tray in a clear plastic bag.
*Plant out when the frosts have gone and space to two feet apart.
*Outdoors… Find a bed which gets lots of sun and has light free draining soil. (Not clay!)
*Not before mid April, press the seeds firmly into the ground and lightly cover.
*Keep the area weed free and lightly watered.
*Seeds should germinate in about two weeks.
Echinops 'Ritro' makes a great cut…I shall be sowing some more next spring for the new Higgledy Garden in Cornwall. :)
Have fun flower chums.
Benjamin