More and more often we are seeing the mainstream use of edible flowers in the dishes of top chefs in restaurants, on the telly and in the glossy Sunday magazines, yet they are still incredibly hard to get hold of. The answer to this dilema is obviously to cut out the middle man and to grow your own edible flowers.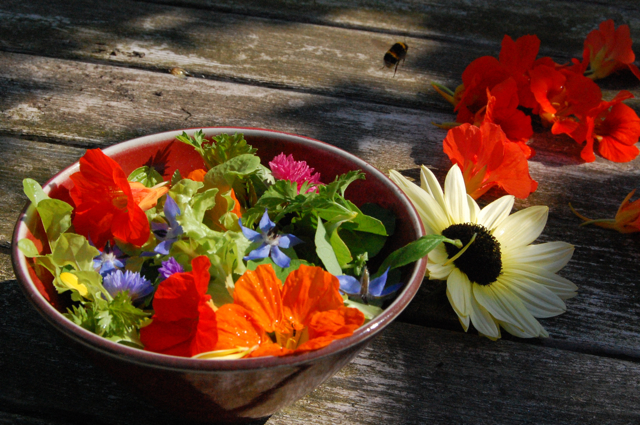 Growing edible flowers is a piece of cake (excuse the pun)…you will have your first flushes of flowers from approximately 12 weeks from sowing…and you should keep getting new blooms until the frosts…generally I consider Guy Fawkes as marking the end of the season with a bang.
With the exception of Nasturtium flowers, which have a delightful peppery taste to them, most edible flowers are added to dishes for their colour rather than their flavour. Though they also contain a  high mineral content and so will help keep you bouncy.
I have made a collection of my favourite edible flowers to grow from seed and shall be starting a purely edible garden in my new Cornish plot next spring.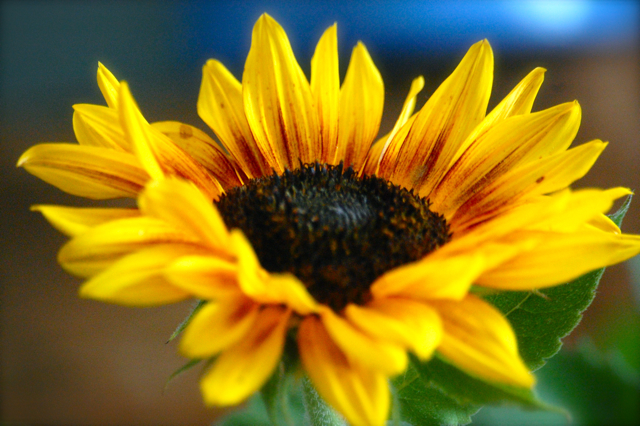 One of the beauties of these annual flowers is that they are 'cut and come again', the more flowers you pick the more will come….AND they can all be used as fantastic cut flowers for the home….well…ok the Nasturtiums will be rubbish as cut flowers…but they can be floated in a bowl….which is all the rage in North London don't you know.
In the 'Edible Flower Collection' you receive fewer seeds per packet and this is proportionate to the price you pay…so you receive all six packets for just six pounds…but remember I offer completely free postage and packing when you spend ten pounds or more.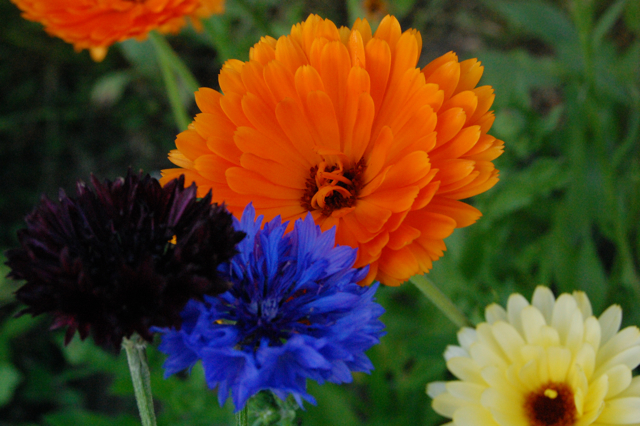 "What Seeds Are In Your Wonderful Edible Flower Collection, Mr Higgledy?"
*Sunflower 'Vanilla Ice'. Delicate lemon yellow petals are awesome in salads but in fact the whole flower heads can be steamed like artichokes. Petals are slightly bittersweet…some folk blanche them before eating…I don't myself.
*Calendula. Calendula has long been known as 'Poor Man's Saffron' for its ability to colour food…bright yellow petals stand out in almost any dish. Another name for Calendula is 'Pot Marigold'…this refers not to a 'flower pot' but indeed to the cooking pot. I've always admired this flower…used by our ancient ancestors in Egypt,  India and by the ancient Greeks and Romans as an antiseptic as well as a food stuff. A truly versatile flower which will be in bloom for months and months.
*Borage. Careful with Borage…it can be a thug in the garden so keep an eye on it. Originally from Syria, the Christian Crusaders brought borage back to Britain. They steeped it in wine before battle believing it to give them courage to fight it out with the enemy when they were trying to decide whose imaginary friend was the best.
These days folk freeze the beautiful blue flowers in ice cubes for cooling summer drinks…used in Pimms by those that know. Tastes a little like cucumber…another great salad ingredient.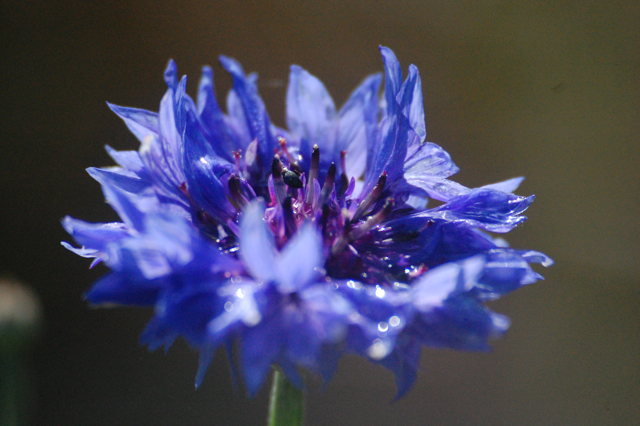 *Cornflower. 'Blue Boy' and Cornflower 'Black Ball'. Super easy to grow these two are never out of the Higgledy Garden cut flower patches, they are in dispensable as cut flowers but also they make super dooper edibles…make sure you remove the petals from the center, more fleshy part of the flower head. I love the blue petals sprinkled with contrasting yellow calendula petals on summer pasta dishes and often wonder why I haven't been shortlisted for Master Chef.
The 'Black Ball' Cornflowers are not black…flower namers have a huge propensity for exaggeration…they are a deep purple…they look best on light dishes…Aunty Madge puts them on her Ice Cream…unusual for a Yorkshire woman I always think.
*Climbing Nasturtium. I grew climbing nasturtiums for the first time last year…what a joy…crazy little dudes…climbing everywhere…being all floral and tasty. Another super easy flower to grow…the young leaves can be used in salads too. Even the flower buds can be pickled like capers.
I don't feel it's ever necessary to use chemicals when growing annual flowers but in the case of growing flowers for consumption it is obviously a complete no no.
Have fun one and all.
Kind regards
Benjamin Higgledy