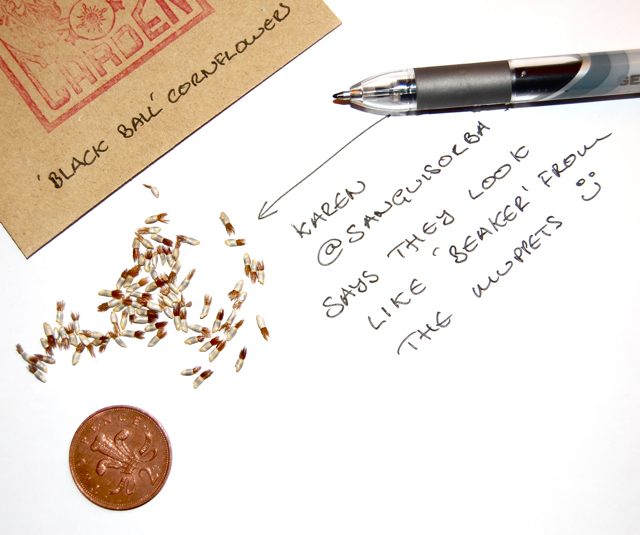 As regular readers of Higgeldy will be aware, I am something of a Cornflowerphile…I love the little beasties…the wonderful 'Blue Ball' cornflowers are simple, traditional and have been loved by us human types for millennia and were indeed found in King Tut's Pyramidal tomb.
'Black Ball' cornflowers are less traditional but have a much more contemporary vibe… let's be clear about one thing…they are not black…like most flowers described as 'black' they are indeed a deep plumb…or claret perhaps…which of course is much more pleasant than black anyway.
How to grow 'Black Ball' Cornflowers.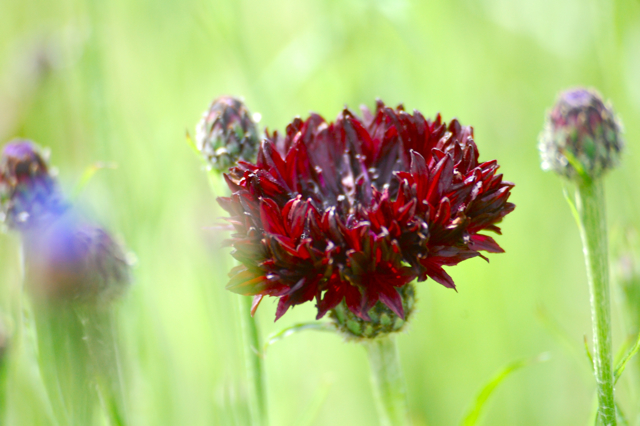 *First of all you need to find a space for them in free draining soil in full sun.
*The soil doesn't need to be rich, in fact Blue boy cornflowers are rather delighted to be in the presence of poor soil. (Treat em mean keep em keen.)
*Rake the soil down to a fine tilth. By this I mean rake it down to small pieces no bigger than a marble.
*I make an September sowing and then a spring sowing…not sowing outside until mid April when the soil has warmed up. September sown seeds will produce MUCH bigger plants.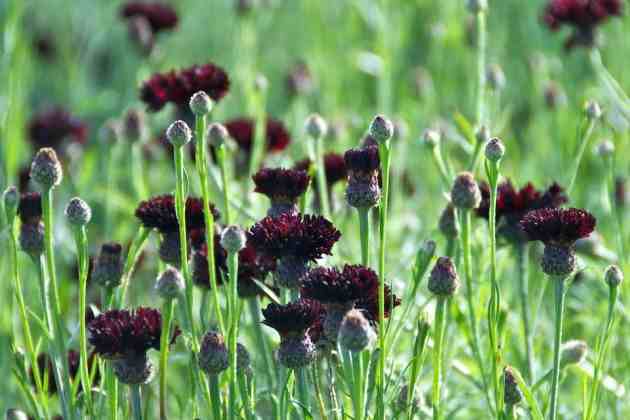 *I tend to sow the seeds into three rows about a foot apart. This way when the plants grow it is easy to reach the middle from either side.
*Don't bury your seeds too deeply…a gentle covering is fine.
*Sow the seeds thinly. A pack of Higgledy Garden seeds should be enough to cover twenty meters of a single row without any bother.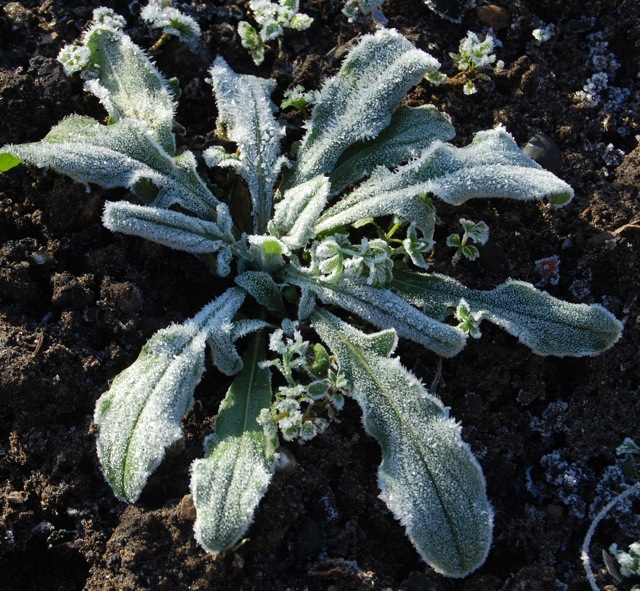 *Prewater your seed drills…this stops the seeds from being washed away by watering afterwards.
*In three weeks you will see the little munchkins wiggling their way up out of the ground…thin them to about a foot apart. If you are careful you can move the seedlings if  you don't disturb the roots too much. Don't move seedlings that are bigger than your thumb….they will sulk and not perform well.
*Keep the bed weed free.
*Try not to let the ground dry out too much whilst they are growing.
*I put some pea netting up at a height of about two foot and let the plants grow through it. That way they get support, high winds can flatten a bed in no time.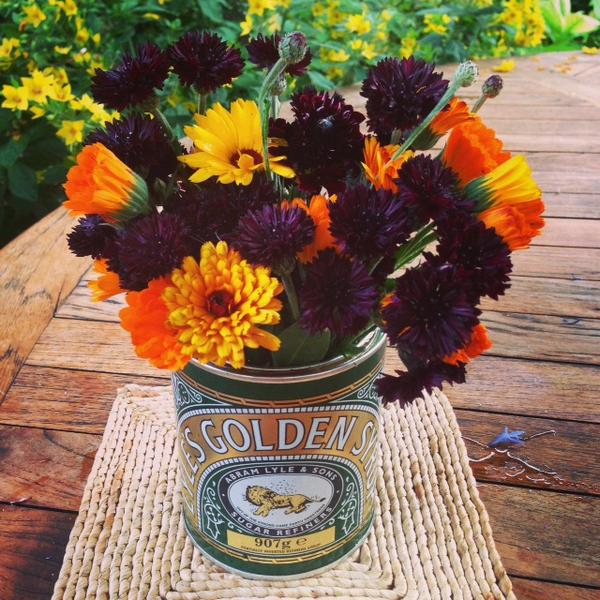 You won't be disappointed with 'Black Ball' they are easy to grow and super productive too…they are 'cut and come again'…so you will have blooms all summer long.
I sell 'Black Ball' cornflower seeds at £1.95 per packet…and I give free postage and packing when you spend ten pound or more…which is rather generous if I say so myself. Please browse my Higgledy Shop. :)
Have fun!
Benjamin Higgledy
PS Perhaps you may like to read why I think Cornflower 'Blue Ball' is perhaps 'the best cut flower in the whole known universe?'