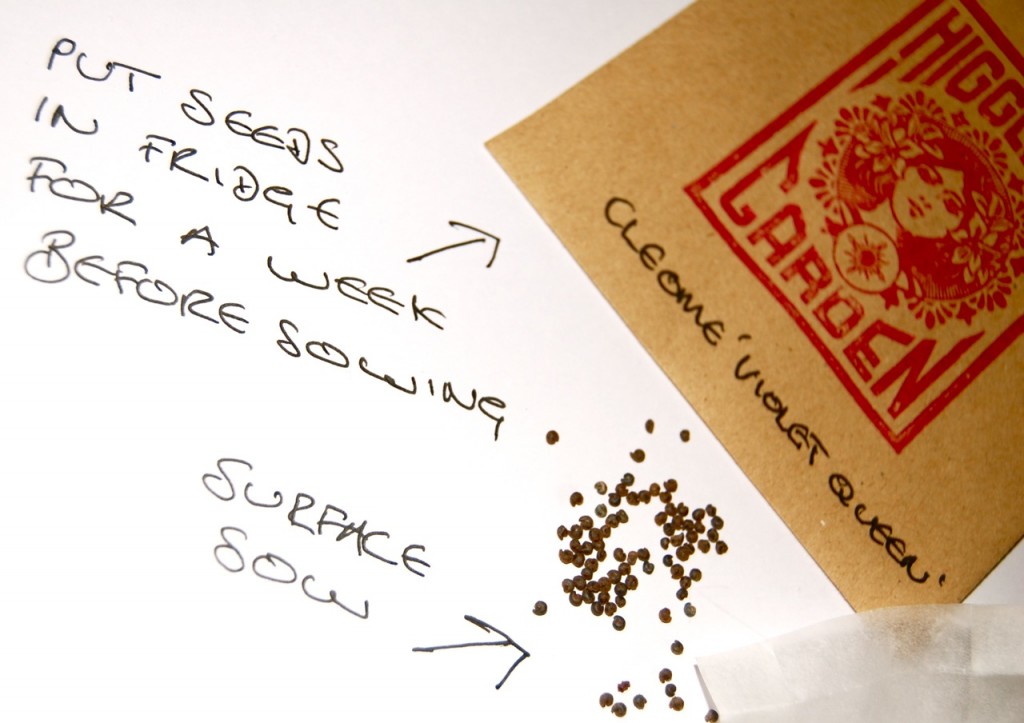 Cleomes have been welcomed into the Higgledy Cut Flower Garden since the Jurassic period…when Great Grandadpops Humph Higgledy was at the helm.
These wonderful exotic nymphs of the flower patch are actually native to South and Central America…though they will do brilliantly in Brum and beautifully in Braintree.
'Cleome' come from the Greek kleio meaning to 'shut'…though to be honest I have never been given a good reason why…I could make one up…but that wouldn't be professional.
Cleomes are statuesque and yet airy and elegant…often called the 'spider flower' because of its spikey…leggy…flower heads….violet and pinks are the best in my opinion…stems can be sticky and have small thorns….the thorns put some people off growing them…pah! Toughen up you wimps…you're missing out!
These wonderful flowers will give you blooms for months and flower their heads off until November…what is their not to like?
Growing Cleome From Seed.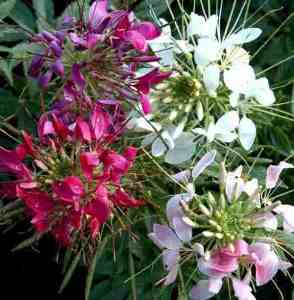 *I put my cleome seeds in the fridge for a week before sowing…a bloke in a pub told me that they like fluctuations of temperature to get them started…but it may have been a dream…
*I sow mine in early spring in modular trays because the little darlings can't abide root disturbance…(and who does?) Early spring means March to the Higgledy garden.
*They need light to germinate so don't bury 'em…leave them on the surface of a good seed compost.
*Water gently, spray with a light mist…or water from underneath. I use lukewarm not cold water…because my Granny said so.
*Sometimes I put them in clear plastic bags to keep the little cherubs moist whilst they are germinating…and sometimes I don't #fickle man
*Do not put them outside until all the frosts have naffed off…which is mid May for most of us…and put them in FULL SUN…think tropical….
*Pinch them out so they bush out. By this I mean pinch off the very top growing tip, this will make her spread out and not up.
*Don't pinch all of them out…leave a few to sky rocket up…there will be a prize for the tallest cleome this year…
I sell Cleome 'Violet Queen'  for £1.95 for 200ish seeds.
Have fun!
Kindest regards
Ben