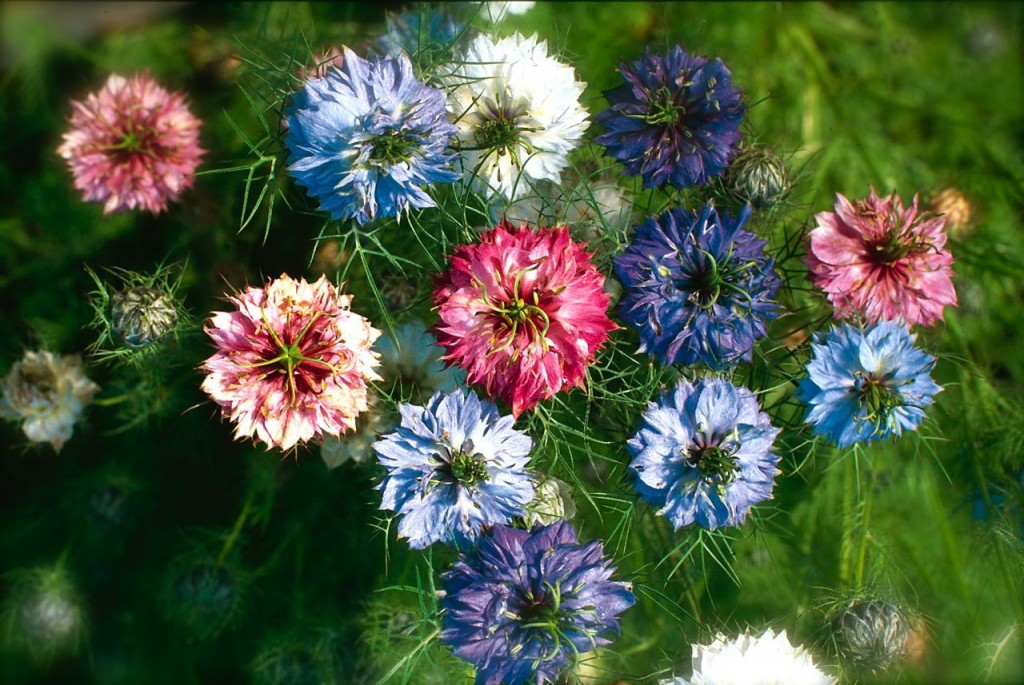 Nigella 'Persian Jewels' are rather special in my book. The word 'Jewels' is not misplaced here…they really have a sense of being exotic, Arabian gems.
They also have soft…feathery…fern like foliage…and the flowers themselves turn into alien, horned seed pods…perfectly 'quirky chic'…couple all this with the fact that they are super easy to grow…and bingo….what is there not to love?
How to grow Nigella 'Persian Jewels' from seed:
*Prepare your seed bed to a fine, weed free tilth in full sun.
*I sow mine in straight rows, this is the best way in the cutting garden but you can also simply scatter the seeds if that is your want…they love growing on gravel drives.
*Don't sow too deep…3ml is fine.
*I sow the first batch at the beginning of April…and then further sowings every few weeks until mid May…and then an autumn sowing too…for earlier plants the following year.
*Keep the seed bed moist whilst they germinate and become established.
*Thin the seedlings out to about 8 inches.
*Some folk start them off early indoors…I don't bother…they don't seem to like the transplantation…and who can blame them…and either way you only get them to flower a couple of weeks early for a lot of extra work.
I stock 'Persian Jewels' at £1.85 for 400ish seeds. :)
Regards
Benjamin