In the 1920's when the Higgledy Garden kept cut flower fields in Panama, Sebastian Higgledy, the then custodian, came across the wonderful Gomphrena 'Strawberry Fields' growing in the front garden of the local, ex pats, swinger's club…he wasted no time in attempting to grow the flower from seed and by jingo it was a roaring success. Within a year, every vase in every town, in every country in South America was baying for Sebastian's Gomphrenas.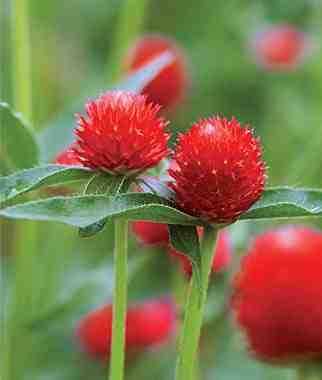 Gomphrena globosa is more commonly known as Globe Amaranth and is an annual flower that can grow up to two feet. In its true form the bracts are magenta but cultivars are available in reds, pinks and lilacs.
I have found them really super easy to raise from seed…in fact in the tray pictured I had 100% germination…and once planted out they will look after themselves…even in drought.
How To Grow Gomhrena From Seed.
*I sow from April and through May.
*I start mine in module trays…I have never direct sown them…though I suspect this wouldn't be a problem as long as you sow after the frosts.
*Use a good compost…preferably a good peat free compost…don't skimp here…it's not worth it.
*I make a first in the beginning of April and then plant out about six weeks later…but make double sure you have no frost forecast.
*Space out your plants to about a foot apart…in a weed free bed…that gets lashings of sunshine…think Brazil…not Basildon.
*Gomphrena should flower from about 12 weeks after sowing…sometimes sooner in a good summer…and I think we are in for a cracking summer. ;)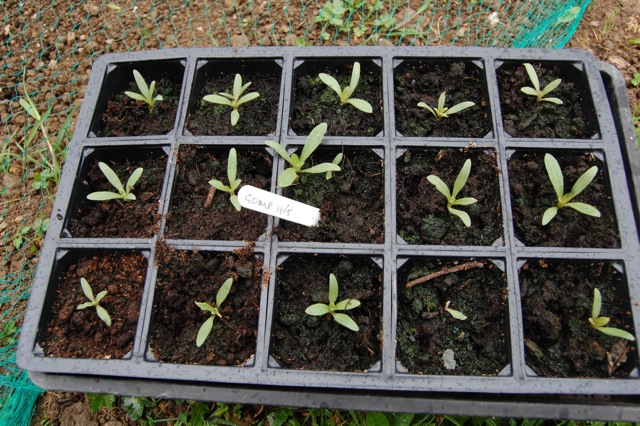 *Mulching around your plants will of course help keep moisture in…and weeds at bay…and your neighbours will think you are organised and professional (fools).
*I think the bright red of 'Strawberry Fields' looks great with plenty of flouncy Cosmos to soften it up…Cosmos 'Purity' is best…and then add some zingy citrus green foliage like Nicotiana 'Lime Green' or Bupleurum…thinking about it, I bet Dill 'Mammoth' would work too…and add some height.
…or swap the citrus greens for Cornflower 'Blue Ball' for a right ole royal knees up.
I have Gomphrena 'Strawberry Fields' at £1.95 for 40 seeds. :)
I heartily recommend trying these wonderful flowers in your cuts garden…you don't see them very often and they won't let you down…as with all my seeds…if you are not happy for any reason then you get your money back.
Happy Gomphrena-ering one and all.
Kind regards
Benjamin Higgledy