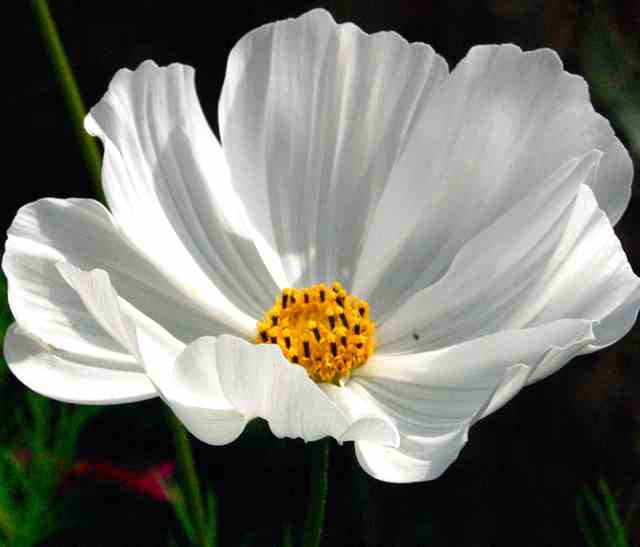 Cosmos are easy to raise from seed…and Cosmos 'Purity' are no exception. 'Purity' is always a winner in the cut flower  garden….it was the first Cosmos I ever grew…and it has been in the garden every year since I started growing.
This years crop has been a little slow to get started because of the cold spring…but it will be fine…they will be flowering their socks off in a few weeks.
The wonderful Cosmos flower is native to meadowland and scrub over the pond 'down Mexico way'. They have naturalised in USA and South America. Though perennial plants in their native land….they are not in the UK and should be considered as annuals.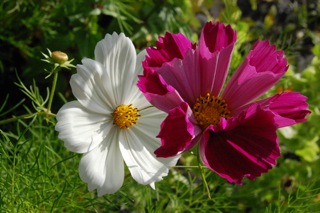 'Cosmos' has come from the Greek for 'ordered' and/or 'harmony'…this I think must relate to the even spacing of it's petals… everything looks…well…'right'. Spanish priests used to grow Cosmos the gardens of the missionary churches…I like to believe they grew 'Purity'.
Once Cosmos 'Purity' flower…they will be flower making machines for week and weeks…these prized and abundant flowers have silky, daisy-like flowers that are  'super-easy-care'….cut them and they will produce more blooms…(oh how we like this sort of behavior at Higgledy)
I have it on good authority that Cosmos arrived in England in 1789…brought back by the Marchioness of Bute….the flower loving wife of the English Ambassador to Spain. …this may of course be all made up as the chap who told me, also told me that the Wren Library in Cambridge, started its life as the largest indoor trout farm in Europe.
FAQ: 'Oh How Do We Grow Cosmos 'Purity' From Seed Mr Higgledy?'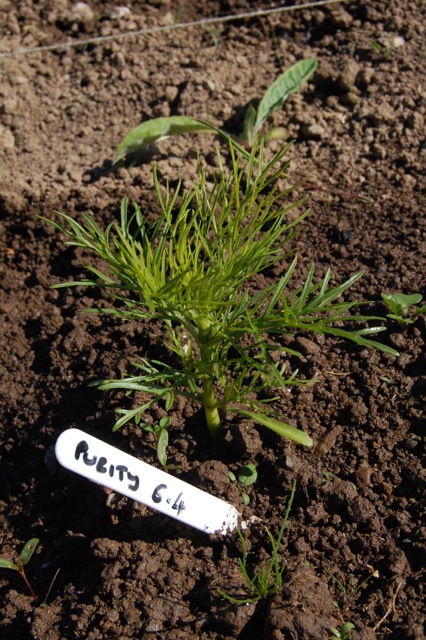 *Either direct sow your Cosmos 'Purity' seeds direct into the soil after all threats  of frost have disappeared….or sow six weeks earlier in pots…in a greenhouse or on your windowsill. Best just not be in too much of a rush to get them started…one bit of frost and our Cosmos chums will keel over…and you will be all sad…guilty….and be in the shallows of  despair….well…maybe. I sow mine from April (undercover)…outside after 15th May…and this year I will be sowing the last batch on the 22nd June as an experiment.
*Prepare the bed you are going to grow them into…make sure it gets lots and lots of sun and is weed free.
*I thin my seedlings to a foot apart…many other flower folk sow two feet apart….either way your plants will need staking if the site is exposed.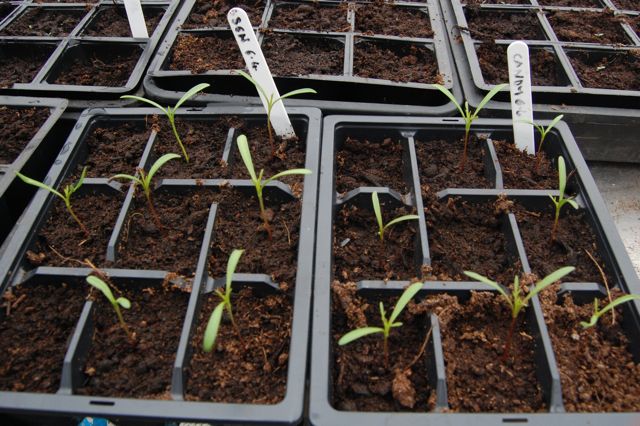 *Don't feed your Cosmos as too much nitrogen will give you heaps of green growth but few flowers…a poorish soil is fine.
*When you harvest cosmos flowers…cut them just above a leaf node and this way you will get some more blooms.
Other great Cosmos to grow are 'Pied Piper' and 'Sensation'…I grow all three….I am trying 'Candy Stripe' this season…it has germinated well and I have high hopes…I will let you know in July.
I sell Cosmos 'Purity' at £1.95 for 50ish seeds.
I like to add some Dill 'Mammoth' when showing  Cosmos in an arrangement….it takes the edge of the 'flounce' and can add some height too…Nicotiana 'Lime Green' is also a winner for calming down the Barbara Cartlandness of it all.
Happy Cosmosing one and all!
Best wishes
Benjamin Higgeldy.