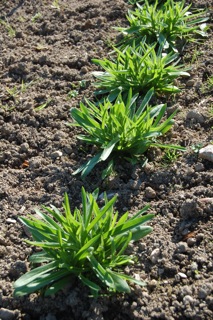 Growing Corncockle from seed couldn't be easier…they seem almost indestructible! I sowed my first batch on the 22rd March…(The Vernal Equinox)…and I will sow a late batch on June 22nd…(The Solstice)…a haven't chosen these dates because I'm a barefoot, flower growing, hippy type but because these dates are easy to remember. Sowing that late in June may be a little risky…it is  something of an experiment. A long summer will see them right and I think we are in for a scorcher. :)
My Top Five Tips For Growing Better Corncockle Flowers Than Your Granny.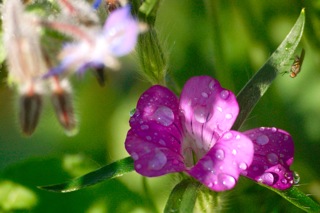 *Sow the seed to about three times it's depth…about 5mm…but no need to be precious about this.
*Don't direct sow outside until at least mid April…even then, had you done that this year (2013) the soil would have been too cold. But as a rule of thumb, mid April is about right for most hardy annual flower seeds.
*If sowing undercover…on a windowsill or the like…then late March is fine.
*Keep your compost/earth moist throughout the germination process…which will take anywhere from a week to three weeks.
*Try growing them with the wonderful Cosmos 'Purity'…this white Cosmos helps show off the delicate pinks of the corncockle…then add something a little left field into the mix to upset the neighbours…Dill 'Mammoth' for citrus green 'spiky height interest' (new phrase) or something blue like 'Blue Ball' cornflowers to calm the whole thing down a little…
I sell Corncockle seeds at £1.95 for 70ish seeds. Have fun one and all.
Regards
Benjamin Higgledy
PS Here is a guide to:  sowing flowers in June.
PPS Here is a rather plucked out of the ether 'Growing Bupleurum From Seed' post.