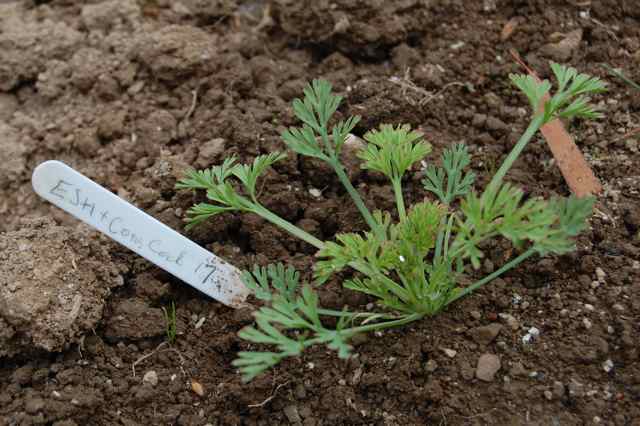 Down here in sunny Cornwall there are swathes of bright Eschscholzia 'Orange King' in many a front garden…these are all autumn sown…or to be precise, they would have self sown from last years flowers. As I wasn't here in the Autumn…all my Eschscholzia has been spring sown. As such it will flower much later in the season…I suspect the lava hot blooms will be with us in mid July.
Eschscholzia is technically a perennial but we should consider it a hardy annual in the UK…once she gets flowering she will flower her knickers off all summer long….attracting pollinators from far and wide…great for attracting wildlife to your garden.
Try growing them alongside Cornflower 'Blue Ball' for a superb colour contrast…this Orange and Blue combo has become a hall mark of Higgledy Garden.
Top Five Tips For Growing Eschscholzia From Seed.
*Eschscholzia are best direct sown into gritty soil…they MUST have good drainage and love to wriggle about in poor ground. Add some grit if your soil is too 'loamy'
*Sow in a bed that gets lashings of sunshine…think San Francisco not Bletchly.
*Don't sow your spring seeds too early…the soil needs to warm up before they will germinate…mid April is usually about right…I sow through May too…and then again in late August and September.
*Folk will tell you that they are no good as cut flowers because their petals fall off…well they do…but not for five days or so…and they look just fine and dandy lying around the base of the vase in my opinion. You can also sear the ends of the stems in boiling water which will make them last a little longer but to be honest…with just a few plants you will have heaps of flowers to play with.
*Eschscholzia are fab for a drought tolerant garden…once established they will simply look after themselves.
I sell two varieties of Eschscholzia…'Orange King', £1.95 for 350ish seeds & 'Ivory Castle' £1.95 for 300ish seeds.
Kind regards
Benjamin
PS If you are after finding some flowers to sow now….then I have a guide 'Flowers To Sow In June'.