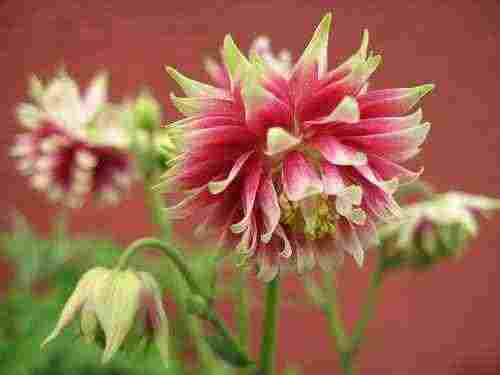 Next spring I shall be adding a couple of other Aquilegias to the Higgledy seed shop but so far I have found it best only to stock seeds of flowers that I am 100% sure are at the top of their game in the cutting garden. Aquileagia 'Nora Barlow' has always been a star player. My distant, great Aunti Rohesia Higgledy was of course the infamous cut flower gardener to the medievel royal court of Prince Cutherbert The Unready…whom she knocked off with a Foxglove salad when he refused to acknowledge their love-child Ned Higgledy…(later to be known as 'Naughty Ned Higgledy The Fruit of Florence')…well it was Rohesia who produced the forerunner to 'Nora Barlow'…and it is to her memory that I dedicate my Aquilegia patch in the present day Higgledy Cut Flower Gardens…now located in Cornwall.
"What makes Aquilegia 'Nora Barlow' such a great cut flower Mr Higgles?"
*First off it is undoubtedly one of the most beautiful flowers known to modern man…or at least modern me. Its pink petals are tipped in white are spherical and most charming.
*Long strong stems.
*Lasts ages in the vase.
*Flowers from May when blooms are in short supply.
This is what the clever people at the RHS have to say about 'Nora Barlow'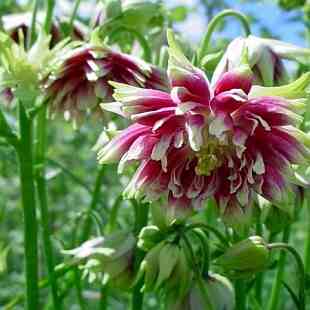 "Aquilegia are clump-forming herbaceous perennials with long-stalked, ternately divided basal leaves and erect, leafy stems bearing bell-shaped flowers with spreading, coloured sepals and petals with spurs, on branched stems
'Nora Barlow' is an erect plant to 80cm, with divided, dark green leaves and nodding, spurless, double flowers 2-3cm in width, composed of many narrow, dull deep pink and pale green petals"
But be warned my chums…that 'Nora Barlow' isn't always the easiest to get going from seed but it is really worth a go. If you fail you can always buy a few plants from the garden centre and pretend you raised them yourself….I won't tell.
I sell Aquilegia 'Nora Barlow' at £1.95 for 30ish seeds. :)
All the best
Mr Higgledy
Ps If you enjoyed this guide then perhaps you may enjoy, 'How to grow wallflowers from seed' or 'Step One of creating your own cut flower patch'.