Despite Borage having perhaps the most beautiful of all the blue flowers in the garden it gets a lot of bad press. This is caused mainly by it's cunning trick of self seeding everywhere if the conditions are right. Yes this can be a pain…but it is very easily solved by simply pulling up the plant before it runs to seed…and it's seedlings are easy to remove if a few do indeed escape. I myself find Borage a gem in the cutting patch, it's perfect to make any display feel fresh and as though the countryside has come in through the front door and is having a disco on your kitchen table.
Borage originates from Syria and it was the Knights of the Crusades who brought it back to Blighty. They would steep their wine in it before battle believing it gave them courage. In fact there is many a wise man (or woman…brother or sister) who say that the name Borage is actually a derivative of the word 'courage'. Good bit of trivia that…I've bluffed my way into the beds of princesses with that nugget. ;)
"Does Borage Make A Good Cut Flower?"
I certainly think Borage makes an excellent cut flower, perhaps not as the main attraction but as a foil to other flowers it is magnificent. It also has a sort of stiff and tangled nature which allows you to thread other stems through it and it will hold them in place. I'm sure there is a florists term for this but not being one I don't know. So we shall call this quality being 'spoinky'.
Try throwing Borage in a vase with some spires of Larkspur 'Giant Imperials' and some simple Calendula 'Art Shades' for instant pleasure.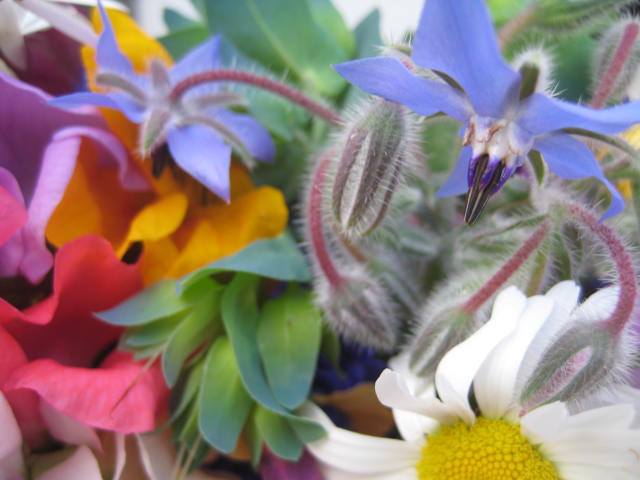 I love this photo by Sarah Robinson (Click the link to see more of her groovy work) You can see how the blue of the Borage somehow sets off the other flowers…I find it very svelte…even if that is the wrong use of the word.
Growing Borage couldn't be easier…Sow either in Autumn or in mid April outside where you want it to flower…or sow indoors in late March/early April in pots. Thin to about a foot and a half. As I mentioned earlier if you don't wish it self seed then pull it up before you see the seeds ripening.
Happy Boragimg. :)
Benjamin Higgledy