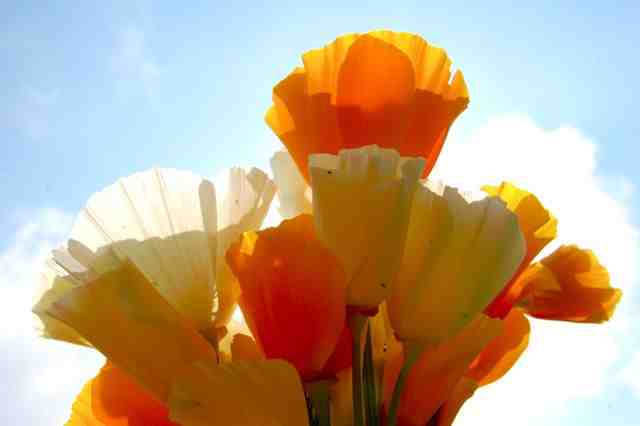 2013 was my first time growing this most refined of Eschscholzia (California Poppy)…'Ivory Castle' is a very cultivated little lady and she is most welcome to hang around the Higgledy Garden looking like the Audrey Hepburn of the cutting patch. I am a huge fan of 'Orange King' which just screams out SUMMER, it grows like Billio here in Cornwall and is seen in gardens all over the peninsular and I must admit to being slightly reticent at the thought of an ivory coloured version. However my fears were vanquished as soon as the flower appeared and in fact 'Orange King' and 'Ivory Castle' make a perfect match.
All the suppliers of the seed I have met, tell me the flowers are about a foot high…well they are at least a foot and a half, even from a spring sowing and I suspect Autumn sowings may be taller still. Many suppliers assured me that 'Ivory Castle' is a dwarf variety…I do wonder sometimes if these companies actually grow anything they sell. (Meowwww)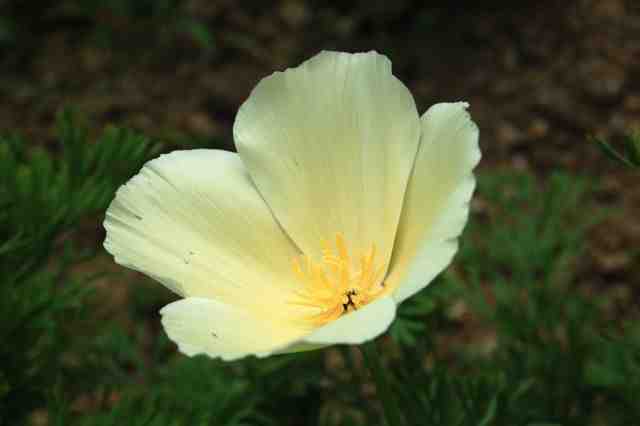 This is what the nice and brainy folk at the RHS have to say of Eschscholzia:
"Eschscholzia can be annuals or perennials, with finely divided leaves and solitary, long-stalked, poppy-like yellow, orange or red flowers, followed by conspicuous long seed-pods
E. californica is a vigorous bushy, spreading annual to 30cm, with finely divided blue-green leaves and orange, yellow or red flowers to 7cm across in summer" RHS
I suggest treating Eschscholzia 'Ivory castle' (And 'Orange King' for that matter) as annuals…sure…in the mild winters of California they can prance about being perennial but here they are destined to be duffed up by Mr Jack Frost and the long drawn out winter…HOWEVER they will self seed and the seedlings can take a light frost. So you need only buy seed once…I do not know as yet if they will x pollinate with each other…maybe they will produce 'Ivory Tangerine'?…or 'Tangerine Cream'? …tee hee hee….
"But I Have Heard Californian Poppies Don't Last In The Vase Mr Higgledy…So Why Do You Recommend Them As Cut Flowers? …You Naughty Man!"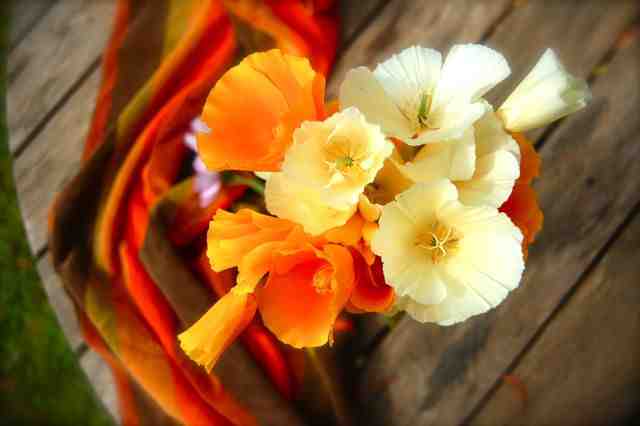 …It is true that they don't last for weeks…but they do last for a few days and look AMAZING whilst they do…and you will have BUCKETS of the flowers from just a few plants…they will keep producing all summer…so who cares if they don't last long. That being said I would never buy any from a florist….which is why you don't see them in florists. Some folk sear the ends of the stems in boiling water…which may make them last longer….seems a bit of a faff to me…but then I don't own an iron either….faffing things.
How To Grow Eschscholzia 'Ivory Castle' From Seed.
*I sow in mid April…sometimes another row in May and a row in September. (See Autumn sowing of eschscholzia)
*I ALWAYS direct sow my eschscholzia as they are not into having their roots messed with. If you must sow under cover, then use fibre or paper pots.
*Prepare a bed in full sun….weed it thoroughly and break down the soil to a pleasing tilth…ie no big bits.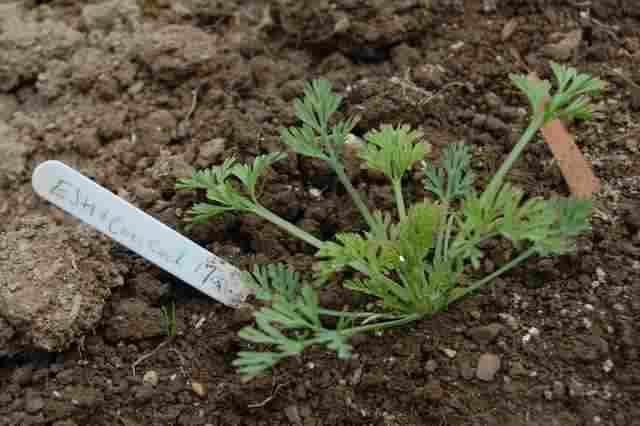 *Make a straight drill…a shallow one….just a scratch with a stick is fine. I make a straight line with tight string and run a stick along it.
*Water this drill BEFORE you sow your seed.
*Sow your eschscholzia seed thinly along this drill and lightly cover your seed with earth.
*Don't let the seed bed completely dry out whilst the seeds are wriggling about trying to germinate…germination will take a couple of weeks.
*Thin out when seedlings are a few inches high to about a foot apart.
*Let them get on with it…just keep the bed weed free….eschscholzia are super tough and can take some pretty harsh conditions.
Any questions then please leave a comment OR come and join me on Twitter @higgledygarden (There are literally hundreds of flower growers on Twitter all ready to share advice) and also I have a Facebook page. :)
Take care mon ami!
Benjamin Higgledy