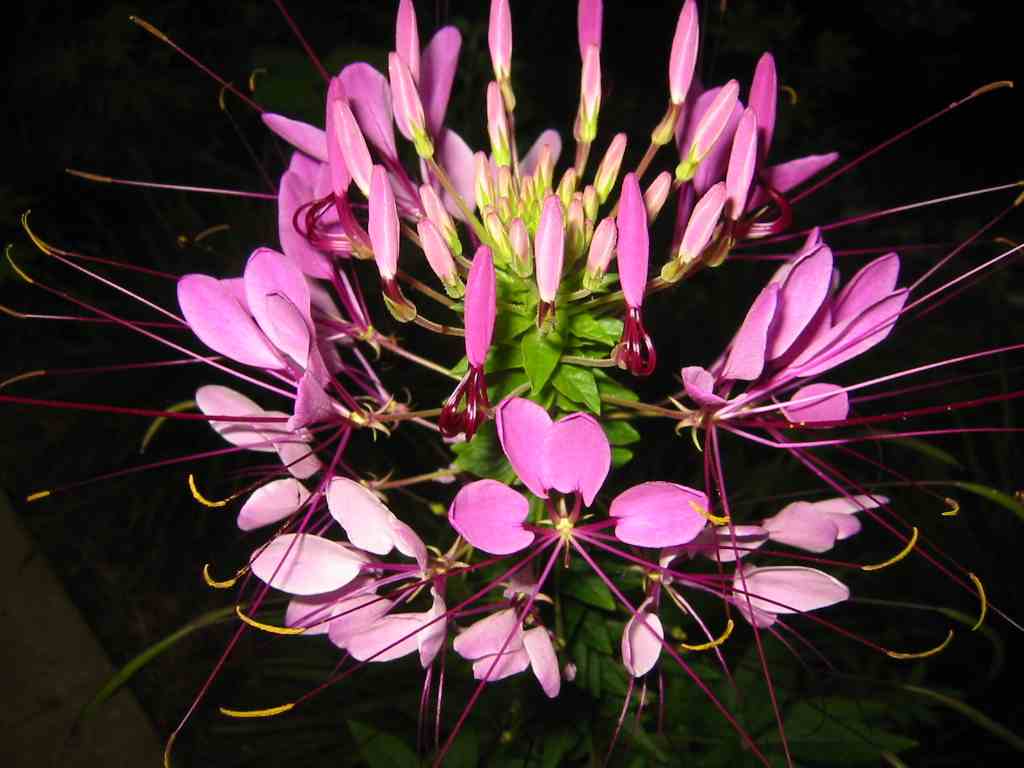 Cleomes are half hardy annuals and as such will get the right hump if they come toe toe to with Mr Jack Frost. The fussy little madams will also throw their petals out of the cot if they have too much root disturbance. With these points in mind it is best to start them in modules or pots…undercover, in early April.
Cleome seeds are not the easiest seeds to germinate but neither are they too difficult for the beginner if one simply follows a few rules.
Growing Cleome. Top Tips!: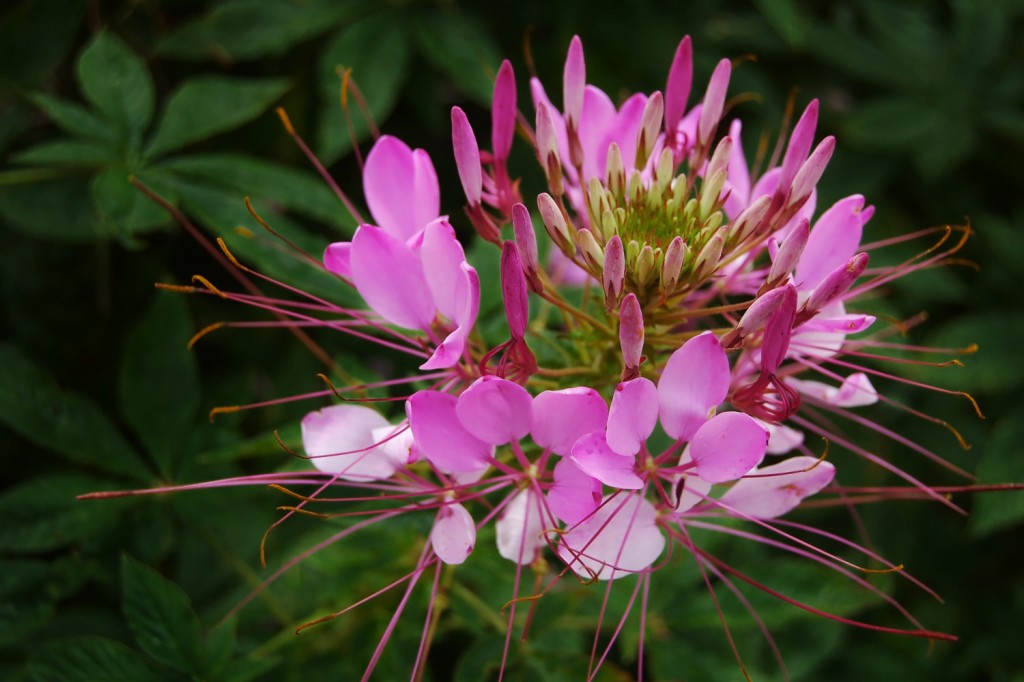 *Sow on the SURFACE of seed compost as they need light to germinate.
*With surface sown seeds this a little harder to keep them moist…so if you can't regularly mist them then leave your seed tray in a plastic bag. You could also leave your seed tray in a larger tray with some water in it…so they get watered from below.
*Your seedlings will be erratic in their germination but within three weeks they will be starting to show themselves.
*Grow the seedlings on for six weeks…Cleome is native to South and Central America…so I find playing them a little Mariachi band music helps them along…they love a good horn section.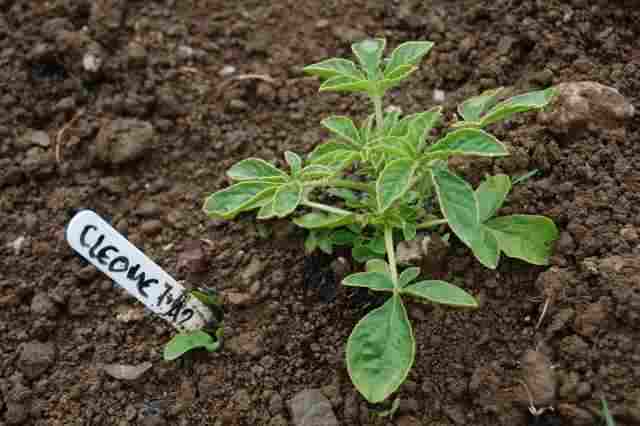 *Mid May check the weather forecast…if NO FROST is forecast then harden off your seedlings and then plant out to a space of about a foot and a half.
*Some growers feel they have more luck with germination if they sow in late April….more warmth and higher light levels…this makes sense as our cleome friends would normally be closer to the equator.
*Feel free to pinch out  for bushier plants with more flowers.
*Most Cleomes have sharp little thorns on the stems which makes some growers dislike them to the extent they won't grow them. But these people are weak and feeble and will never rule the world. Just be aware of the thorns…gloves help…but you would know that already.
*I put my seeds in the fridge for a week or ten days before sowing…my Auntie Gethsemane 'of Bedford' used to…and it worked for her.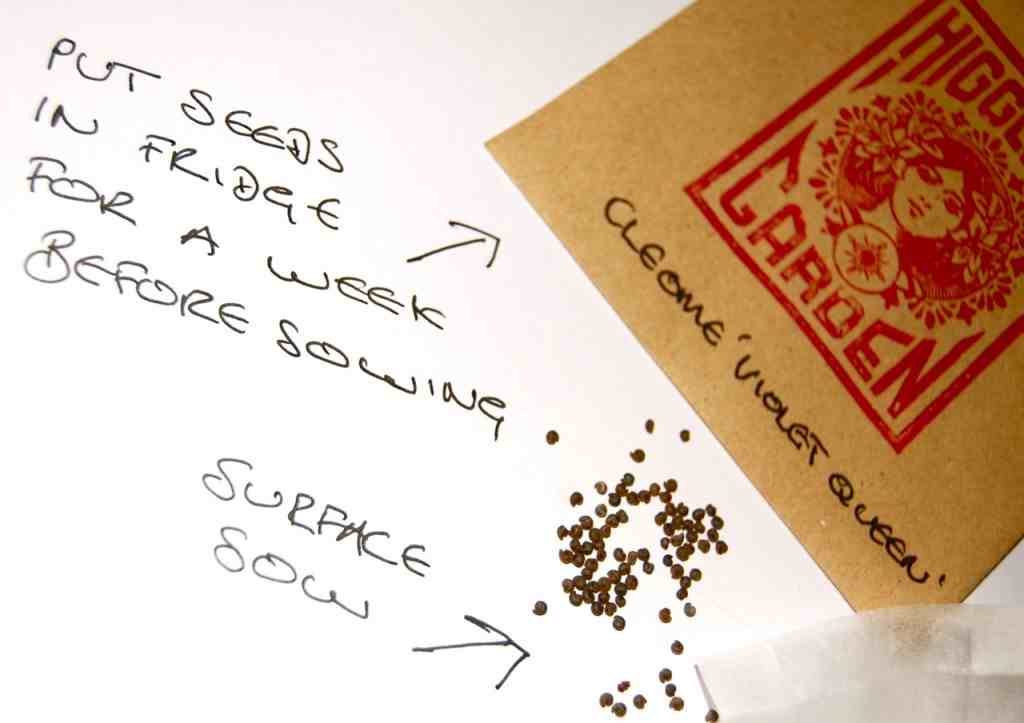 Cleomes As Cut Flowers.
These wonderful flowers are unique…peculiar looking chaps. Try to contrast their spiky nature by showing them with something of a softer nature. 'Lime Green' Nicotiana is as always a winner in this regard…Cosmos 'Purity' will also do wonders…and the stark upward facing petals of Rudbeckia 'Marmalade' with add some horizontal punch…and we will all be wanting some horizontal punch in 2014…it will be the mood of the moment.
In conclusion, cleomes are a little tricky to get started but bear in mind you will get about 200 seeds to play with…and you will only need a few plants as they are statuesque creatures, so why not give them a go..
Have fun one and all.
Kind regards
Benjamin Ranyard
PS Please join me on Twitter @higgledygarden for flower chat and general banter…I can also be found loitering on Facebook…