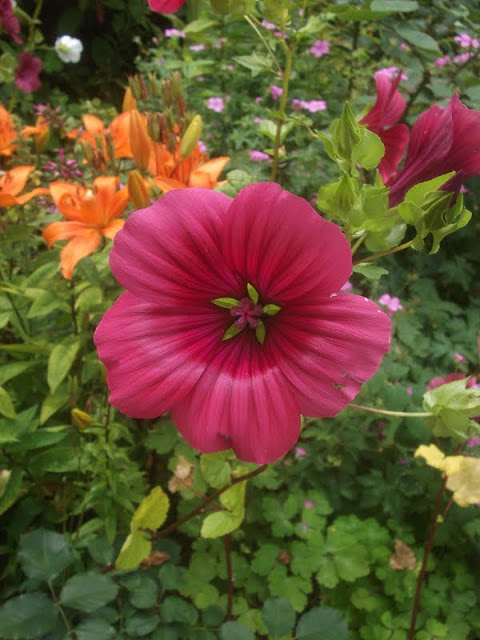 Back in the day I used to grow flowers for the local hippy/health food shop….it was always well stocked with patchouli scented lasses who would make cooing noises when I delivered bucket loads of fresh flowers to the shop. The staff had a big liking for Malope Trifida 'Vulcan' and so I would grow heaps of it for them in the vain hope they would return a 70's style love-in…no such luck…plenty of vegan quiche and monkey friendly laundry powder but no rolling around with braided haired beauties. However…not one to give up easily….though ten years have passed and I've moved 400 miles away…I still grow a decent sized patch of Malope…just in case.
'Vulcan' is unique…I grow nothing else quite like it the Higgledy Garden…it has big, trumpet shaped silky flowers in a red/magenta/pink with a stunning green star at the base of the flower…very unusual. Not only are the flowers beautiful but they just keep coming all summer long.
NB When the first flowers come you may find them tricky to pick as to pick a long stem you will cut off lots of buds…I simply let mine flower for a couple of weeks….let it get into it's stride and find its Vuncanny feet….then start harvesting.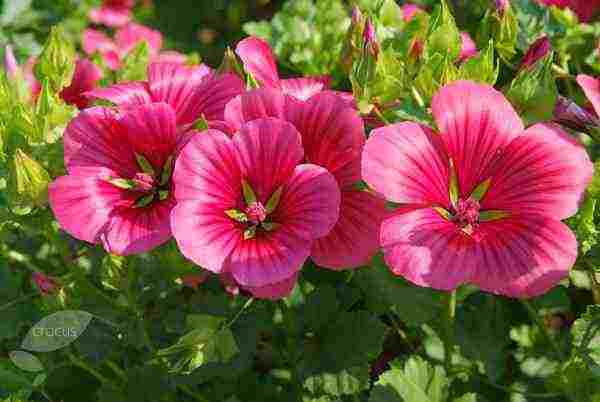 Top Tips For Growing Malope Trifida 'Vulcan' From Seed.
*You can direct sow straight into the soil outside after the frosts have done their worst….about mid May. This your seedlings to about a foot and a half apart.
*Or sow some earlier in modules….I sow some at the beginning of April….then plant them out six weeks later.
*Only lightly cover the seed…don't sow too deep.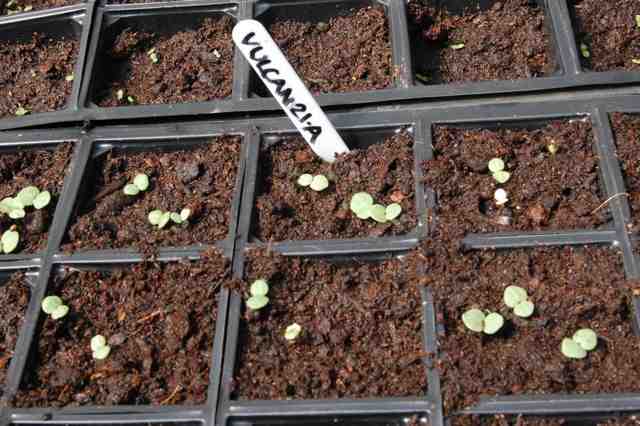 *They like lots of sunshine.
*You can easily harvest the seed but that would mean you wouldn't come back to me for some more….so don't do that.
*Malope flowers are edible….so cast them willy nilly all over your fish fingers and be the talk of Weymouth.
Malope are super easy to grow from seed and will work really hard for you producing buckets of flowers all summer long…I don't know why they are not grown more often…so go forth and Vulcinate dear chums!
I of course sell Malope 'Vulcan'…£1.95 for 70ish seeds. :)
Try arranging them with other brassy plants like Cosmos 'Purity' or Larkspur for a punchy 'country style' vibe.
Have fun!
Kind regards
Benjamin Higgledy.