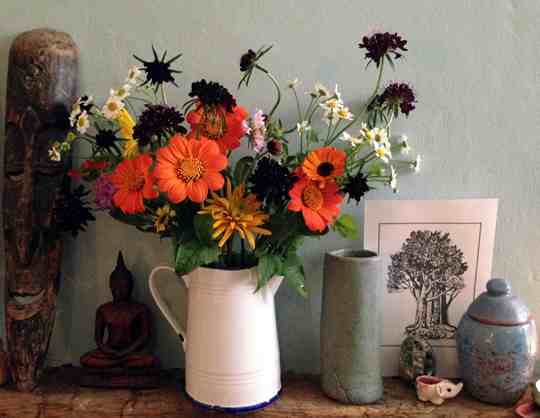 When I say an 'early sowing' of Tithonia seeds, there are plenty of folk who sow their seeds much earlier and use propagators. I manage without a propagator at Higgledy…in fact this season I am managing without any sort of glasshouse even, as our poly tunnel has been destroyed in the Cornish storms. I shall be simply bringing my seed trays inside of an evening and putting them in the living room…(one of the benefits of being a bachelor.) This system is far from ideal but when needs call the Devil drives and all that…plus I should like to ascertain if it's possible…and if it is then I shall be Captain Smug all summer long.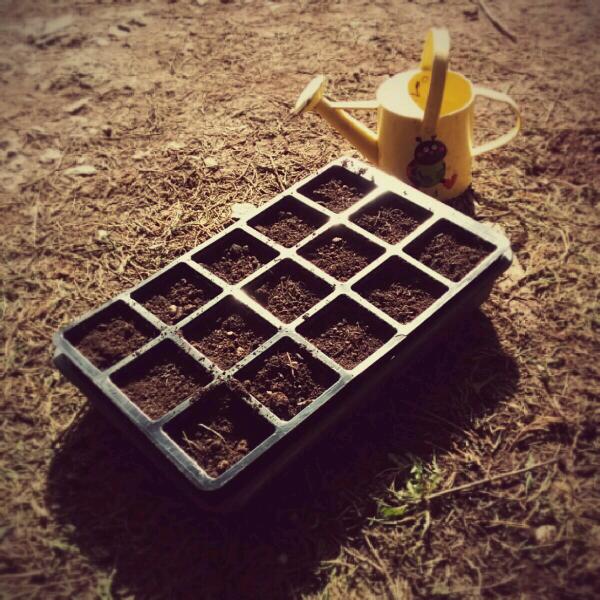 The Tithonia I am growing this season is 'Fiesta Del Sol' (Half Hardy Annual)…this plant gets a terrible review from some…I can see their point that as a plant for the garden it is somewhat lacking in charisma but it is great for cutting as it produces heaps and heaps of flowers that last up to two weeks in the vase. It is described as being a dwarf Tithonia…I would say it is compact…but not dwarf…I mean…it hasn't got a beard and a little axe or anything.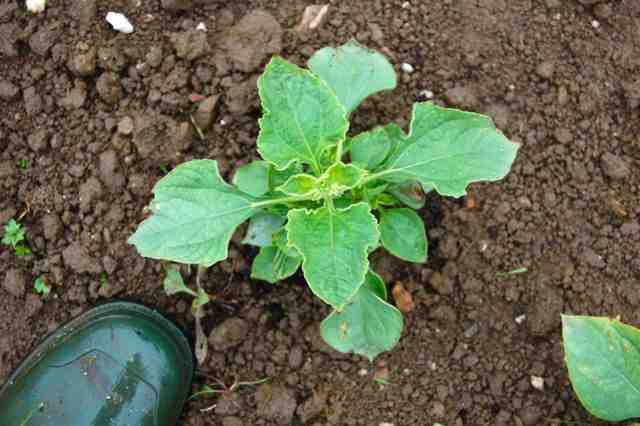 In the Higgledy Tithonia seed packets one receives 25 or thereabouts seeds…I have sown one into each cell of a 15 cell module…and will reseed the cells that don't have a germinated seed in a couple of weeks or so. Hopefully ending up with 15 plants which is fine for me for this year as I only intend supplying a few choice venues here in Cornwall with flowers this summer…as I'll be too busy trying to be a surf dude beach bum type.
Tithonia do like a little heat to get them started…an airing cupboard is good as they like the dark too…having said that mine usually come good just from in the house and not outside.
Should you wish you can make an outdoor sowing in May for flowers in the autumn.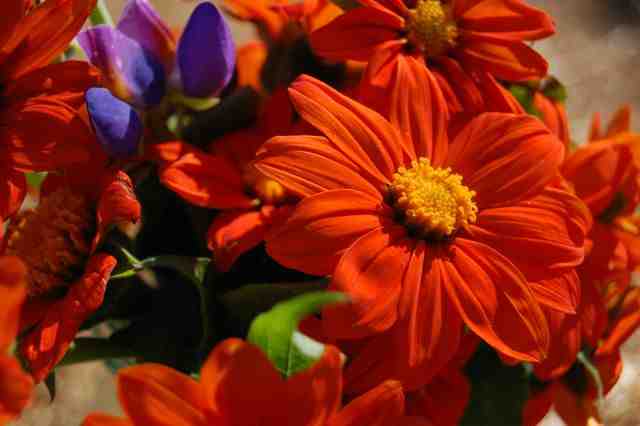 Before you plant them out…make sure you harden them off to the elements….I space mine to about 45 cm apart though I may drop that a little for this year.
If you keep dead heading this Tithonia it will keep on offering more flowers all summer long.
Yes the flowers have shorter stems than say the lovely Tithonia 'Torch' but the production is much heavier.
One thing to point out is that the stems of all Tithonias are hollow and must be cut with a sharp pair of scissors and care must be taken not to damage the stems when handling them.
The lovely Miss Wells has posted recently…and her article is well worth a read : Karen's Tithonia Post.
I shall post an update on how these little cherubs are getting along in a couple of weeks or so…I know….you will be on the edge of you seats…but please don't get over excited.
Kind regards
Ben Higgledy