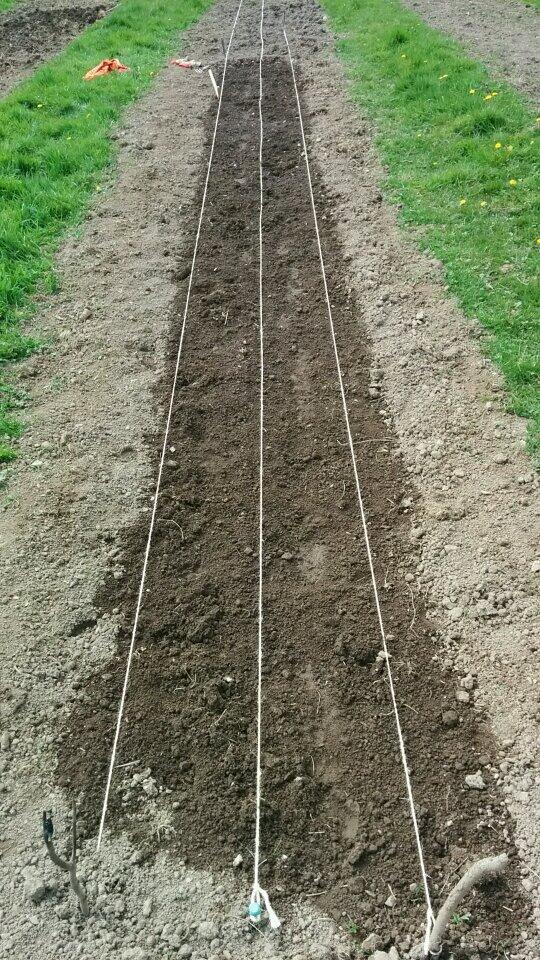 I am determined to keep my rows straight this year…they were far too in the spirit of Higgledy last year. I have also narrowed the beds a little and shall go back to sowing just three rows…I got a little carried away last season doing four and five row beds. They were tricky to keep weeded. Three is best…why make things more difficult.
I have some plans for half a dozen 'seed collections' for the shop next season…all containing ten packets each. I am trying these out this season and have sown the hardy seeds amongst them today.
I also direct sowed some Cosmos today…a bit early but it is VERY unlikely that my field will get a frost now…Cornwall is super mild…and Cosmos are pretty tough for half hardies.
This year I am mixing up all my rows…ie I'm not having a row of Cornflower and a separate row of Calendula etc…but instead I am mixing up the seed so my beds produce a meadow vibe. I wouldn't do this if I was growing flowers commercially but for a domestic cut flower patch it's pretty groovy.
Top Tips For Direct Sowing.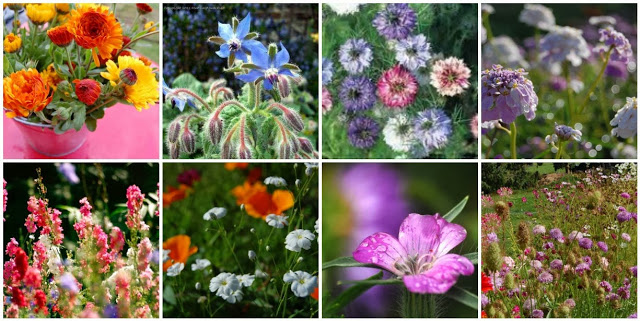 *Make double super sure…no question…100%….treble checked….that your bed is weed free. Get those pesky native weeds out of there….there is plenty of room for them elsewhere. Take your time doing this…time spent doing this now will save you ten times more time later on.
*Never sow into cold wet soil…the seeds don't like it…and who could blame them. As a general rule, the middle of April is fine for most of the UK…a little earlier here in Cornwall….and a little later in the northern parks of our fair Isles. If you are unsure…then leave it. Don't feel there is a mad rush to get your seeds in….later sown seeds will be fine and produce flowers for longer into the late summer and autumn. I happily sow seeds all the way through May and even early June.
*Only broadcast seed if you know the difference between a weed seedling and a flower seedling…if you don't…you're in trouble and if you haven't got your bed weed free to start off with you may as well give up your flower growing career and join the Foreign Legion.
*Sow in straight lines a foot apart…this simple tip will save you an awful lot of bother…you can easily see what are your flower seedlings as they grow.
*After germination, wait a couple of weeks or more before thinning….most annuals need about a foot between plants…I don't stake my plants and instead grow them a little closer together…about a hand span BUT I still leave a foot between rows so I can easily run a hoe down them.

*Keep seed beds gently watered if it's dry…hopefully you will have April showers…this is by far and away the best water for your seedlings…it's warm and springy. Best not to water seedlings from a water butt as these can have microbes in that the seedlings don't like….save harvested water for more robust plants.
*Note that as a rule 'Half hardy annuals' are usually best started off inside…in a greenhouse or on a windowsill and then planted out after the frosts…most places in the UK will get light frosts in the first fortnight of May.
*Hardy annuals can be sown direct in Autumn using the exact method prescribed here…a hard winter…or a wet one for that matter can rather spoil things however……gggggggggggggrrrrrrrr!
Claire from Plantpassion is cooking up a blog post on direct sowing very soon and it will be worth a read…Claire is a mighty fine grower and knows her stuff…'check it out'…as the cool kids say.
I shall have another bash at getting more hardies sown over the weekend….or I may have a couple of light ales………
Have fun.
Kind regards
Benjamin Higgledy
PS Here's a list of the hardies I sowed today:
Borage, Malope, Cornflowers, Calendula, Dill, Nigella, Godetia, Chrysanthemum, Larkspur, Gypsophila, Phacelia, Eschscholzia, Scabiosa, Iberis (Candytuft).