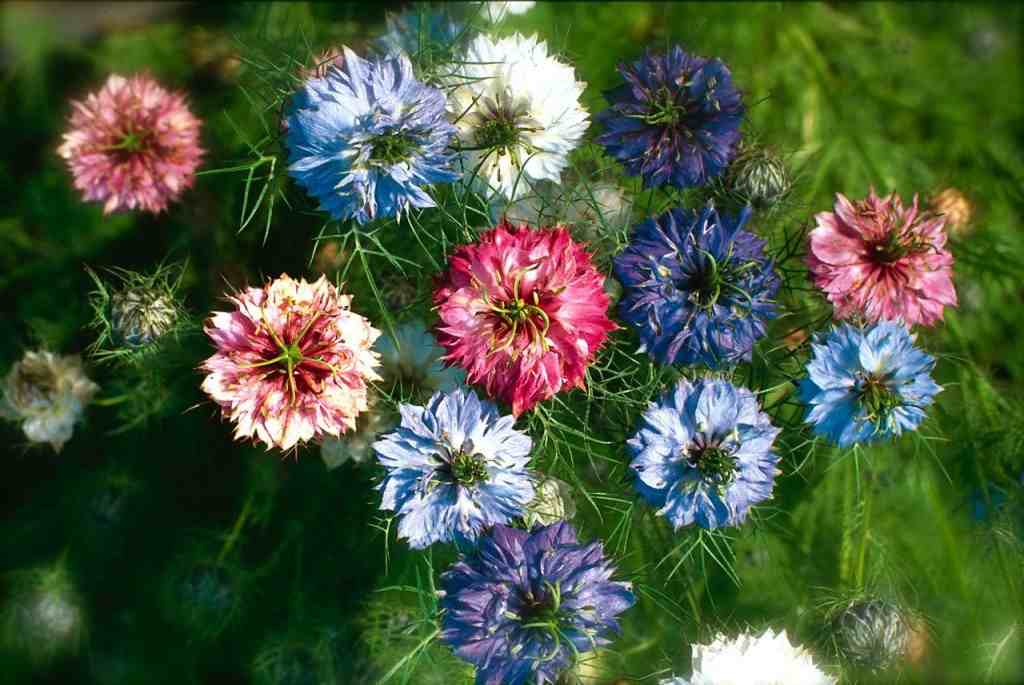 Growing Nigella from seed is pretty straight forward and the flower is a wonderful addition to the cutting patch or indeed a cottage style planting plan. Nigella just shouts 'old school'. I first remember it as a child growing in the grounds of Great Uncle Finkle-Higgledy's estate….he was always moaning that is was being flattened by the house cheetah. It was Finkle-Higgledy who put me on the right path to growing Nigella from seed. Here follows his method:
How To Grow Nigella From Seed.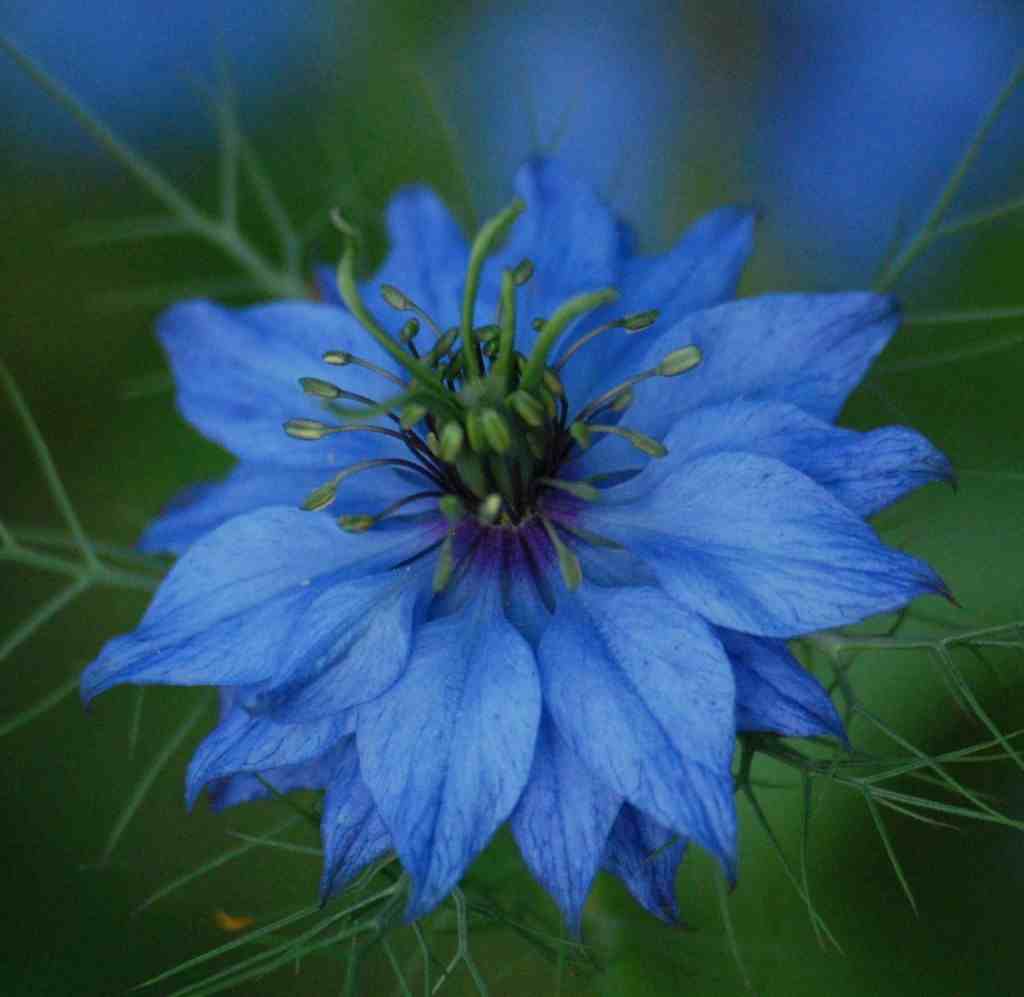 *Although it is possible to start nigella off in pots in March/April and plant them out after the frosts. Uncle Fink used to prefer direct sowing into the soil in April. As Nigella has a relatively short flowering time before it turns the flowers into outrageous, horned seed pods…Finky would sow another batch in early May…also as they are hardy he would sow again in September to have early flowers the following year. NB This was all in his cutting patch…other nigella in the estate would just simply self seed…but after a few years they would all seem to revert to a pale blue…very pretty though.
*The Finkster employed the three row method that we use today at the Higgledy Garden.
*Don't try to transplant Nigella seedlings that you have direct sown…they don't seem to take…just eliminate the extra seedlings. The plants can grow closer together than most annuals at 6-8 inches apart. I still leave a foot between rows however…keeps things neat and shipshape.
*Your soil needs to be free draining…if her feet are kept wet she will sulk…she may even sulk herself to death…..such a drama queen.
*Finkypops alsways sowed his Nigella in a Sunny spot.
*Try not to cut all the flowers…leave some to turn into seed pods…they are amazing…obviously you need to leave them if you want the plant to self seed.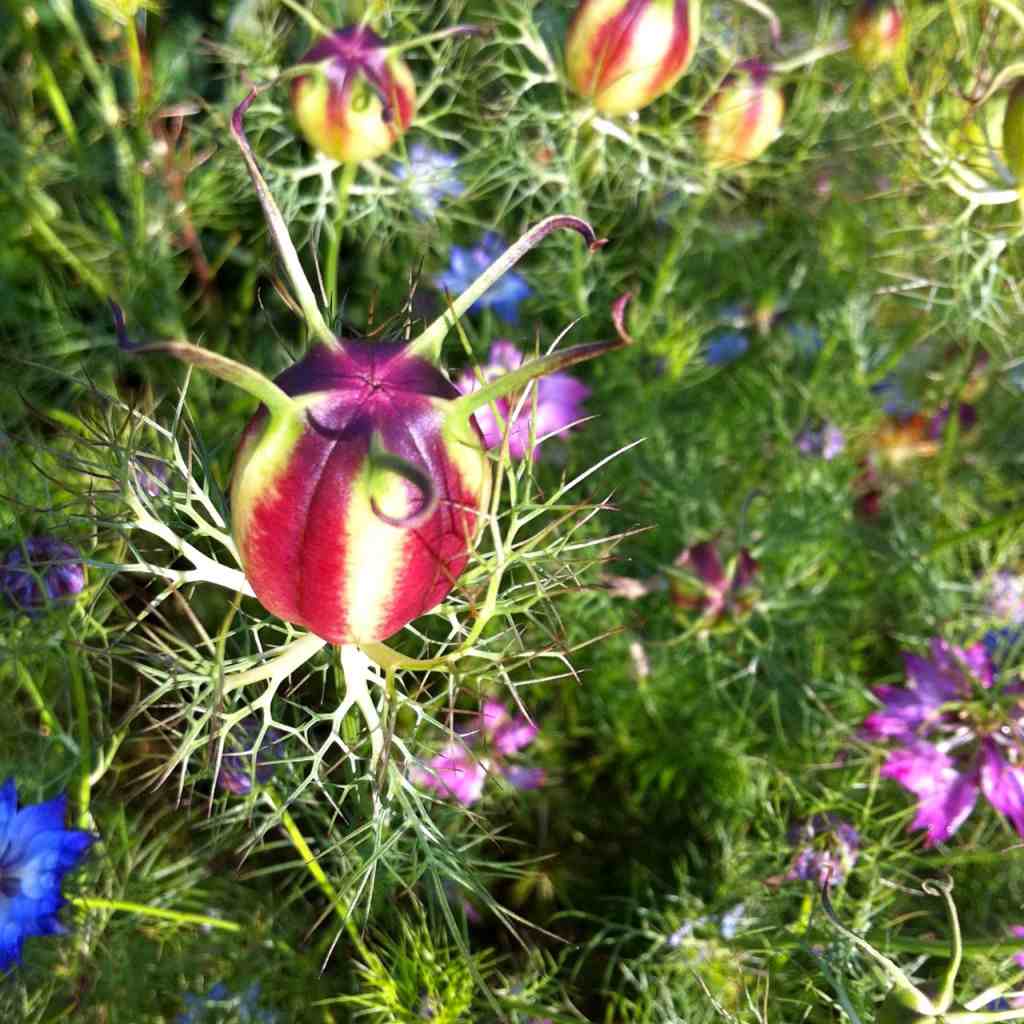 *Nigella seem to to love gravel drives…always worth just casting some seed down and seeing if it takes…if you want flowers in your drive that is…and…er…if you have a gravel drive…if the answer to both questions is 'no'…then let's move on. (Finkmeister had eight gravel drives.)
"Nigella damascena, commonly known as love-in-a-mist, is a short-lived annual flowering plant that can be grown as filler between perennials and longer-blooming annuals in container gardens, rock gardens or flowering landscapes. Love-in-a-mist plants bloom with showy bluish-violet, white or rosy-pink flowers and feather-like, vibrant green leaves. Plants grow to heights of 12 to 18 inches, with a spread of 6 to 8 inches. Requiring minimal maintenance, Nigella damascena adapts to a variety of soil conditions and is relatively easy to grow nearly anywhere." Homeguides.com (couldn't have put it better myself)
I grow 'Dark Blue', 'Light Blue' & the marvellous 'Persian Jewels'…all are very charming and of course can be found in The Higgledy Garden Seed Shop.
Have a great weekend 'yall.
Kind regards
Benjamin Higgledy