"Grow your own cut flowers and you can fill your house with the gorgeous colours and heavenly scents of your favourite blooms, knowing that they haven't travelled thousands of miles – and you can make money while you do it!
Combining boundless passion with down-to-earth guidance and practical advice, Georgie Newbery draws on her own experiences as an artisan flower farmer and florist as she takes you through:
• how to start a cut-flower patch
• what to grow
• cutting, conditioning and presenting cut flowers
• creating a hedgerow Christmas
• starting a cut-flower business
• where to sell
• marketing and social media
• a flower farmer's year planner.
Whether you want to grow for your own pleasure or start your own business, The Flower Farmer's Year is the perfect guide."
Green books.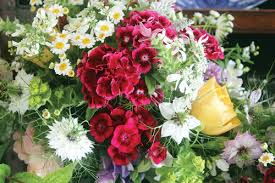 Georgie's book is fantastic. It's really clear and easy to read and will teach you all you need to know to get yourself started with a cut flower garden.
All the bases are covered…in particular it has a great chapter on growing annuals which of course it right up my street. If you are thinking about starting your own flower growing enterprise then you will find heaps of relevant information within it's pages.
We've got a couple of months before we can get stuck in properly to the serious business of cut flower growing….get yourselves a copy of Mrs Newbery's book and you will be fully prepared. I can't recommend it enough.
You can find a copy HERE.
Kind regards
Higgers.
PS No…I'm not on commission!