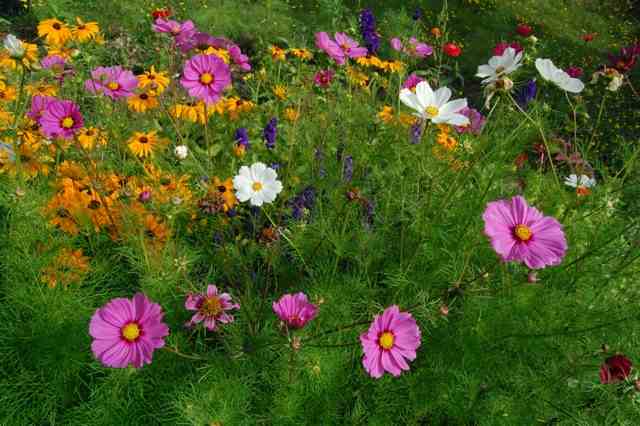 Being an alpha male hunter gatherer type (and eligible bachelor with clean driving licence and own shed.)…my blokey eyes and blokey brain can't distinguish pink from carmine from cochineal. I haven't however let this get in the way of my love for Cosmos 'Sensation'.
Cosmos 'Sensation' has all the above colours and even a few creamy whites to add to the mix. The daisy like flowers float atop of strong stems amidst deep green ferny foliage. The flowers are abundant and keep coming back harvest after harvest. It is a dream plant for the cutting patch.
'Sensation' is easy to grow from seed….I start mine in 3 inch square pots at the beginning of April and plant out after the frosts in mid May. She will grow to about 140 cm tall and spread about 60 cm. I space my plants to about a foot apart. I usually mix my Cosmos 'Purity' and 'Sensation' in the same bed…they are sociable plants and I get the impression they like to mingle.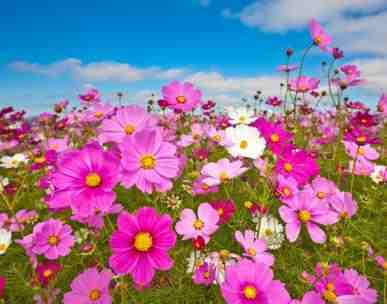 Being a half hardy annual they mustn't face a frost…but you can direct sow in the soil after the frosts and they will do fine…just flowering a few weeks later into the season than ones sown in April….they will flower right up into November. I tend to stop harvesting flowers in my cutting patches on Halloween and let them go to seed for the birds . (I'm such a nice chap…renaissance man.)
You will see big name seed companies saying you can sow from February…I think this is probably a way of selling more seeds. If you had high powered lights and heated benches then I'm sure this wouldn't be a problem….but to my mind suggesting you can sow that early is disinformation and should be ignored.
Cosmos 'Sensation' is an all time classic for the cutting patch…it was a huge favourite over the pond just before the war and won the 1936 AAS award (All American Selection). Indeed it has something of the 30's about it. Bees and butterflies are also big into 'Sensation' and growing it can only help the biodiversity in your patch.
If you haven't tried it then I suggest you do….you will LOVE it!
I sell Cosmos 'Sensation' at £1.95 for 80ish seeds.
Kind regards
Higg
PS Throughout January I am giving away a packet of Cosmos 'Purity' with every order.
Related posts:
Yeah olde vintage post on growing 'Sensation' from two years hence.
Growing Dill for the cutting patch.
Getting started with a cut flower patch.