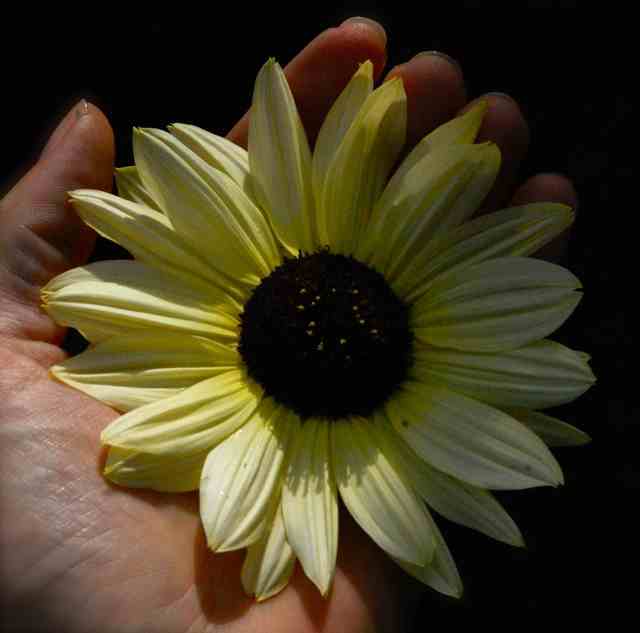 There is some confusion within the Higgledy family as to which family member first started growing 'Vanilla Ice'…it seems most probable that it was Binky Higgledy the famous Edwardian erotic illustrator. When Binky wasn't in the studio chalking his lusty trade he would be found in his cut flower garden behind Kwik Save on the southern edge of Milton Keynes. Recently the national gallery curated a retrospective of is work and it was a joy to see that Binky had included lots of sketches of sunflower 'Vanilla Ice' amongst the flesh and the torrid passion.
'Vanilla Ice' has delightful pale lemon petals and deep dark chocolate centres….I think they are the most elegant sunflower available to modern man.
Some Sunflower Growing Tips:
*When sowing in fibre pots or modules, use a good quality compost.
*The seed needs to be about a cm deep.
*If you are growing lots of types…it is worth labeling them…as the old Chinese proverb goes…'The palest ink is sharper than the best memory"…though I keep forgetting this proverb…
*I sow from early April and some here and there until late May.
*Plant them out after the frosts in a bed that gets at least 6 hours of full sun.
*I space mine to a little over a foot apart but some folk get good results up to half a metre apart.
*If your sunflower patch is exposed you will need to stake your plants…I never had and they have always managed very well.
*If you decide not to use the flowers for cutting… leaving the flower heads on the plant will provide food for the birds…and you can feel all smug and good about yourself.
TRIVIA: The Sunflower is native to the Americas…where the mighty fine Inca folk used to worship its image as an insignia of the sun God…
I sell 'Vanilla Ice'  at £1.95 for 40ish seeds.
Kind regards
Benjamin Higgledy.