Back in the 60's, Auntie Lucretia Higgledy became obsessed with growing Cleome 'Violet Queen' in her cutting garden in Totness.  She was a sold down the river, crystal hippy, tie dyed love child, earth mother type and believed that the particular hue of 'Violet Queen' would heal her wonky chakras and release the blockages in her meridians that all hippies seem to suffer from. Lucretia would attend the 'Ban the H-bomb' marches in Trafalgar Square, throwing hundreds of Cleomes into the air in the belief that they would act as flowery missiles of peace and keep the situation from turning into a messy rumble. Her 1972 book, 'Cleome: The Rainbow Pathway' was not all that well received to be honest but I understand a copy can still be found in the Lower Keddington Homoeopathic Free Library and Sandal Swap Stall (Tuesday afternoons behind the old Kwiksave)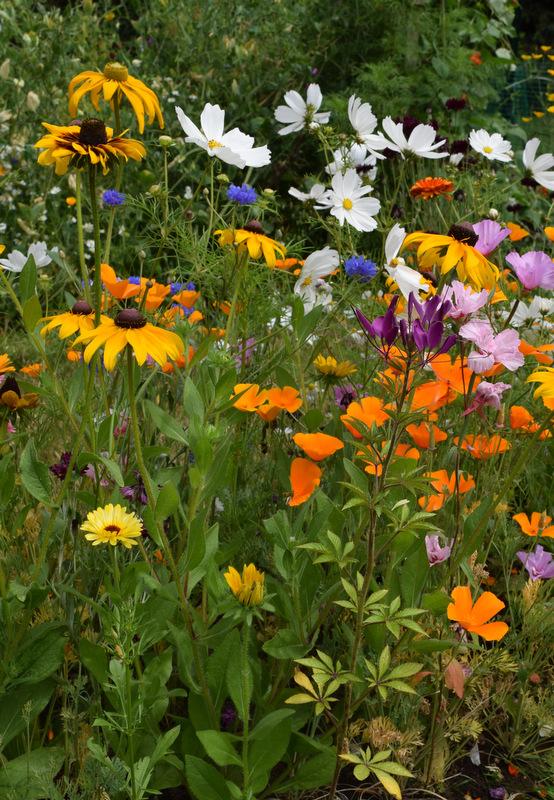 Much like Auntie Lucretia I am rather partial to a Cleome…I love their unique alien stance…big and bold and beautiful. They have small thorns which seems to put a whole bunch of folk off growing them….which is a little daft to my mind…they are perfect for adding a little contemporary drama to your vase. Like most half hardy annuals they are negligibly more time consuming to grow than hardy annuals…but you get out what you put in and all that.
How To Grow Cleome From Seed.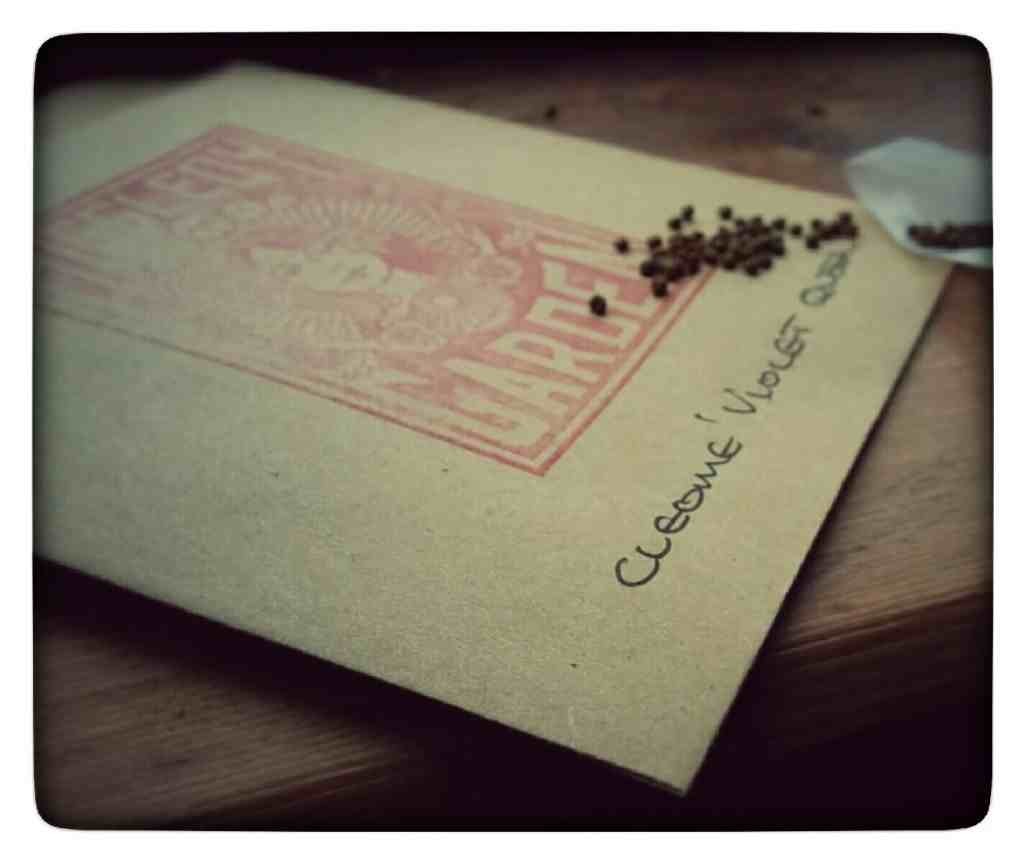 Most of the flower seeds that I sell in the Higgledy Shop are a piece of cake to germinate and grow on. Cleome seeds are slightly more tricky…though really not hard if you just follow a few simple steps. You will find heaps of conflicting ideas of the best way to start off your Cleome seeds…this is my method…it works for me:
*Cleomes are Half Hardy Annuals and as such are best started off under glass in spring and then planted out when all danger of frost has passed.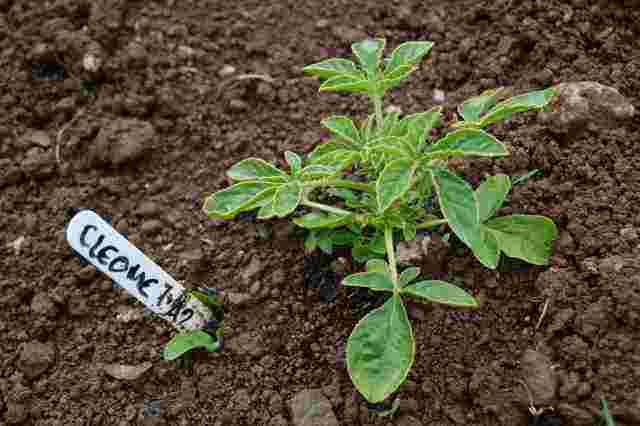 *These plants can be little madams and don't like any root disturbance….so best off sowing them in pots…I favour 3 inch square pots…you get 15 pots to a standard size seed tray… #simples.
*Sow Cleome seeds on the surface of your compost as they like light to germinate…just press them into the surface.
*Fluctuations in temperature makes the seed happy…though don't worry yourself too much about this.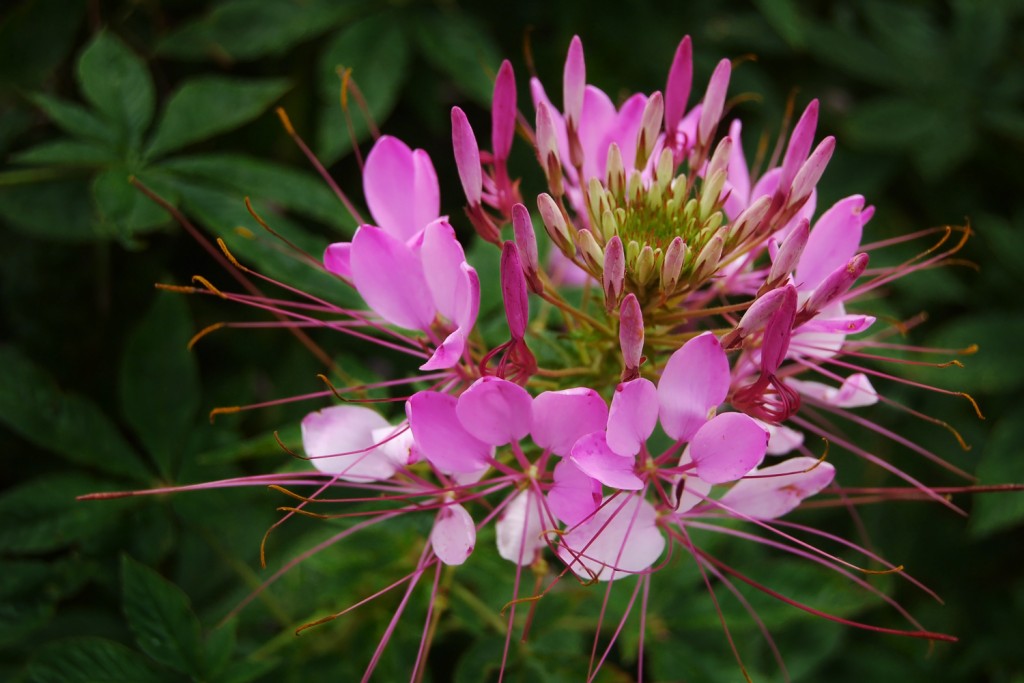 *I then put my trays in a poly bag to keep the moisture in as keeping a surface sown seed moist can be tricky of course. On this note some growers suggest they like high light levels…so sowing them later in the season is better….whilst others say the temperature fluctuation is more important and sow them earlier for this reason. I sow a tray late March and a second tray in a late April…I usually do fine with both trays…but then I am blessed by Flora the Roman Goddess of flowers who has taken a shine to me.
*After the frosts have gone you can harden off your plants to the outside world and plant them out. I space mine to about a foot and a half….you can pinch out the tops of the growing tips if you want the plants to bush out….do this when the plant is just three inches tall.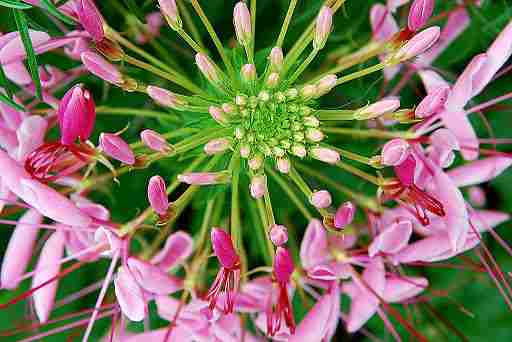 The rewards of the Cleome flower come after the main bulk of your annuals will have stolen the glory of the flower patch…but you will find they really do add something special to your portfolio.
I sell Cleome 'Violet Queen' at £1.95 for 200ish.
I shall post up more of Rose's fab photos this afternoon when I get back to Higgledy HQ….Furface and I are presently in our van perched up on the cliffs, waiting for the rain to slow up so we can go for a mooch…
Kindest regards
Benjamin Higgledy
PS If you are looking for something to be sowing in the near future…try: 'Seeds To Sow In Late Summer & Autumn'.