Cosmos 'Sensation' is well know for producing mountains of flowers of wonderful, soft, ferny foliage. Flowers go from a 'Purity' style white…through to pinks and carmine. The stems are strong and long….perfect for cutting. Cosmos will also keep producing flowers as you harvest…a total darling in the cutting patch.
Cosmos is half hardy and therefore will get in a right flap if she gets anywhere near a frost…so…either sow outside after the frosts have gone northward or sow in pots from early April on a windowsill or in a greenhouse. Most seed suppliers will suggest you can sow throughout March…but the truth is this is usually unsatisfactory as plants just won't get enough light…they will stretch and become 'leggy'….and we don't like this (not in plants anyway)…even if they survive..they will not flower any earlier than ones sown in April.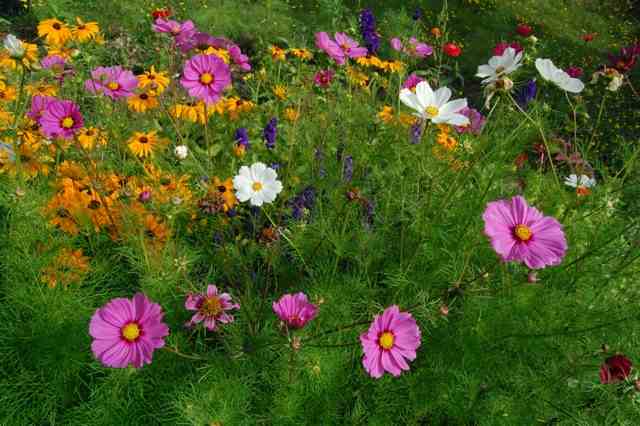 I sow in three inch square pots….in mid May I harden the plants off and then plant them where I want them leaving about a foot of space between plants.
Cosmos generally flower from July….this year they didn't really get going in my cutting patch until August…and even then…they weren't as good as they could have been….it's been a funny old year for annuals.
Cosmos plants will easily get to 120 cm…and often much more…in a good year I've had them to 6 ft…..hummm…what's that? ….185 cm or thereabouts? Make sure they get a position that gets heaps of sunshine. (insert gag about British weather)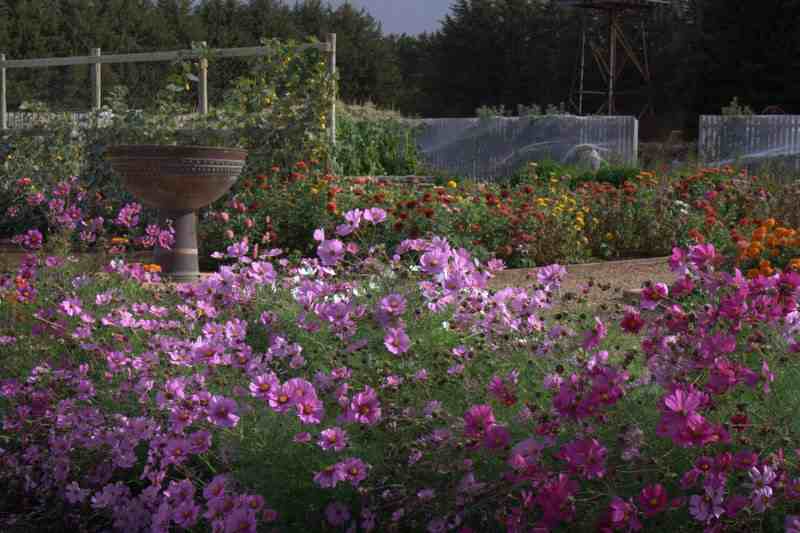 One thing to bear in mind is that Cosmos don't like a soil that has been enriched with manure…if this is the case they will produce squat plants…with thick stems and lots of greenery….but fewer flowers. Think 'soil structure' rather than food…so by all means dig in some organic material…home made compost is good…this will help drainage but still retain moisture.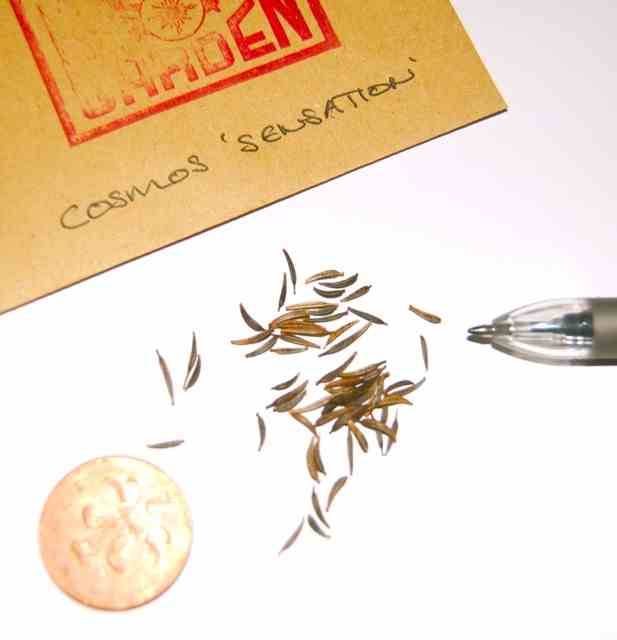 After Halloween I let my Cosmos go to seed and stop harvesting any flowers….Goldfinches get all gooey eyed over the seeds…and it's a joy to have them in the garden. On the subject of wildlife…you will also attract bees and butterflies with your Cosmos.
Kind regards
Benjamin Higgledy
Related scribbles:
Guide to growing Cosmos 'Purity'
Flower Seeds To Sow In Late Summer & Autumn