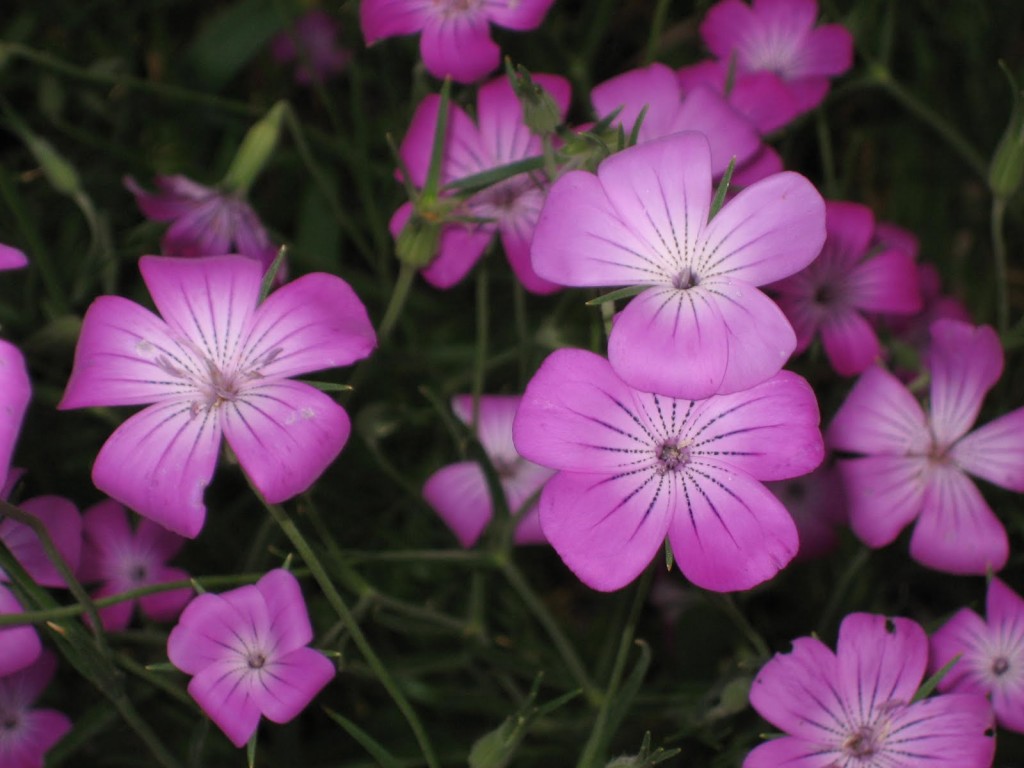 Higgledy Flower School 2016. #28. Corncockle.
Corncockle has had a lot of bad press recently for its toxicity. Yes it is toxic but we live among thousands of toxic plants with little or no trouble. I have grown and handled Corncockle for many years without any issue.
Here's what Patrick Barkham has to say on the issue in The Guardian:
"This kerfuffle is a huge overreaction, given that many of our most popular garden plants are poisonous, including daffodils, laurel, ivy, yew, hellebores, lupins and particularly foxgloves. In fact, we have lived alongside poisonous plants for centuries, and many toxic species are particularly useful to medicine and are used in life-saving drugs. Even parts of plants we eat, such as potatoes, are toxic.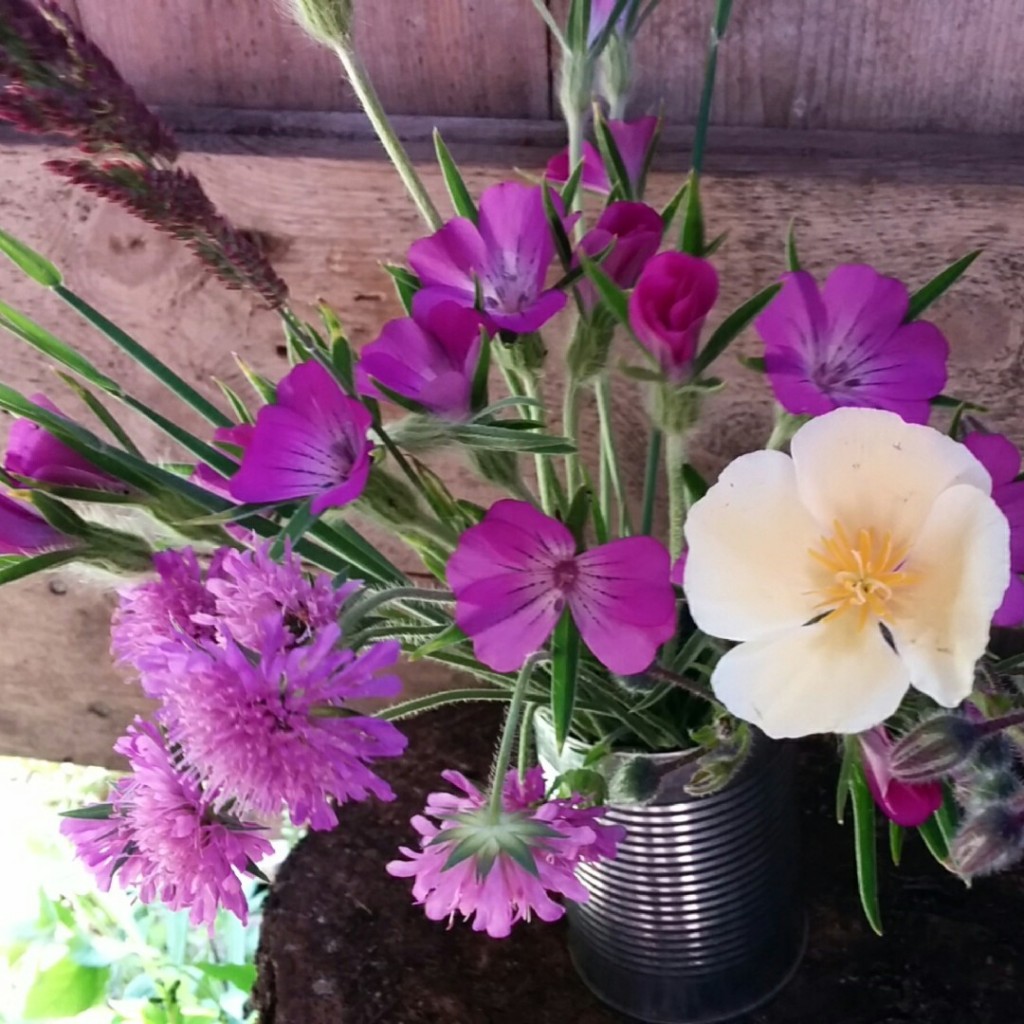 "It's like the Jerry Maguire show-me-the-money test – for me, it's show me the bodies," says John Robertson, author of a guide to poisonous plants memorably called Is That Cat Dead? "If you're going to say a plant is really dangerous, show me the dead people."
According to Robertson, there are "absolutely no records" of the corncockle – also known as "bastard nigella" – doing anyone any serious harm. "It is only poisonous if you eat it and there's absolutely nothing about the corncockle that's going to encourage you to eat it."
Corncockle is a great addition to the cutting patch and its super simple to grow.
Top Tips For Growing Corncockle From Seed.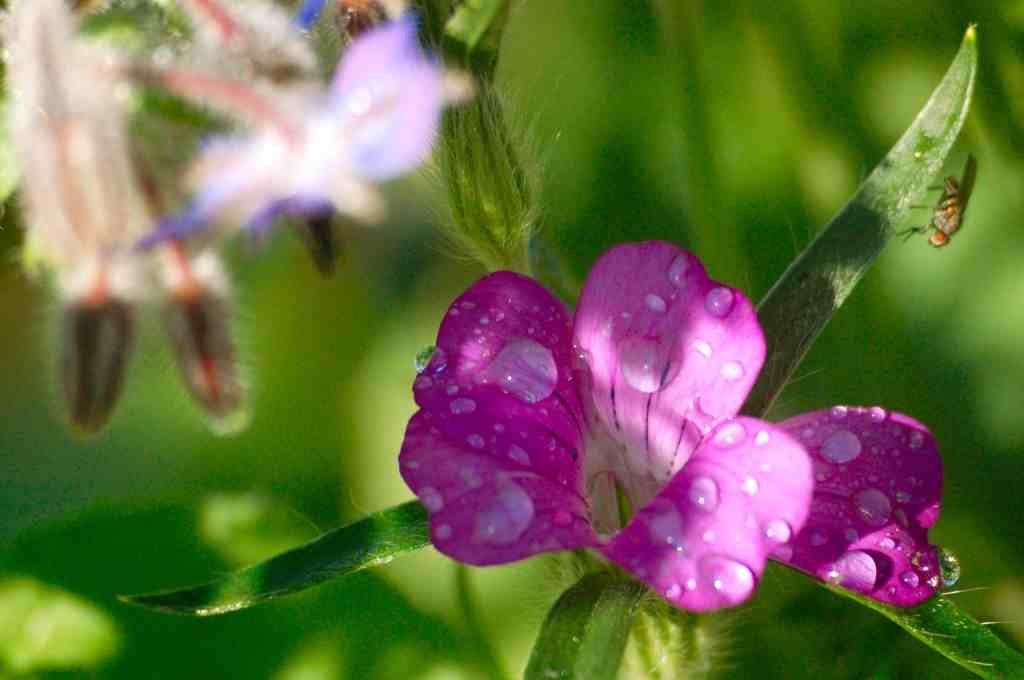 *Being a Hardy Annual it can be sown in spring or late summer/early August.
*If I'm sowing directly into the soil I sow (as always) in straight rows. I make my first Corncockle sowing outside in mid April, then perhaps another in May. I make a further sowing at the end of August.
*If you prefer to start your seeds off in pots…and who can blame you…you can make your first sowing at the beginning of April and then plant out after the frosts.
*Space or thin plants to about a foot apart. I no longer try and transplant seedlings that have been germinated outside…they seem to throw their corncockle-ly toys out of the cot and keel over.
*Your beds should be weed free and free draining.
*If your cut flower patch is exposed then you should offer some support for the plants as they can snap at the base in a strong wind. These plants would often thrive in cornfields where the corn would support them.
*Corncockle will provide you with heaps of flowers…and they will keep producing when you cut them. Their colour lends them to be shown with cool greens like 'Bupleurum' and Nicotiana 'Lime Green'.
It has been suggested that the Vikings brought over Corncockle seeds as a contaminant in grain supplies. Funny to think this warmongering, vicious race left us with pretty pink flowers and the Volvo…
Naturally yours truly will try his hardest to flog you a packet of Corncockle seeds…£1.75 for 100ish seeds.
Have fun!
Kindest regards
Benjamin Higgledy.
If you have any questions then please ask away…you can find me onTwitter or Facebook.Should you wish you can join 'Club Higgledy' (see the right hand side bar).