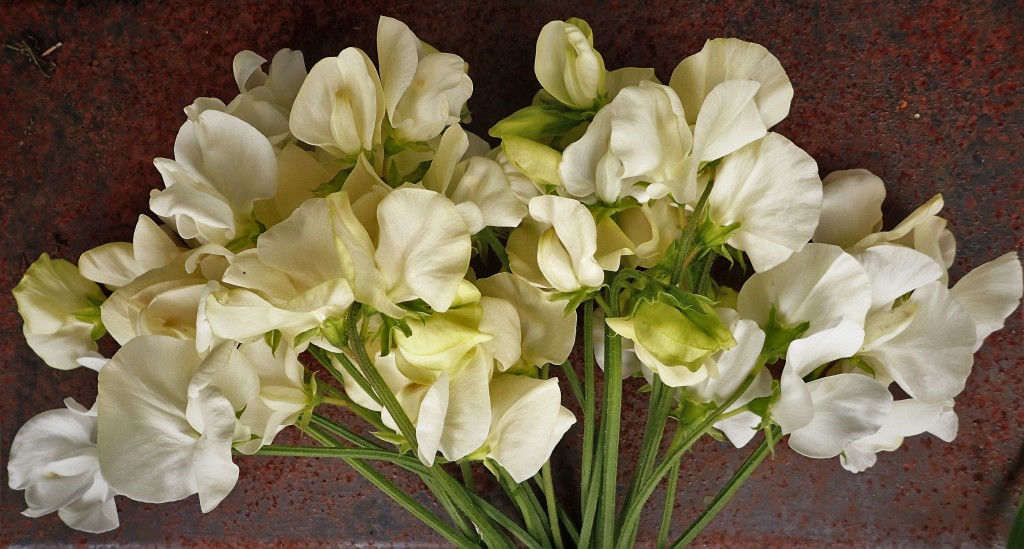 During my afternoon Martini break, as I sauntered around the garden prodding things with my cane, it came to my attention that I ought to harvest some Sweet Peas. As I am sure you are aware, Sweet Peas will keep on producing blooms for a hefty amount of weeks so long as you keep picking the flowers.
Sweet Pea 'Jilly' is a long time darling of mine and I usually like to keep a jar of the delightful flowers on the harpsichord next to the Goshawk cage…it is an indubitable fact that Terrance has a more settled demeanor when in fragrance range of a pale Sweet Pea.
As I was cutting the ivory cherubs I spied some rather dashing  white 'Swan Lake' blooms on a neighbouring plant…now ordinarily a chap wouldn't be mixing stark whites with an antiquated cream palette and certainly not mid week but the Martini must have gone to my head…"Dash it! Who gives a stuff what they'll say at the club! They'll probably just think I've been listening to too much Jazz on the wireless." …and with that I snipped half a dozen of dazzling blighters and ran into the cooling shade of Aunti Fizzy's airship.
I hope you like them.
Tinkerty tonk!
Benjamin Higgledy
Link: Sweet Pea Collection.