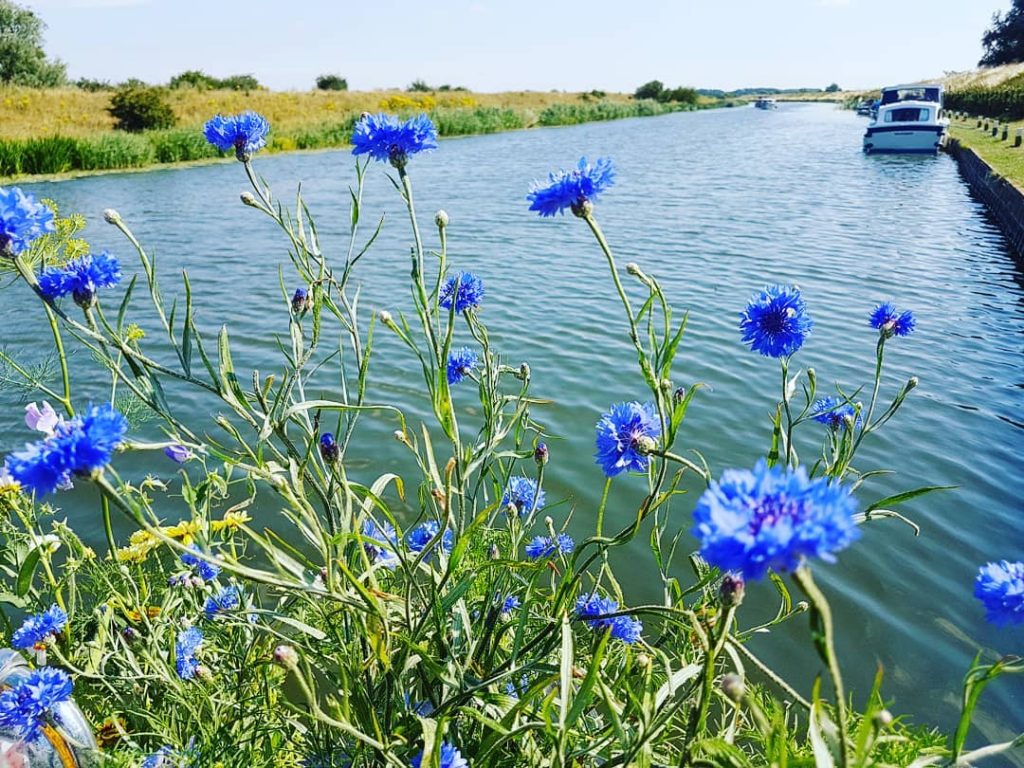 The Higgledy clan are not new to this growing flowers on boats malarky. Reginald Clonkton-Higgledy, the famous Victorian Nazi hunter grew swathes of annual flowers on his armoured narrowboat, The Hesperis. He would patrol the River Ouse while deadheading and often made himself rather dashing flower crowns while keeping a watchful eye out for hun. There is no doubt that like many of the Higgledys, he was well ahead of his time.
Now I have grown perhaps a dozen or more varieties of flowers this season. My boat Casper has been a wonderful host to the garden. It must be said that a chap must never be without Cornflowers in his cutting patch, it is simply unthinkable to have a summer without these willowy beasts swaying about and making the world a better place. It puts a spring in a fellow's step and a warble in his whistle.
I opted for Cornflower 'Blue Ball' as this season's Cornflower of choice. In East Anglia, where Reginald would hunt his yet unformed enemies, 'Blue Ball' was grown extensively for the cut flower market due to it being delightfully reliable from seed, a great cropper with heaps of flowers and the fact that that the Great British public adored them. Sadly this industry was all but destroyed by cheap imports flown in from Kenya and Columbia but we are of course seeing a resurgence in flower farms which are much smaller and more resilient than their 1970's cousins. There is a new hope.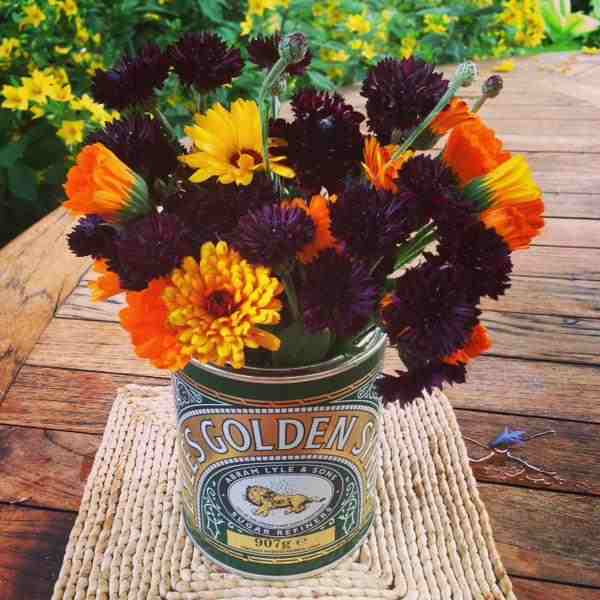 I grew three 'Blue Ball' plants on the boat but in hindsight that was too many. I have had perhaps hundreds of blooms just from these three and I would have been better off to have one of each of my three favourite varieties. The other two being 'Black Ball' and 'Classic Romantic'. 'Black Ball' is neither black nor is it a ball but it makes up for this shortfall by being a splendid offering to the universe in a deep plum colour. It is perhaps the most grown up and sophisticated of the Cornflower trio that I grow in my gardens. Like 'Blue Ball' he is robust and has strong stems that make him perfect for the vase. I often display 'Black Ball' with simple 'Indian Prince' Calendula. Like many things in the world, simplicity is usually the key to a happy heart.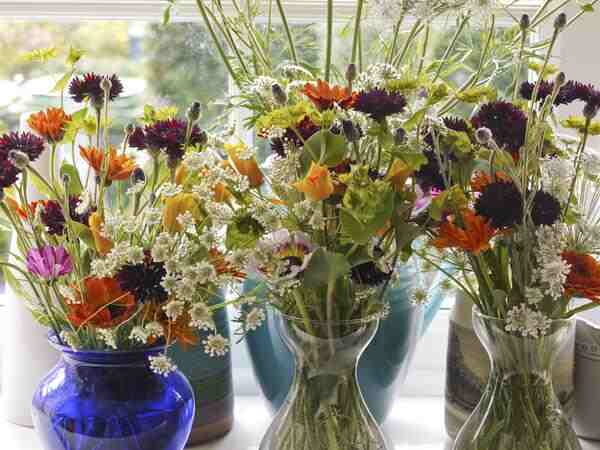 'Classic Romantic', is a frosty, silvery pink. This colour is generally not my vibe but once I grew it I understood it had its place in the Higgledy portfolio. Pinks look less gushy when displayed in the vase with greys, dark blues and citrus greens. Nicotiana 'Lime Green' is brilliant with pinks. Add some wild grasses to appeal to the tiger in you and bingo, you've got a full page in Country Living and Monty is ringing you up begging for guidance.
All of these varieties can be easily dried and will keep their colour if it is done properly. Dried cornflowers keep their colour really rather well and there is something 'farmhousey' and comforting about a bunch of hanging cornflowers. Also if you grow your own cornflowers you may find you have a glut that you can't use…especially if you are a miserable old hermit with no friends. So drying will give you flowers for the winter when most British blooms are a fading memory.
My method is to harvest the flowers early, just before they come into flower. Take about twenty stems and tie them into a loose bunch. Hang the bunch up in cool dark place that has some ventilation. Let them get on with it for a month.
Don't forget drying some flower heads for confetti. If you don't crumble off all the petals they still retain a good bit of mass so you can lob them from a good distance and award yourself extra points if you get one to rest on the bride's cleavage. (Sorry Amanda, I just couldn't help it. I'm sorry Gary didn't see the funny side but then I don't think you should have married someone who drives a Jaffa orange Ford Fiesta.)
Tips For Growing Cornflowers From Seed.
Cornflowers are hardy annuals. They can be sown directly into the soil from April to May or they can be sown in late summer for flowering the following year. Late August or early September is my favourite time to do this.
If sowing directly into the soil I would recommend leaving a gap of a foot between rows. Sow the seeds in straight lines. Make a shallow drill with a stick, just a few millimetres deep and water this drill before you sow your seeds. Watering first helps prevent your seeds from being washed away by watering afterwards. Don't bury your seeds too deeply, a light covering is all they need. They are seeds, not moles.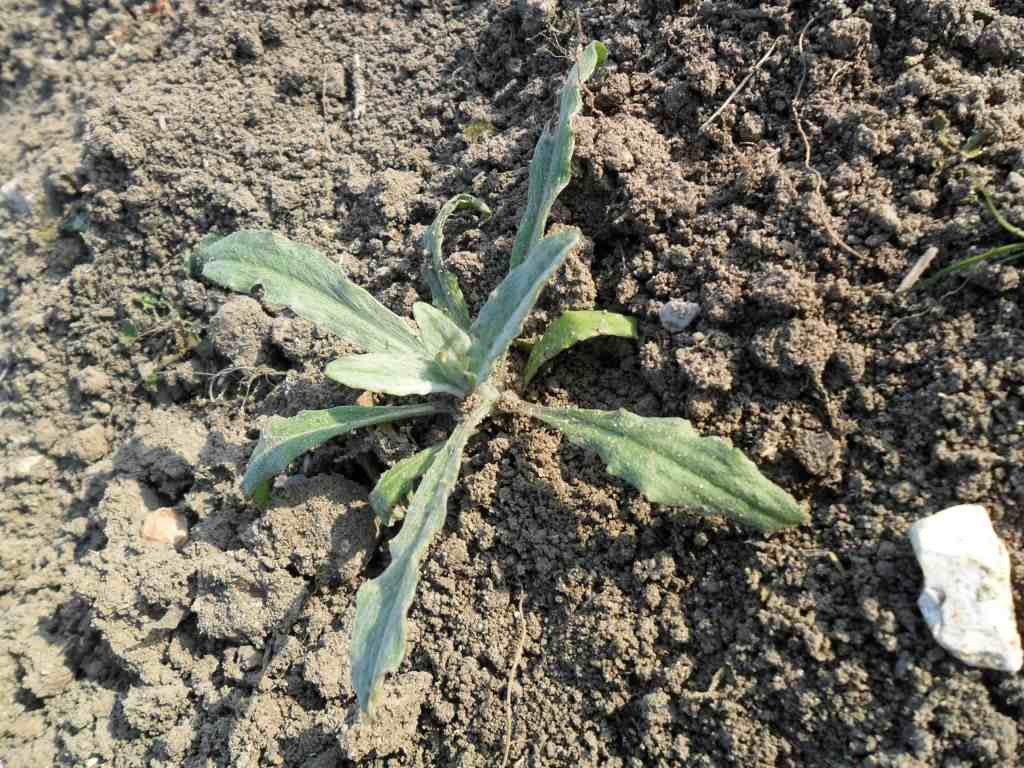 Seedlings can be transplanted, just take care to take as much soil as you can when moving them and when you've replanted them give them a good drink of water. Perhaps sing them a sweet folk song as you do it.
They can also be sown into pots for planting out later. There are great advantages to this. The biggest advantage being that you don't have to weed around tiny seedlings. Native weeds will always grow faster than your flower seedlings. I sow in three-inch square pots from early April and then plant them out in about mid-May.
I space my plants to about a foot apart. If you can find yourself some good quality mulch after you plant them you will stave off the weeds and by the time any weeds get through the mulch, your plants will be big enough to outcompete them.
When it comes to harvesting you may find the flowers come thick and fast. Keep picking the flowers and the plant will keep producing more. This is why sometimes consider not having too many plants, Deadheading cornflowers is faffy. I harvest flowers after the morning dew has dried off. If I know I will be harvesting the next day I give the bed a jolly good watering before my evening Chinzano.
I hope you give Cornflowers a go in your cutting patches if you haven't already.
If you have any questions you can find me on FaceBook, Twitter and you will see heaps of photos of flowers, the boat garden and Flash on Instagram.
Kind regards
Higgers & Flash