Higgledy Garden Bee Friendly Flower Meadow Guide.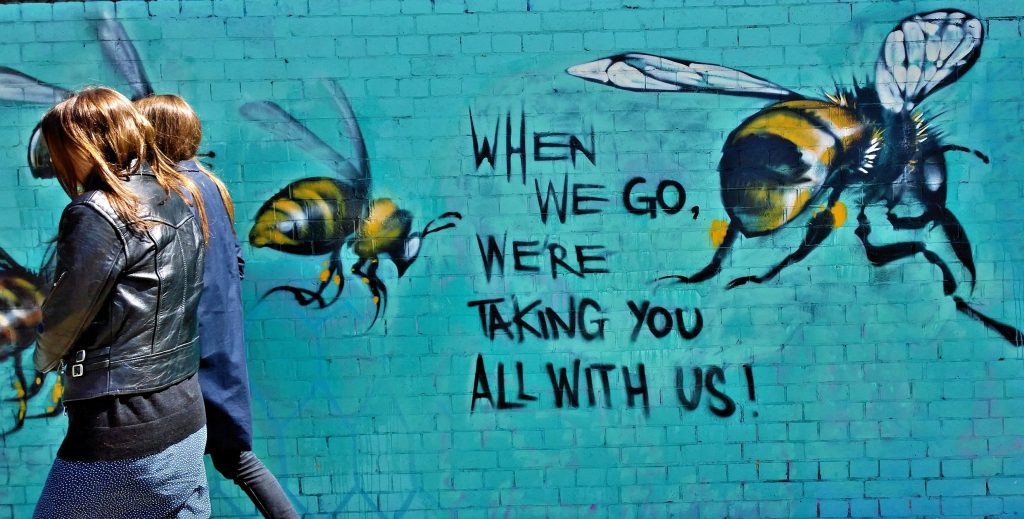 I was enjoying a rather dashing pint of Old Hooky in a canal-side hostelry as Flash was attempting to eat the very bench my peachy buns had found rest upon, when a fellow boater came over to say hello and chew the proverbial fat. He had the demeanour of a delighted ferret who had just won fifty quid on a scratch card and was about to avail himself of some dandy ferret shoes and go dancing with dandy ferret ladies. It turned out that like me he was a keen gardener and these warm and bright, late February days were getting his horticultural juices flowing and clearly upping his serotonin levels.
Higgledy Garden Bee-Friendly Flower Meadow Seed Mix £19.50
He was telling me how last season he made a small flower meadow of annual flowers in a neighbour's neglected veg patch. The said neighbour was having a bout of something ghastly and difficult to spell, which would keep him housebound for months, so the happy Ferret had suggested putting it to flowers for the season. The project went ahead and was a great success. His method of production was the same as the Higgledy method, importantly neither of us would have glysophate (poison) anywhere near our gardens…this makes things a little bit harder but as the space we are preparing is modest (Usually about 20sq meters), all that is needed is elbow grease.
FAQ: Dear Higgers, What makes this flower meadow so 'bee-friendly'?
ANS: Most annual flowers are useful for bees to collect nectar and pollen. In the Higgledy 'Bee-Friendly' Meadow Mix I have included both Phacelia and Borage, they are nectar making machines. These two flowers are by far the big guns in the mix with regard attracting and feeding bees. Other flowers will add even more beauty and also provide nectar but not in the same quantities
Preparing the ground for a Higgledy Garden Bee-Friendly Flower Meadow.
I sound like my Dad….BUT…preparation is key! The Higgledy Meadow Mix is about 60g…at 3g per square meter, that's 20 square meters. This ground needs to be TOTALLY weed free.
The best way to go about doing this is to dig it over when the ground has started to dry out in late March. Break down the clods of earth to the finest tilth you can, I use the back of a sturdy rake. Take out all the weeds and leave  the ground for a couple of weeks. The first flush of weeds will come through. Simply hoe these chaps off. Leave it again for a further couple of weeks before hoeing off again and then sowing.
The best sites for your meadow are sheltered sites which get heaps of sun.
Top tip: Don't get 20 sq meters confused with 20 meters squared!
Sowing up your bee-friendly flower meadow.
Although you might get away with sowing in March, you are much more likely to get good results if you sow late April or early May. The soil will be warmer, the light levels higher, and you will have biffed the first flushes of our native weeds. (Lord rest their souls.)
Roughly you should be aiming for 3g per square meter. I tend to sow barefoot (I'm a hippy druid lovechild…) and walk gently over my prepared ground and sow very thinly…up and down…back and forth…until my 60g is finished. Treading the seed (Lightly) into the soil is a good thing….or use the back of the rake again (What a handy chap that rake is…)
Watering your bee-friendly flower meadow.
After you have sown your seeds you can water the patch, but only water it lightly. A waterlogged patch will just keep the seeds cold and miserable and not in the frame of mind to germinate and strut their funky stuff. After germination has happened (two weeks or more) simply ensure the patch doesn't become too dry but don't mollycoddle it…let the roots do what roots do, which is to head down and look for water. Once the plants become established you can just let them get on with it. Annuals might look super delicate and pretty but they are tough customers and take a good deal of abuse.
FAQ: Oi Higglechops! When will my bee-friendlt flower meadow start to flower.
ANS: The first flowers could appear in June but more likely early July and the meadow will flower through until early November if you are lucky. Feel free to cut flowers for the house, you will have heaps of blooms and harvesting them will produce more flowers.
Higgledy Garden Bee-Friendly Flower Meadow Seed Mix £19.50
If you have any questions then please ask away…you can find me onTwitter or Facebook  Should you wish you can join 'Club Higgledy' for newsletters and discount codes. (see the right-hand sidebar).