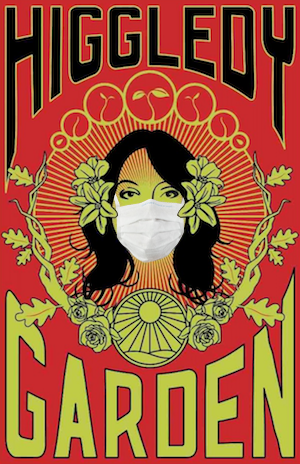 Ahoy there!
From 2021 Higgledy Garden will sell a maximum of 75k of flower seeds per year. There are many reasons for this and not one of them is that I am an anti-capitalist yoghurt weaving hippy.
Some of you may remember that, about five years ago, we had capped sales at 40k packets. This was working really well until Covid came along…and then a couple of other important factors aligned themselves.
First of all, I need to explain my reason for wanting limited sales growth.
*Higher Profit Margins: Staying small means lower operating costs. Less regulation. Fewer overheads.
*Niche Domination: All I want to specialise in is annual flower seeds for cut flower gardens. That market is limited. I don't want to start selling tools or pots or even plants. I've seen a competitor go that way and her company has now lost its way. 'Do One Thing Well'.
*Efficiency and Quality: Staying lean helps to keep high standards with both the seed parcels we send out and the customer service that we offer. I would rather keep existing customers happy than be consistently trying to find new ones.
*Less Risk: Higgledy has managed without ever having to borrow money from the banks. We don't owe anybody anything. This is the way we like it. 'It's hard to fall off the floor' Jack Miller.
*I Have Enough Income: …Ok…this bit might sound a bit hippy BUT…I have enough coming in for a modest home and a modest pension…I don't need any more money….what I am keen on is having more time.
So why the jump from 40k to 75k packets per year?
Three very different elements came at once…
*Covid: Like many online horti companies, sales grew rapidly after the first lockdown. I was desperately trying to slow things down as we couldn't keep up. I shut the shop on three occasions. These sales were clearly going to push me over a thing called the VAT threshold…which was going to be a major pain in the Jack.
*The VAT threshold: As we got close to this threshold (£85k per year in sales) I got hold of the good people of the HMRC. As Higgledy was starting to produce a considerable amount of its own seed stock for sale, we were granted a new VAT threshold under the Agricultural Flat Rate Scheme. (£200k per year).  This meant that when the 'covid sales' sent us flying through the old threshold, we didn't get a massive bill and massive paperwork issues. #phew!
*Bluebell Cottage Nursery: We arrived here in early lockdown. We have all become good friends. Higgledy has found something of a home here. This means land to grow flowers, sheds for storage, and more importantly, it has meant access to a labour force. (Sue knows everyone around here and there are plenty of good people looking for employment)
These three elements have combined to alter and allow a new 'sales ceiling'
75k packets isn't a small amount to produce and sell but we are utterly micro compared to the other seed houses like T&M, Suttons, and Mr Fothergill who all turnover several thousand times more than Higgledy Garden. Keeping at around this level will keep us sustainable and happy…..and hopefully, keep our customers happy too.
How will this stock limit be worked in the shop?
The count will run from 1st January. I would estimate that it probably won't be until the end of November until we hit that 75k limit….and to be frank….it is REALLY hard to predict if sales might continue to rise or if they might fall….these are uncertain times. …But let's say we run out of stock at the end of November. In this case, the shop will display as being closed until the start of the following year. #simples
'Go big or go home!'….is the usual business mantra….well….Higgledy is staying home…
Many thanks to you all for your support.
Benjamin and Flash. x
If you have any questions then please ask away…you can find me on TwitterorFacebook.Should you wish you can join 'Club Higgledy' (see the right hand side bar). This is a six times a year email with links to my discounted bundles….these are offered to subscribers first as they are usually limited in number.