Sowing up a bee-friendly flower meadow in autumn.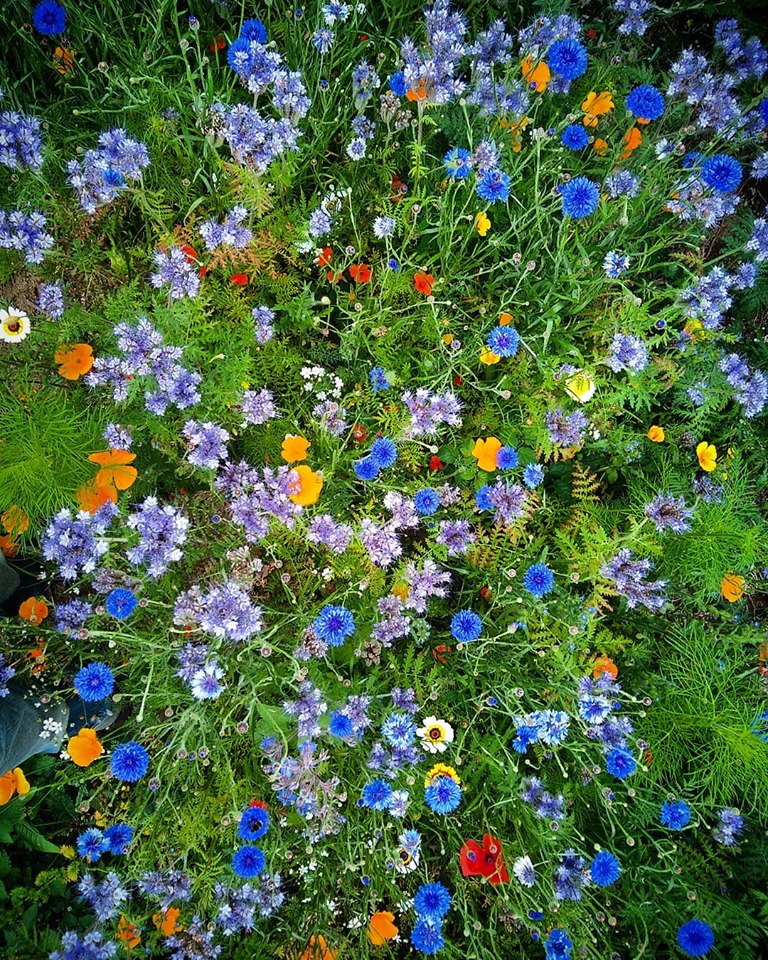 Everyone needs a bee-friendly flower patch whether it is a micro one-meter square patch or a twenty square meter 'meadow'. There is no such thing as a bee-friendly flower meadow as such…but I'm sure you know the thing I mean. Dozens of three and four-foot high, willowy flowers blowing in the breeze with a gazillion bees and other pollinators buzzing about feeling very happy with their lot in life.
At Higgledy we've been sowing up these sort of flower patches for over a decade, and we love it, Every year has different results depending on which seeds we have added to our mix and how the weather has been but without fail it has resulted in a lot of colour and general all-around good vibes.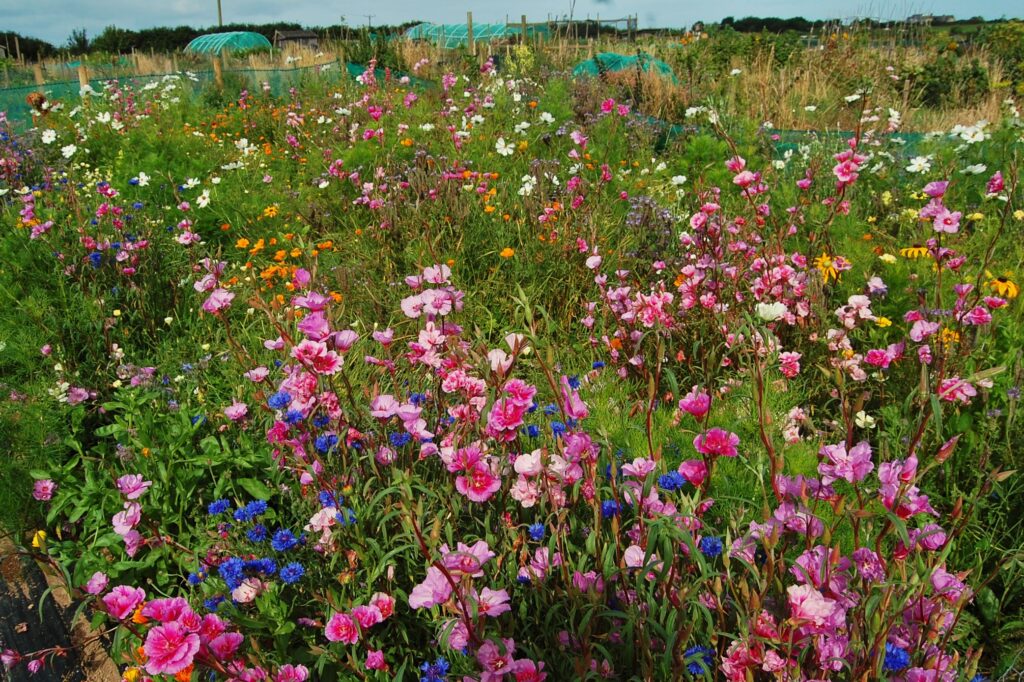 The majority of our mixes are made up of hardy annual flowers. These are pretty bulletproof and will grow in most soils and weather conditions. I add a good slosh of half-hardy annuals like Cosmos because…well….because I love them. These always fair better from a spring sowing but a few will always turn up from an autumn sowing.
These seeds can be sown in late summer/autumn *and* spring. Autumn sown patches will produce early flowers the following spring and the plants will be chunkier than their spring sown chums.
My mix this year has got Phacelia, Borage, Larkspur, Cosmos, Cornflowers, Dill, Eschscholtzia, Calendula and Nigella.
We have two seed packets available. One 3g mix which covers one (or two at a push) square meters. (£2.50) and a bumper 60g seed parcel that covers 20 square meters. (This is presently half price at £14.40.)
Preparing the ground for a Higgledy Garden Bee-Friendly Flower Meadow.
I sound like my Dad….BUT…preparation is key!  This ground needs to be TOTALLY weed-free.
Give your patch a good dig over…add plenty of juicy compost if you have it. Try to get the soil down to a pleasingly fine tilth….ie….small pieces…this allows the seed to have good contact with the soil.
The best sites for your meadow are sheltered sites which get heaps of sun.
Top tip: Don't get 20 sq meters confused with 20 meters squared!
Sowing up your bee-friendly flower meadow.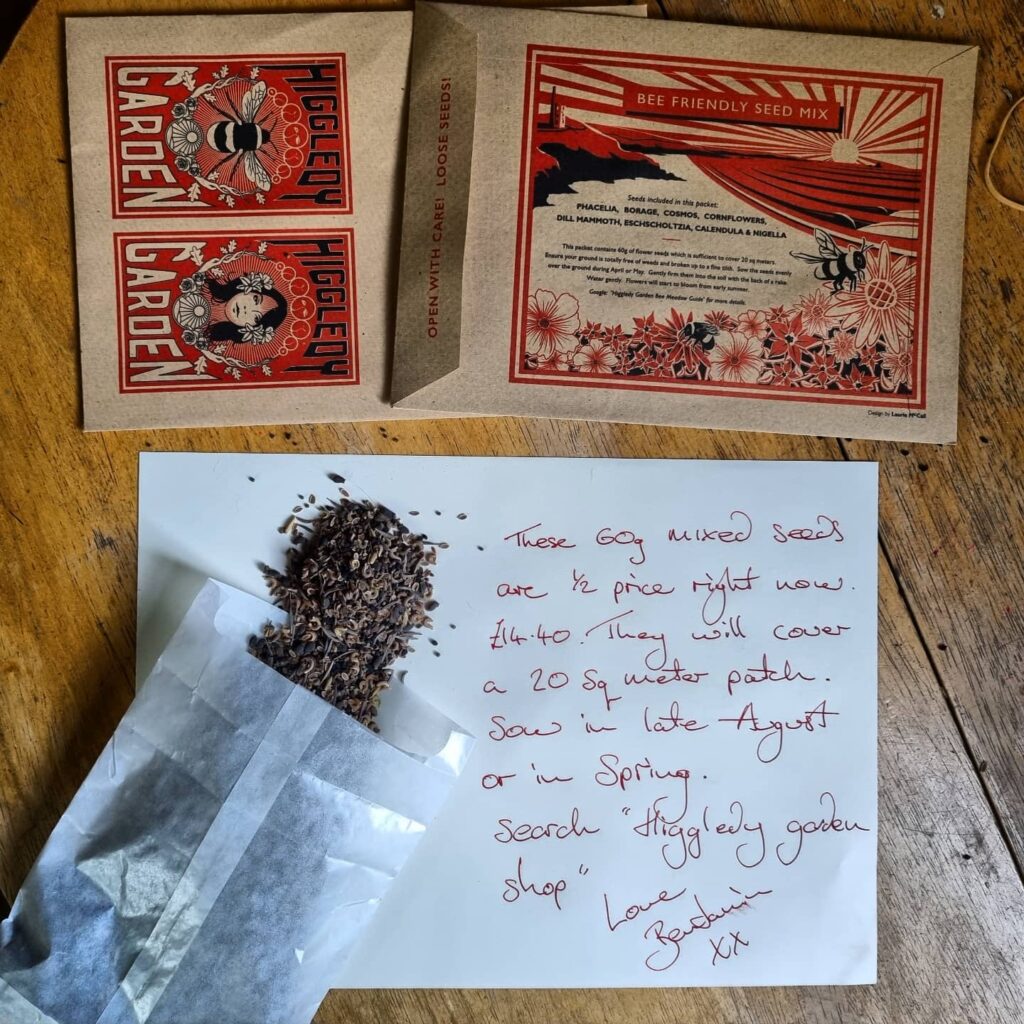 When I sow in autumn/late summer, I tend to aim for the end of August….early august is a bit too early. Early September is also fine….but sometimes late September is getting too cool. If you sow late and your seeds don't germinate….don't throw yourself into the canal…they will probably make it through the winter and germinate in spring….this is what seeds usually do, of course.
Roughly you should be aiming for 2-3g per square meter. I tend to sow barefoot (I'm a hippy druid lovechild…) and walk gently over my prepared ground and sow very thinly…up and down…back and forth…until my 60g is finished. Treading the seed (Lightly) into the soil is a good thing….or use the back of the rake.
Watering your bee-friendly flower meadow.
After you have sown your seeds you can water the patch, but only water it lightly. A waterlogged patch will just keep the seeds cold and miserable and not in the frame of mind to germinate and strut their funky stuff. After germination has happened (two weeks or more) simply ensure the patch doesn't become too dry but don't mollycoddle it…let the roots do what roots do, which is to head down and look for water. Once the plants become established you can just let them get on with it. Annuals might look super delicate and pretty but they are tough customers and take a good deal of abuse.
Autumn sown seedlings will look like they have stopped growing when the cooler weather arrives…but their roots keep growing for a while…then they are ready to rocket forth when the spring warms up their cockles in March. The first flowers will arrive in June…and soon you will be awash with the colourful rascals.
Please give a bee-friendly patch a shot….you will earn a place in bee heaven.
Kind regards
Benjamin Higgledy
If you have any questions then please ask away…you can find me on Twitter or Facebook  Should you wish you can join 'Club Higgledy' for newsletters and discount codes. (see the right-hand sidebar)
PS Another option is to sow up our bundle for autumn sowing. This is 16 packets of wonderful hardy annuals at 25% discount. I tend to sow these in rows a foot apart. This is more of a formal cutting garden but the bees don't know that and they will flock to it. (I'm not actually sure that bees 'flock'…but please humour me.)