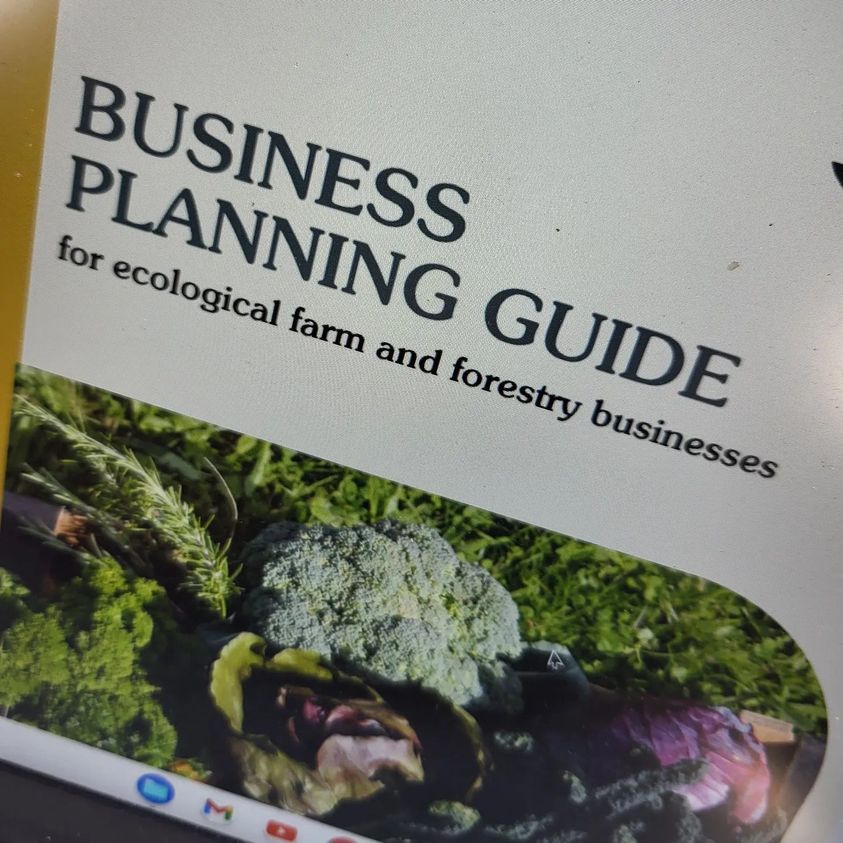 5 am
The pressure is on for me to crack on with my business plan for the land leasing company. I should let you know what their mission is…it's an unusual set-up. They are a charitable organisation who buy chunks of land over five hectares (12 acres-ish) and then subdivides that into three smallholdings. These small holdings are then leased to folk who have agricultural/horticultural businesses, or plans for businesses that follow strict agroecological methods. Their system gives an opportunity for people to run their own small farms who otherwise wouldn't have a cat in hell's chance of buying and living on their own land. The clever people at the land co-op gain temporary workers dwelling permissions on these plots….in some part because this is easier to obtain on big plots of five hectares than it would be if you applied for the permissions on small plots of say three acres. It is also in part because they have a good track record of bringing thriving agroecological businesses into new rural communities. These permissions only last for five years….at which point the leaseholder (through the land co-op) can apply for a permanent small dwelling with an agricultural tie. Crucially however, the value of this property is not allowed to go up by the market value and if the lease is sold it is ideally sold back to the co-op at a price that has previously been agreed by both parties. This way the land remains available and affordable for future 'would be farmers'. This may sound confusing…that's because I'm penning this at stupid o'clock in the morning and I haven't moved on to my second pint of Taylor's Hot Java.
For Higgledy there are both strong advantages and strong disadvantages. Our present thinking suggests the advantages outweigh the disadvantages, but we are keeping an open mind. It will be the single biggest business decision we have made to date and it will indubitably change the path, not just of our business but also of our lives.
6 am Writing the business plan.
In this case the business plan is less about how the business is going to be set up and start generating shillings but how it is going to change its structure and relocate to a Cornish field on the edge of the moors. I need to persuade Les grandes fromages that I can grow enough flower seed stock to allow Higgledy to turn a decent profit. I also need to demonstrate we can do this while at the same increasing the biodiversity of the site and having tangible benefits to the local community. This is no small ask….but Flash and I are trained professionals and will rise to the challenge.
One of the stumbling blocks is that I loathe writing business plans or indeed any form of admin….which is why I'm sat here writing to you and not cracking on with it. Please stop distracting me.
8 am Not writing the business plan.
My second Hot Java has kicked in and I'm hoping about in the cabin on my left foot, singing 'Oh Micky You're so fine you're so fine you blow my mind'…in a German accent. Flash is on the phone to social services.
9 am Fixed Vs Variable costs.
Is a polytunnel a fixed cost…it depreciates and has a shelf life….? Oh my poor small brain. I'm having to stop for a while….I'll take Flash out squirrel bothering.
11am
We will remember them.
1 pm.
My second draft of the business plan is written….but reading it out aloud it sounds like it was written by a 12 year old.
Reasons to be cheerful:
Someone has kindly sent me The Land Worker's Alliance publication on writing business plans for ecological businesses…..this will be uber helpful.
4 pm
The third draft is finished and now it is starting to take shape. It is much more grown up and includes some pretty big words. I've also discovered that a polytunnel might be an operational expense or a capital expense…I'm going with it being capital expense…I'll just say it with conviction.
5 pm
I'm finishing for the day. My eyes are wonky. I'd love a brace of woody ales at The Fox but Dr 'Angel of death' Davies won't allow it.