First off…here's the description of the bundle as it appears in the Higgledy shop:
"Autumn is well and truly here with the dark nights, cloudy skies and the rain! But fear not Higgledy chums we have something to bring you great cheer. Most of you will be hunkering down and sitting by your fireside drinking tea but now is a great time to plan your summer garden spectacular for next year.
To help you with this we have put together a fabulous mixture of our favourite Higgledy varieties. Its our half-price 'Flash' end of season sale!
There are some easy peasy hardy annuals, some vibrant half-hardy varieties and even a couple of  annual climbers. Something to get you started in your bee friendly cutting garden for next year."
LINK TO THE BUNDLE IN THE SHOP.
Twenty packets of fabulous Higgledy seeds
Ammi majus
Bees Please Mix
Chrysanthemum 'Rainbow hippy lovechild'
Cleome 'Violet Queen'
Climbing Nasturtium
Cornflower 'Classic Romantic'
Cornflower 'Purple Haze'
Cosmos 'Sensation'
Dill 'Mammoth'
Eschscholtzia 'Orange King'
Godetia 'Crown'
Ipomoea 'Heavenly Blue'
Larkspur 'Imperials'
Malope
Nicotiana 'White Trumpets'
Nicotiana 'Sensation'
Nigella 'Alba'
Nigella 'Persian Jewels'
Rudbeckia 'Marmalade'
Rudbeckia 'Irish Eyes'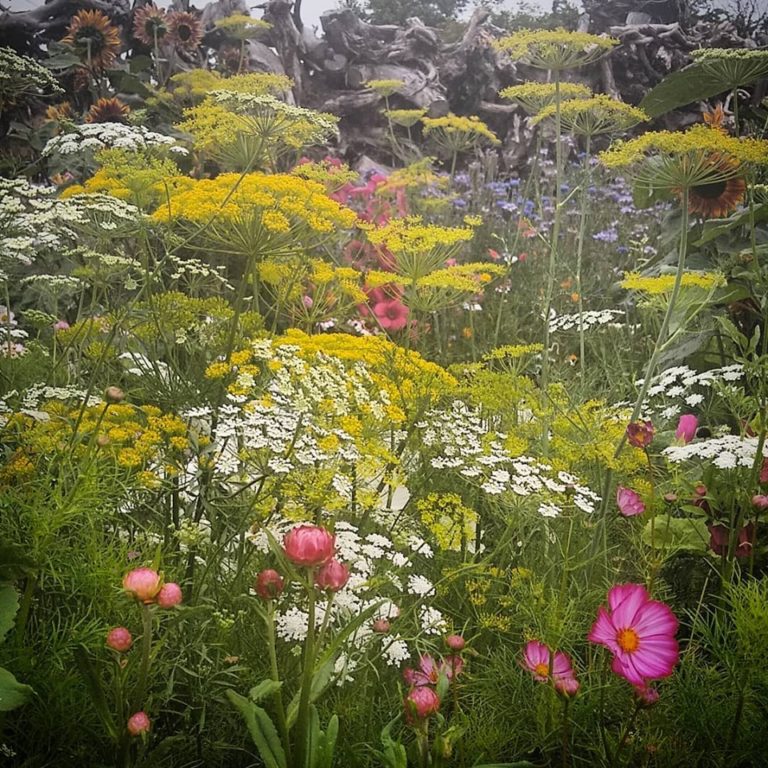 Growing guide.
These 20 packets are made up of a mix of hardy and half hardy seeds. All of them can be sown in spring. The hardy seeds can also be sown in the early autumn. (It's too late now, in November). If you want to know more about the differences of hardy and half hardy seeds, then click the links. :)
If sowing directly into the soil outside, I would wait until the soil has warmed up….probably not before mid April. (Larkspur seem to enjoy being sown earlier….but putting the seeds in the freezer for a week or so will give them the same 'jolt')
I have written a detailed post about direct sowing which maybe of use.
Sowing into pots in a greenhouse has some advantages and disadvantages. I tend to sow some direct and plug any gaps with seedlings sown into pots….if I had to pick one method it would be sowing into pots….but it's a horses for courses sort of a gig.
Here's a link to how I sow and grow my seeds.
NB The Ipomoea 'Heavenly Blue' is certainly best started in a pot. Kept well away from frosts and cold winds. Plant it out in a few warm and sheltered spot. It is probably one of the most challenging of the 20 varieties but an absolute belter when it flowers. :)
LINK TO THE BUNDLE IN THE SHOP.
If you have any questions then please ask away…you can find me on Twitter or Facebook.  Should you wish you can join 'Club Higgledy' (see the right hand side bar).
Kindest regards
Benjamin Higgledy and Mr Flash.