May has burst onto the scene in a bit frothy mass of Cow parsley and May blossom. I absolutely adore this time of year and the fact that its feels like we have had a prolonged cold spring the green beauty is all the more welcome.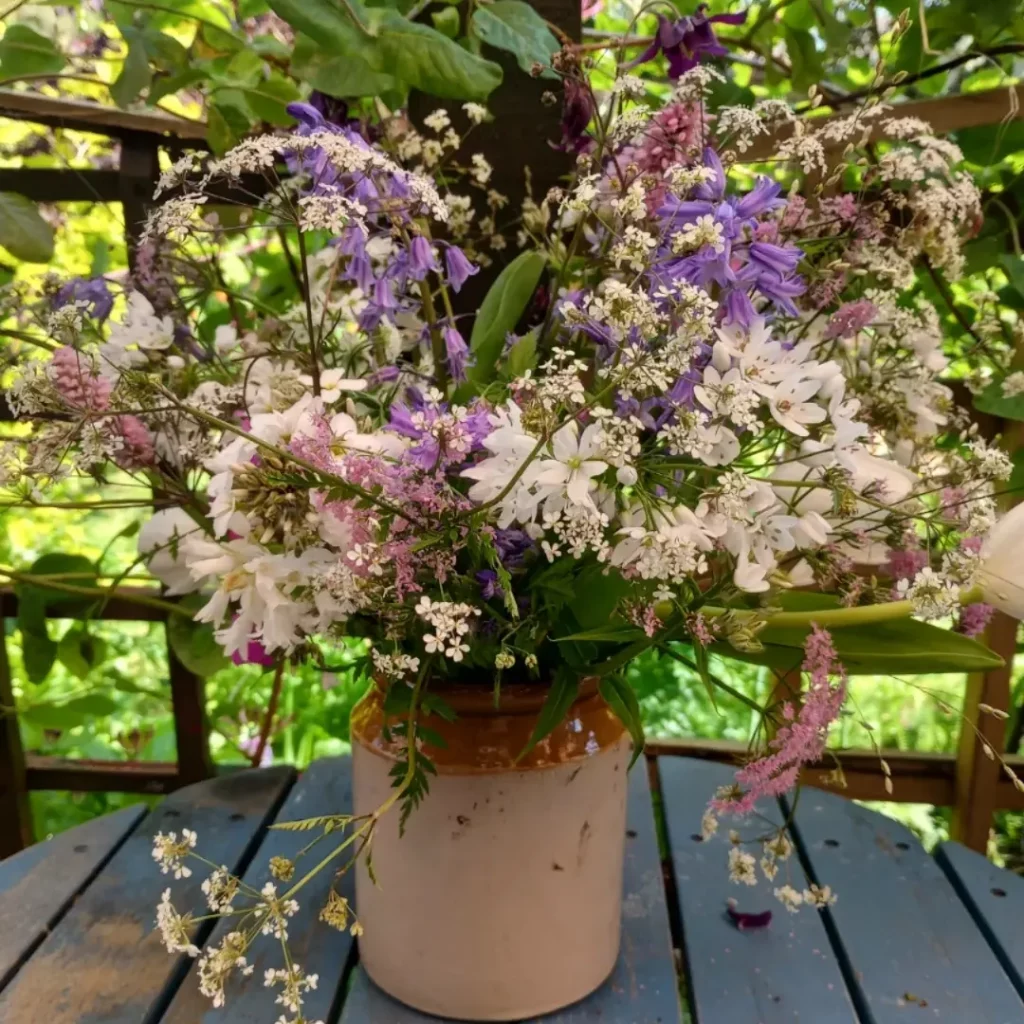 There is something glorious about that fresh spring green at this time of year, here in the north we have plenty of rain, which at times has been a bit of a pain but the garden is definitely better for it and everything is looking healthy and ready to put on a show.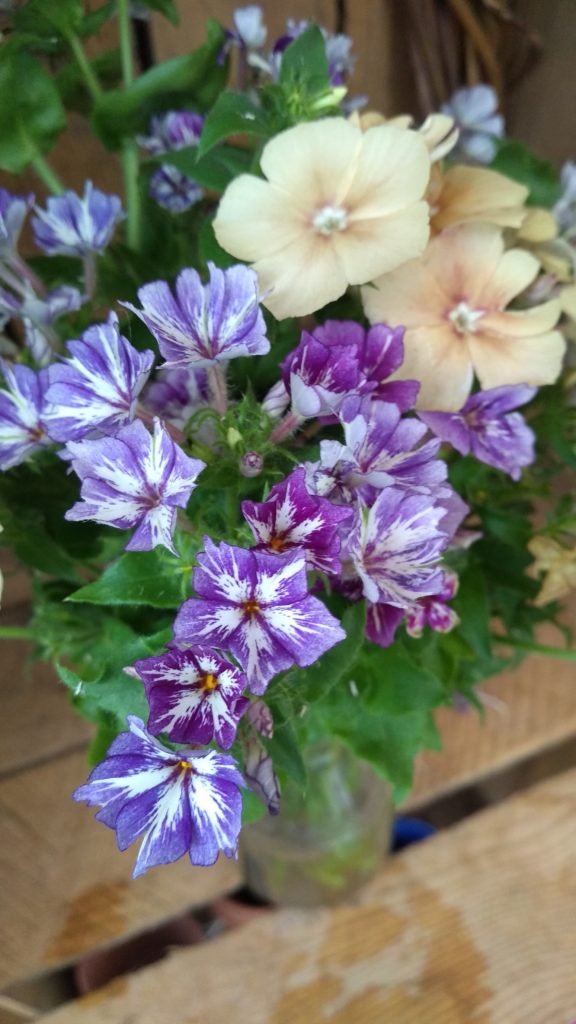 Its such a busy time of year too with the peak of seed sowing, pricking out, starting to harden off and plant. Lots of juggling in the greenhouse, keeping an eye on overnight temperatures in case of late frosts. Realising that you have way too much of one thing and not enough of another. I think it has definitely been a year to hold back and sow things later, working with the seasonal conditions. Some of my early sowings failed or had poorer germination, for example with the annual Phlox 'Creme Brulee' and 'Sugar Stars' later sowing was much more successful. But then I remember I was later with this last year and I was still cutting it way into October. So there is still plenty of time for sowing.
I planted my sweet peas in 2 spots this year. My usual spot by the greenhouse they went in first, had a little bit of a sulk about the cold soil but are now growing away strongly. Though will definitely be flowering a bit later this year. Then this year I'm also planting up the old chicken run which still has all the chicken wire around so planting round the edge of that with more sweet peas and have planted my Cobeaea scandens in there and they are romping away already. The sweet peas had got a bit pot bound but seem to be settling in now. This soil will be very rich I think because of all the chicken poo! This will suit the sweet peas but may not for all the other annuals but its a bit of an experiment this year to give me more growing space and also while we decide longterm what to do with this bit of the garden.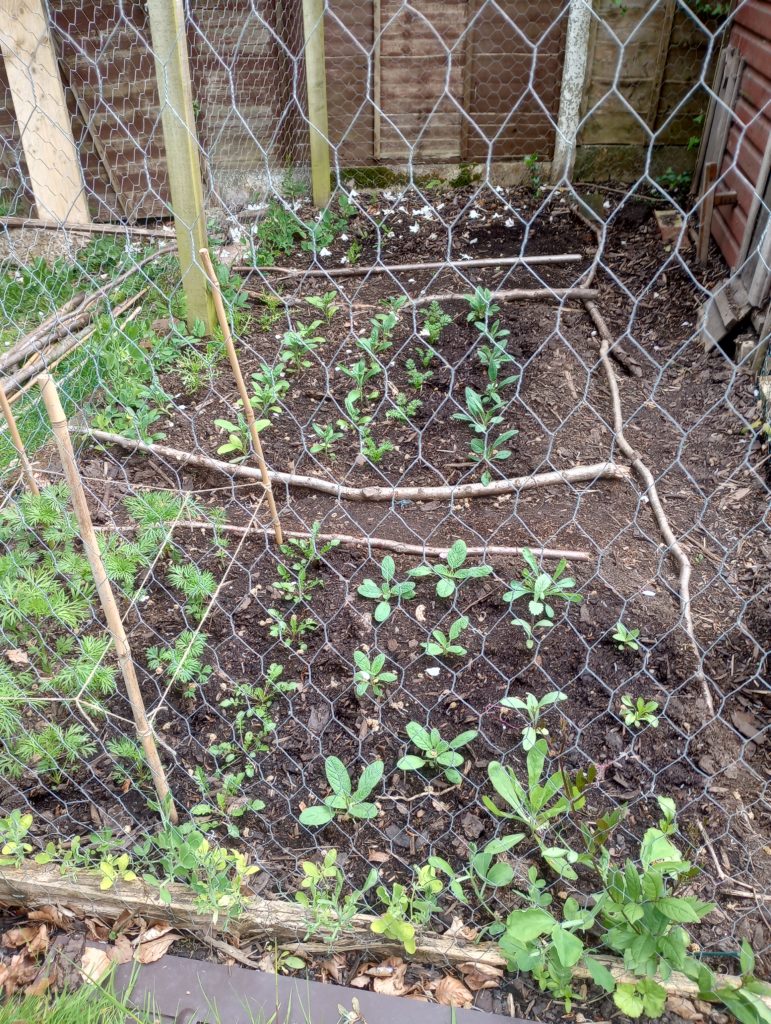 Also planted in here are my Larkspur, Ammi visnaga, Chrysanthemum 'Rainbow Hippy Love child', Statice Blue. Some Scabiosa, Cynoglossum and Matthiola. The good thing about this bed is that I can stop Jed my cat from getting in there as the door is still on!! Having a bit of an issue as lots of my beds for annuals and cutflowers are raised beds and Jed keeps digging up plants that I put in there!! He's driving me mad, I've got bamboo sticking up everywhere to try and stop him. He's OK once they are established as he doesn't seem to get in there then but its a bit of an ongoing battle at the moment.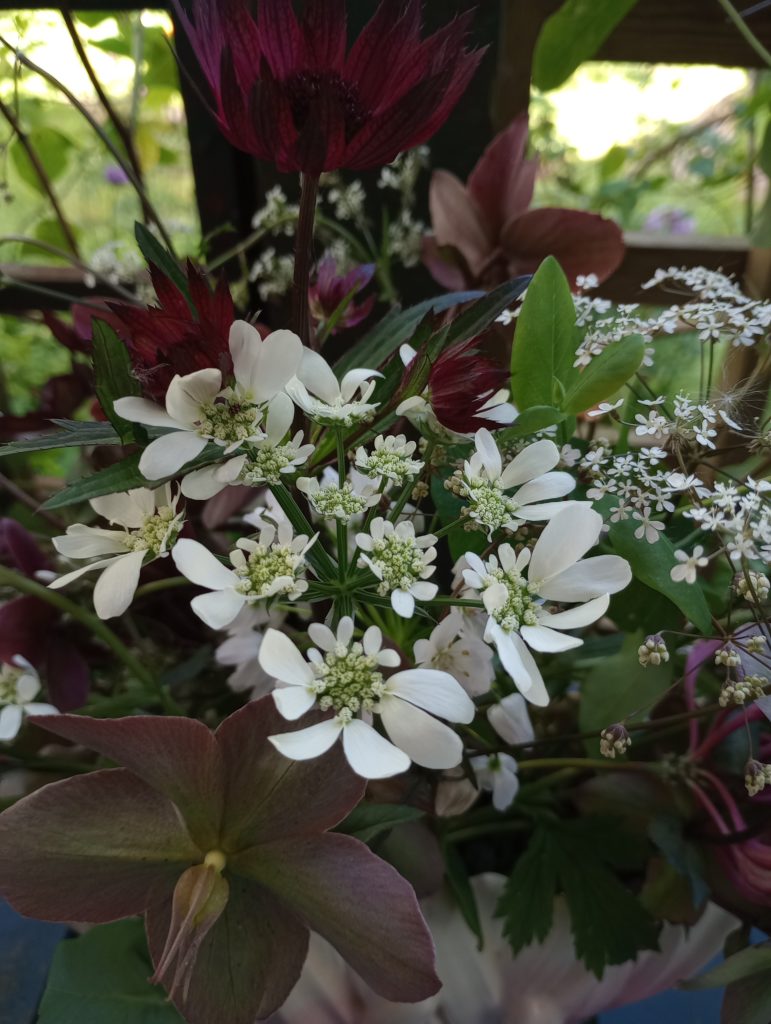 My autumn sown annuals are coming good now, already picked some Orlaya but Cornflowers look about to pop and the Corncockle, Calendula and Ammi majus are not far off. Also planted out Scabiosa 'Ping Pong', Echium and my favourite for foliage, Cerinthe.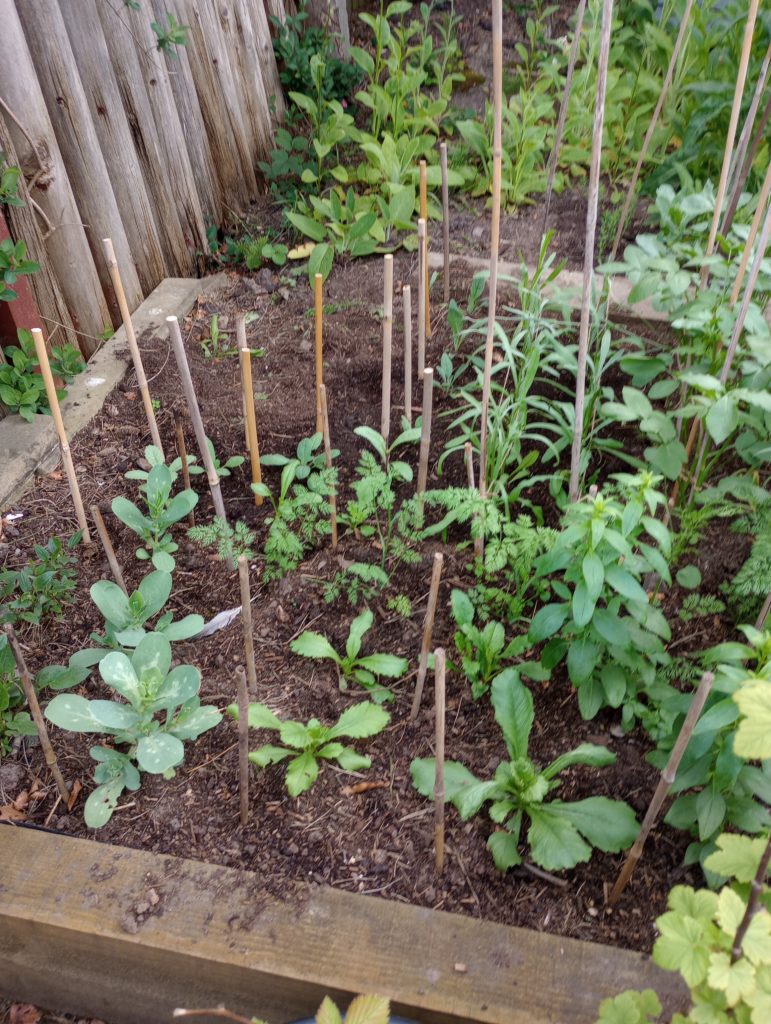 Juggling round the greenhouse are Cosmos, lots of Zinnia, Phlox and Sunflowers! Fighting for positions with tomato plants, cucumbers, squash and aubergines, plus potted up Dahlias and Aeonium cuttings to replace all the ones I lost in the frosts.
Its also a time to cherish your biennials that should be flowering with abundance now, well I've been picking wallflowers, forget-me-nots, Honesty and sweet rocket anyway. Here is a small posy with Wallflower 'Ivory White' (yes its not white at all but I love it, starts off with pale yellow buds fading to a rich cream colour and a lovely delicate scent). Arriving soon at Higgledy Garden! Also in the mix are forget-me-nots which self seed all over my garden, white Honesty and blue and white Spanish Bluebells which I've decided as I can't seem to remove them completely from my garden enjoy them while they are here are pick them to stop them spreading even more seed around!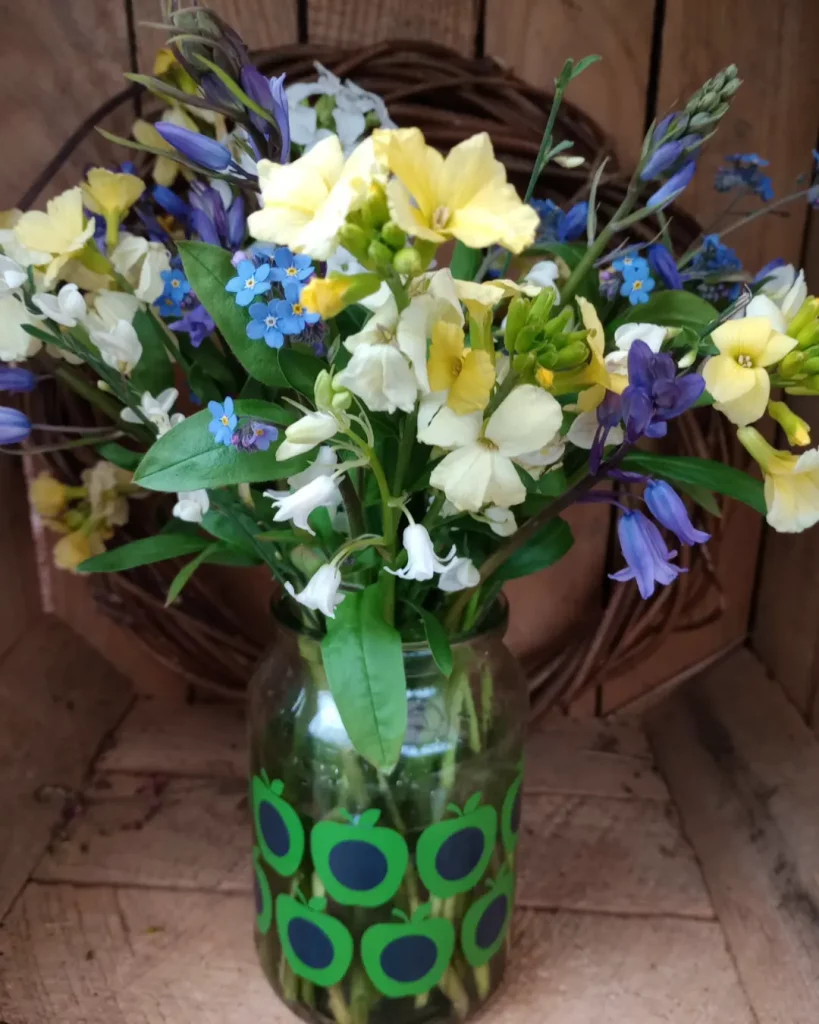 My sweet william are covered in buds but not quite ready yet and the foxgloves are sending up tall spires ready to flower soon. I'm also trying Canterbury bells for the first time this year so excited to see how they do. Once your biennials start flowering you need to know that this is also an alert to start thinking about sowing for next years flowers. Keep an eye on the Higgledy garden website for new biennials and special offers coming soon.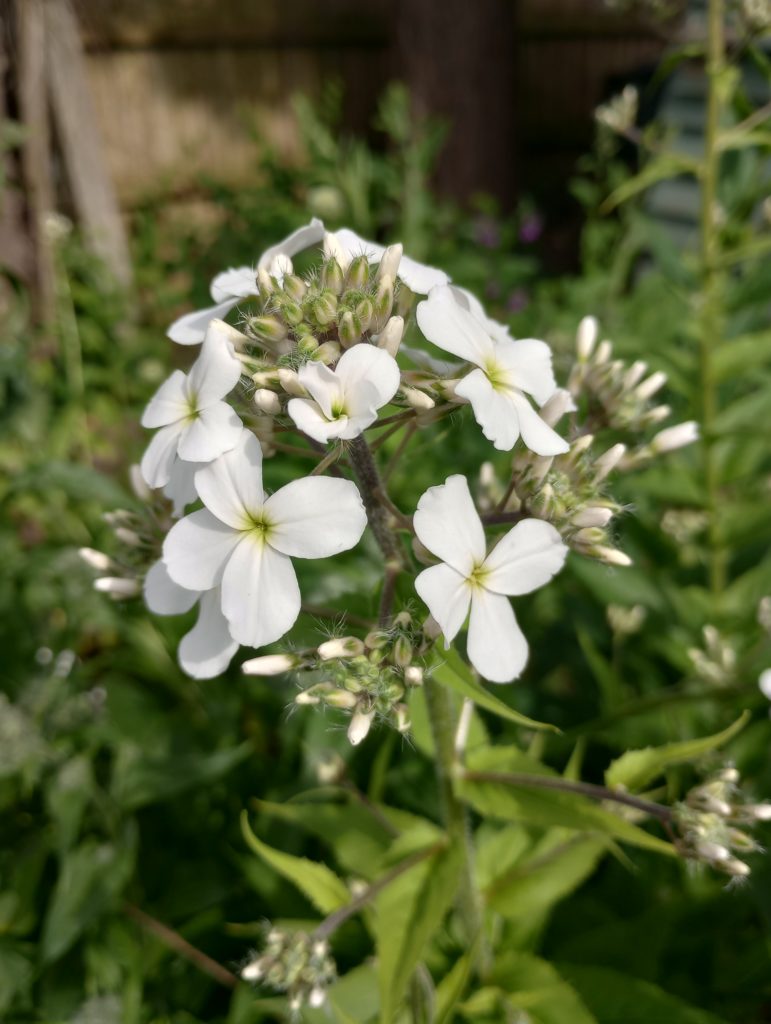 Enjoy the sunshine!
Higgledy Anne
(I'm on instagram anne_hinks and on Twitter Anne Hinks if you fancy a follow)