Are you looking to add a touch of royalty to your garden? Look no further than purple cut flowers! With their striking hues and unique textures, purple blooms can add a pop of beautiful colour to any bouquet or arrangement.
Here are three purple cut flowers to grow in your cutting garden: cerinthe, cornflower purple haze, and phlox sugar stars!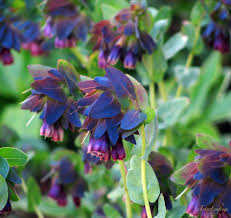 Cerinthe, (also known as honeywort and the blue shrimp plant) Has gorgeous purple-blue flowers that hang from long, thin stems, and its silvery-blue glaucous leaves add a touch of elegance to any bouquet. Cerinthe is a hardy plant that can grow in full sun or partial shade and requires little water, making it perfect for busy gardeners. Simply press your seeds into your container of pre watered soil, cover and within 7 – 10 days you'll have lovely cerinthe seedlings!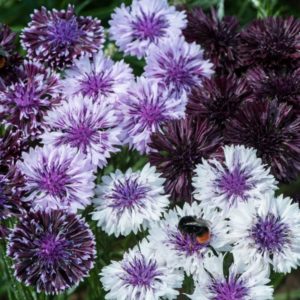 Cornflower purple haze is a classic cut flower with its vibrant purple petals ranging from shades of lilac to sumptuous dark purple. This an easy-to-grow annual, and produces lots of stems. Plus it not only makes a great fresh cut flower it also dries beautifully too! Winner – winner! Super easy to grow, scatter, cover, water, enjoy! They'll sprout up in a week whether it's in a pot or directly in the garden they are a doddle to grow!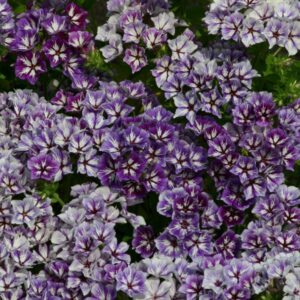 Phlox sugar stars is a new addition to the Higgledy seed stock this year and I am very excited to grow this. A gorgeous fragrant addition to the cutting patch with clusters of purple flowers on tall, sturdy stems. Its sweet scent and delicate petals make it an absolute brilliant filler to any arrangement. And if I could only grow one purple flower this year then this would surely be it! I shall again be sowing mine directly onto pre-watered compost, covering lightly and waiting with anticipation for the seedlings to show!
Wishing you a wonderful time sowing your purple cut flowers!
Higgledy Gemma