Spring seems to have been dragging its heels this year, it has been March many weathers, frost, snow, hail, sunshine, rain and more rain. Probably just typical March weather but it just feels like its been a long winter! Its not really felt like weather to be in the garden but things have been moving on. I've been hardening off the autumn sown annuals that survived the December blast, notably the real toughies were Cornflowers, 'Blue Ball' and 'Black Ball', Corncockle, Orlaya grandiflora and Daucus carota. My resown sweet peas are growing nicely now and I've pinched out the tops. I'm slowly getting going with seed sowing for my cut flower patch. I sowed a few of the more robust hardy annuals a few weeks ago, Ammi majus, more Cornflowers, Echium and Calendula. One of my must haves is Calendula and what better flower to makes us smile on a grey day. They come in all shades of yellow and orange, from almost white to subtle apricots and to vibrant retina blasting orange. Sunshine in a flower.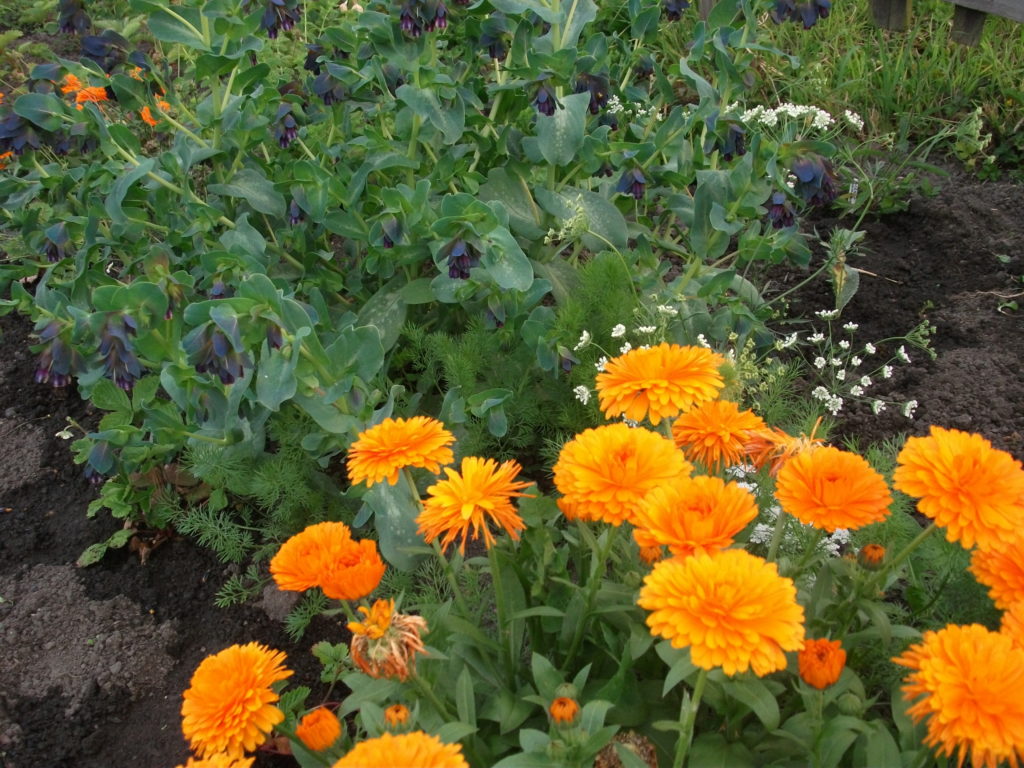 They are an easy annual as they can be sown directly where they are to flower, the best time for this is April time, once the soil has started to warm up and they will germinate quickly. They prefer a sunny spot but can tolerate some shade. I tend not to sow direct, tend to sow a few seeds in 9cm pots, prick out and grow on a bit before planting out in my garden. They will often self-seed in the garden, last year I had lots of little seedlings in the autumn but surprisingly they all got knocked back by the frost but that is unusual.
They will readily self seed, I love looking at seeds and Calendula seeds are one of my favourite, like little seahorses or dragon heads. Am I being a bit fanciful here?!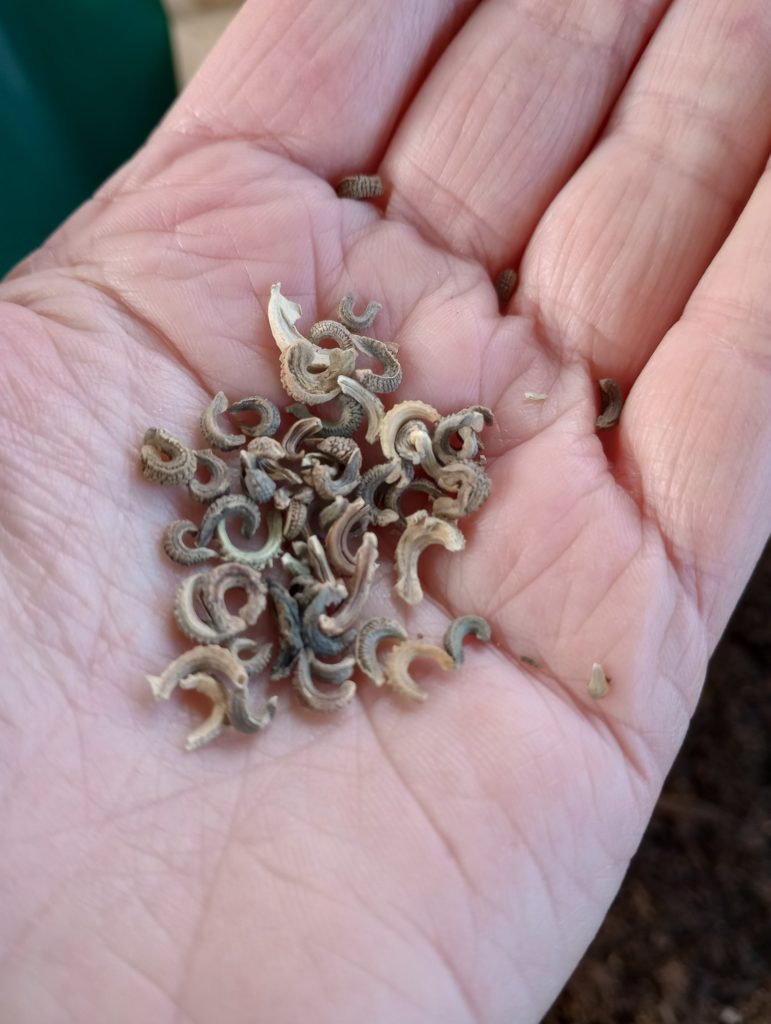 At Higgledy garden we sell three varieties 'Snow Princess' aka the Ice Maiden, a beauty and the closest you will get to white but I love this pale yellow flower. Here in close up with the slight serration to the ends of the petals.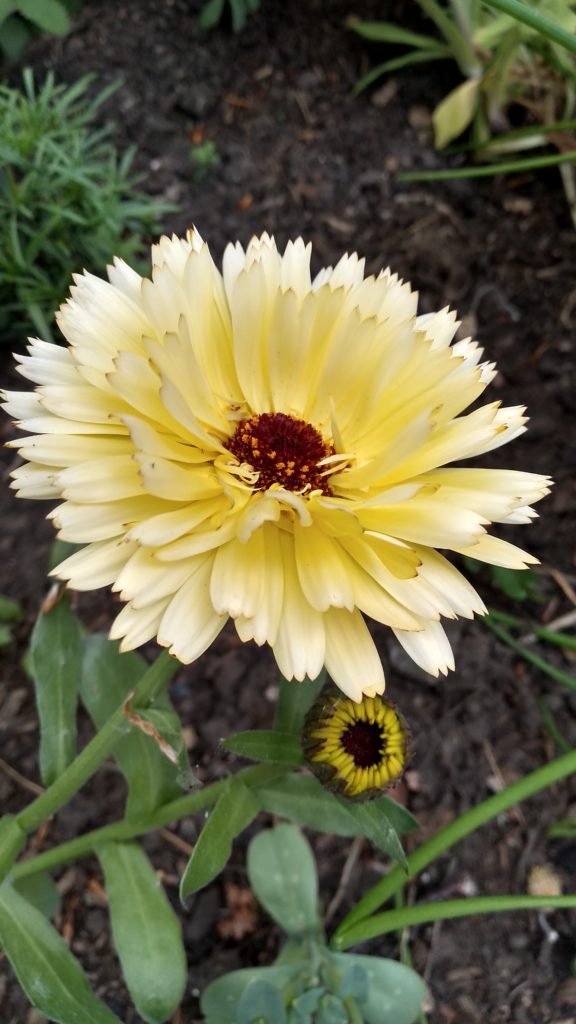 Calendula 'Art Shades' a nice mix of flowers in a range of colours and flower sizes.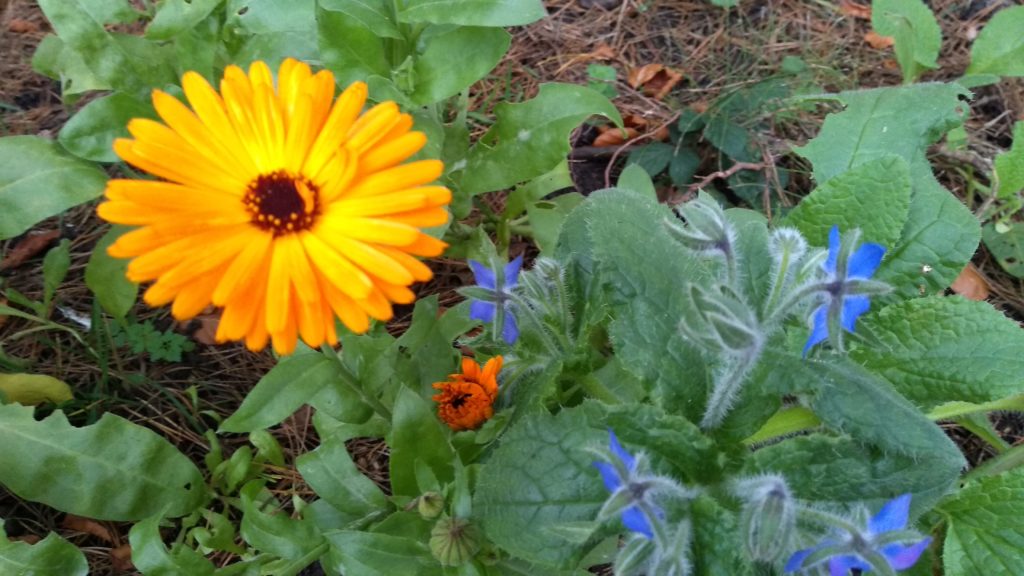 But for the real wow factor then you have got to go with Calendula 'Indian Prince' a really rich orange, with dark rich red/brown shade to the backs of the petals so they look as lovely in bud. It is semi-double but still nice and open so attractive to bees.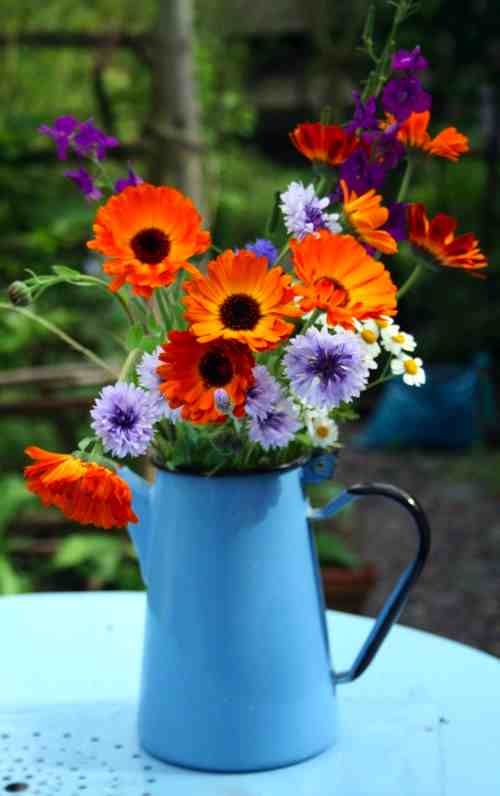 In a bouquet I feel they do best with complimentary flower colours at the opposite end of the colour wheel, so purples and blues. I especially love it combined with Cornflower 'Blue Ball', Cerinthe, Echium 'Blue Bedder' or Nigella 'Oxford Blue'. Here with some perennials from my garden, Geranium magnificum, Alchemilla mollis, Centranthus ruber 'Albus' and Cephalaria gigantea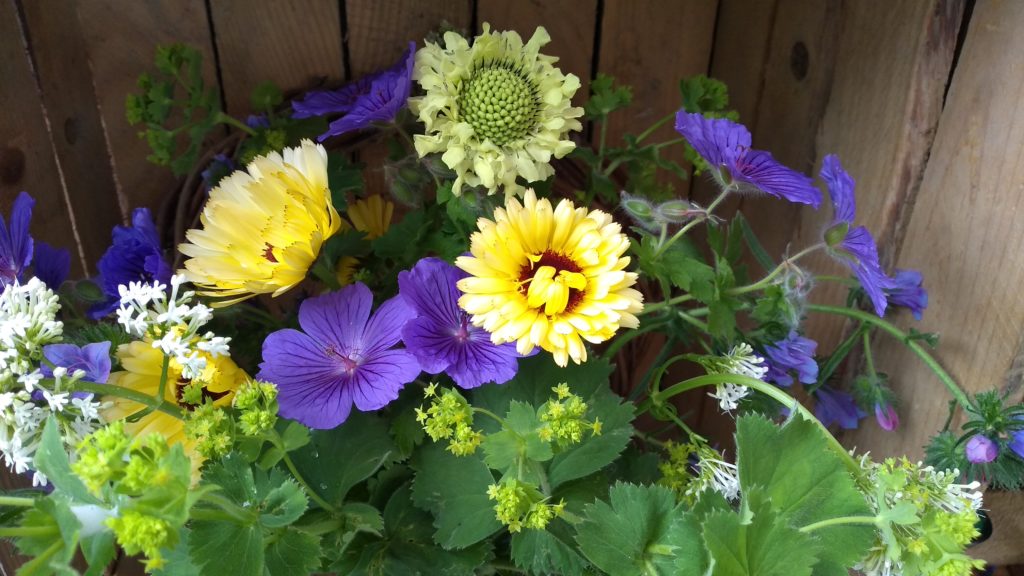 But they also do well with greens, such as Dill and Alchemilla mollis or whites, white Corncockle and  Gypsophylla. Here enjoying the mellee on my old allotment.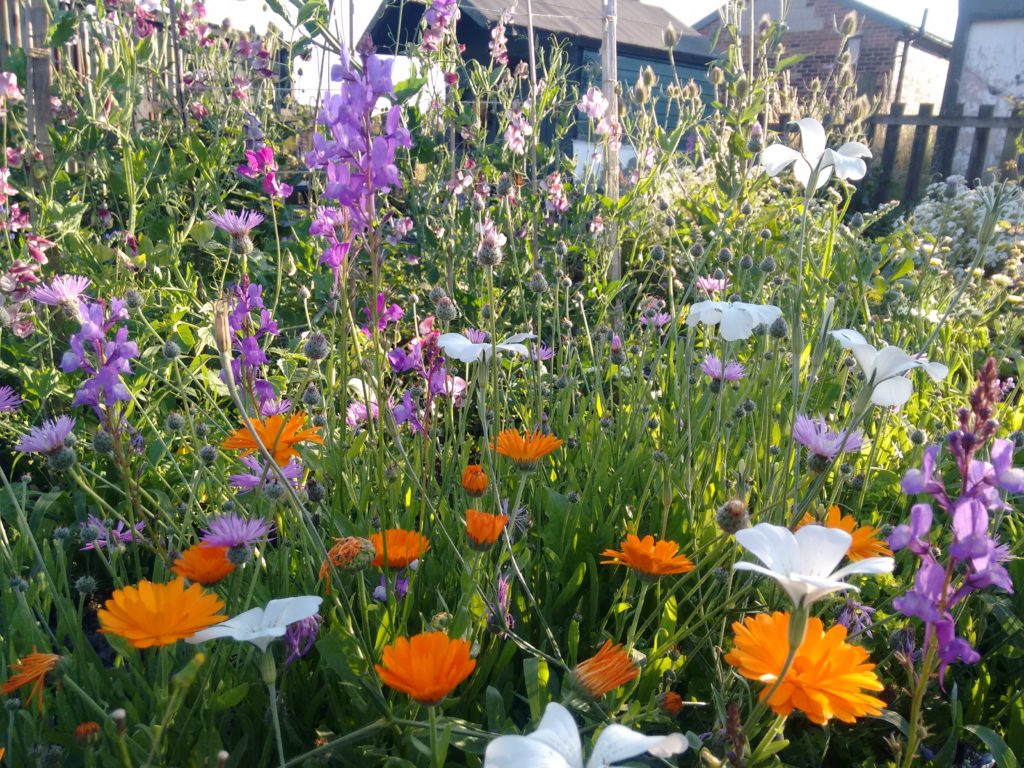 Calendula are good to grow on your allotment or kitchen garden, being mostly single open flowers they are loved by bees, hoverflies and other pollinators and so help bring them to your plot. Encouraging hoverflies. They are a key component of the Higgledy bee mix as well.
But…. it seems to be getting warmer, the day time temperatures appear to be in double figures for the upcoming days and night time temperatures not too cold so I'm going to do a big seed sowing session today.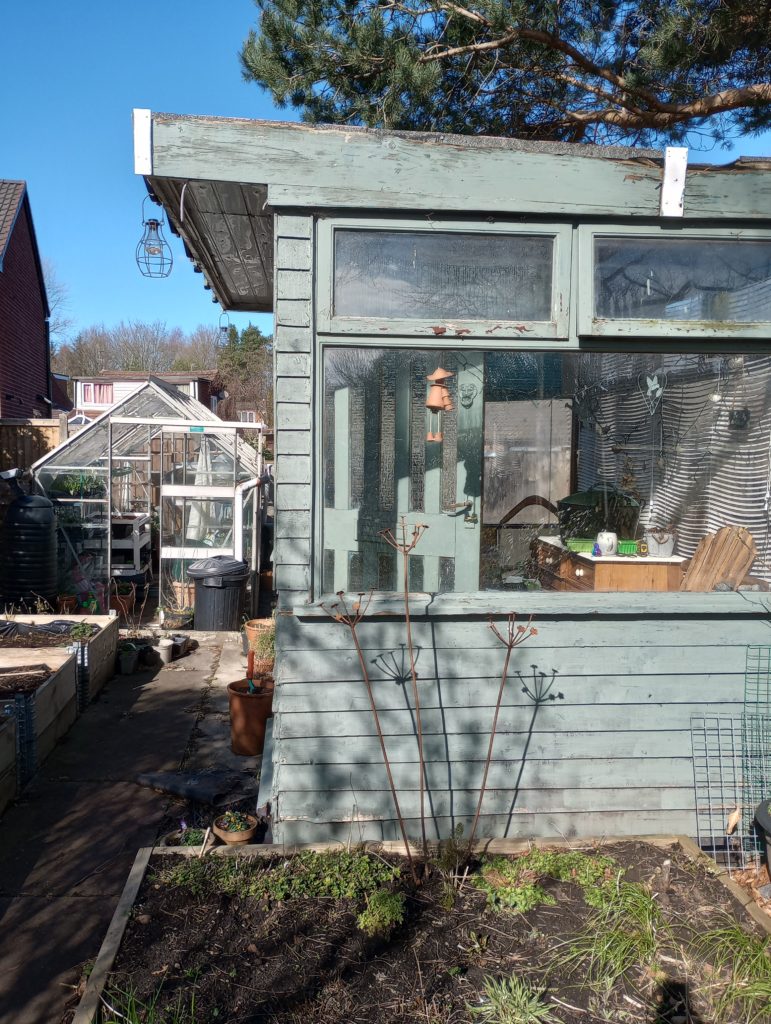 This is where you will find me, in my potting shed. The paint is flaking off it a bit and it has a leaky roof that we need to look at in the coming weeks. But I love it. It's where I can get away, fling compost around without a care and potter to my hearts content. My cat, Jed has taken to coming and sitting with me in there and I can have some music on while I work.
I'm going to get cracking with sowing the less hardy annuals, like Phlox, Cosmos, Nicotiana. Who's joining me with seed sowing this weekend?
Higgledy Anne
(I'm on instagram anne_hinks and on Twitter Anne Hinks if you fancy a follow)